It was the last home game of the season for
New Mexico
's three seniors, and they all played starring roles in a tough, slam-bang defensive battle with
Utah
. leading their team to a 77-71 win that lifted the
Lobos
into a tie with the Utes for first place in the Mountain West Conference.
The win -- which kept UNM unbeaten in all eight conference games played in
The Pit
-- gives the Lobos a 20-10 season mark and an 11-4 MWC record. Utah is now 20-9 and 11-4.
BYU
is one game behind and could make it a three-way tie for first with a win at
Wyoming
on Wednesday night.
It was "Senior Night" for
Tony Danridge
,
Daniel Faris
and
Chad Toppert
, and a sellout crowd of 18,018 gave the trio thunderously noisy support in their farewell performance in The Pit. The seniors came into the game as UNM's top three scorers, and they played their last home game in stellar fashion.
Danridge, a 6-5, 215-lb. forward from
San Bernardino, Calif
., scored a game and career-high 29 points. His total included 13 of 16 free throws, also a career high, plus five assists, two rebounds and three steals.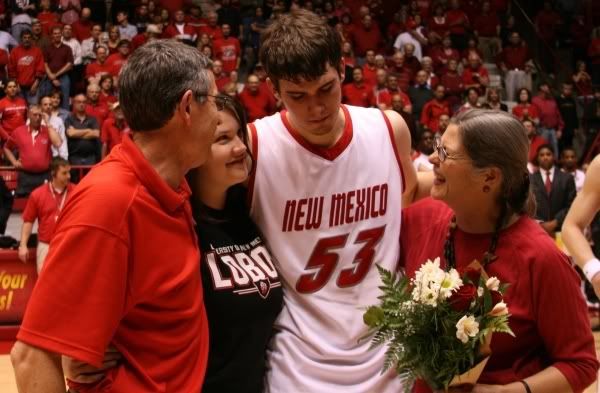 Faris, a 6-9, 245-lb. post from
Albuquerque
, contributed 16 points and 10 rebounds for his third double-double of the season. Faris also won a very physical battle with the Utes' all-conference center, winning every statistical battle with the 7-2, 265-lb. post from Perth, Australia.
Toppert, a 6-7, 215-lb. guard from Albuquerque, scored 12 points and had three rebounds and two assists. The team's leading three-point shooter, Toppert had two of UNM's four treys.
Junior forward
Roman Martinez
had the Lobos' other two nothing-but-net three-pointers among his 13 points. Martinez, nicknamed "Ro," also snared seven rebounds, had two assists and three steals.
Danridge, Faris and Toppert reminded this writer of the stars of the 1986 movie, "
Three Amigos
."
Steve Martin
, Chevy Chase and
Martin Short
starred in that comedy as goofy singing cowboys. But there was nothing laughable about the hard-nosed play by the three Lobo seniors. Utah actually a higher percentage of their
field goal
attemps with 56.4% to just 42.1% for UNM. And the Runnin' Utes sank 8 of 14 treys to only 3 of 13 three-pointers by the Lobos.
But the Lobos owned the boards against the taller Utes, grabbing 32 rebounds to 25. And the Lobos basically out-hustled and out-quicked the Utes, earning a 13-1 margin in offensive rebounds, and forcing Utah into 18 turnovers against just seven of their own. All these extra possessions enabled the Lobos to take 18 more shots than the Utes.
That, said
Utah coach Jim Boylen
, made all the difference. "They won the possession game," said Boylen. "We played our butts off defensively, but this is a tough team to guard when you have to guard them for eighteen more shots. Got to give them credit, but I have a good team, too." The Lobos' win gave the two teams a split for the season. Utah won the first game by one-point, eking out a 69-68 win at home on Jan. 31.
New Mexico
coach Steve Alford
called it "a tremendous win" for his team. He was especially happy that his three seniors each closed their home court careers with "great games." And he credited his team's noisy fans, saying "they energize us."
New Mexico will play its final game of the season at Wyoming, visiting the Cowboys in their "Dome of Doom" at 1:30 p.m. on Saturday, March 7. Utah finishes its regular season at home against
TCU
at 4 p.m. on Saturday.
UNM's victory over Utah gave Alford 44 wins in his first two seasons as
head coach
of the Lobos. He overtook former UNM coach
Norm Ellenberger
, who led UNM to 43 wins in 1973-74, and former
coach Dave Bliss
, who had 42 wins at UNM's helm in 1989-90.
The game featured one other "sidelight statistic." The 18,018 fans who watched the contest will be the last crowd of that size to ever watch a Lobos game. A $60 million renovation of The Pit will reduce the seating capacity to about 15,700 during the 2009-10 season. When construction is completed by early 2011, The Pit will have new club seating and 40 "skybox" suites. But the final seating capacity probably won't be any higher than 16,500.
Click here for some audio from all 3 seniors!
Special for TheRedMenace.com

If there is one Lobo hoops player that is a Red Menace Player it is the one and only Daniel Faris!
In 2004 Daniel Faris took an official visit to The University of New Mexico. He was invited to a Lobo football game by then Coach Ritchie Mckay. Mckay brought Mr. Faris to the North End Zone section where the wildest fans in the 505 dwell and they gave Daniel a Red Menace welcome!
Daniel signed with UNM and has never looked back. He is what The Red Menace is all about! A lunch bucket guy. May not get all the glory. May not get all the accolades and atta boys. But he is a scrapper, a junkayr dog, a guy written off but refuses to go down. He is Red Menace!