The
University of New Mexico
combined a tough inside game with good long-range shooting to beat
Nebraska
, 83-71,
Tuesday night
in the first round of the
National Invitation Tournament
.
The Lobos, now with a 22-11 season record, now travel to play at
Notre Dame
on Thursday night
in the second round of the NIT.
Notre Dame, seeded #2 in their bracket, defeated #7
UAB
70-64 earlier in the evening to advance in the post-season basketball tournament. Nebraska, the #6 seed, ended their season with an 18-13 record.
Nebraska came into the game with the best defense in the Big 12 conference, allowing just 59.6 points a game. New Mexico's 83 points were the most the
Cornhuskers
had allowed all season. The previous highest score against them was 77 by
Kansas State
.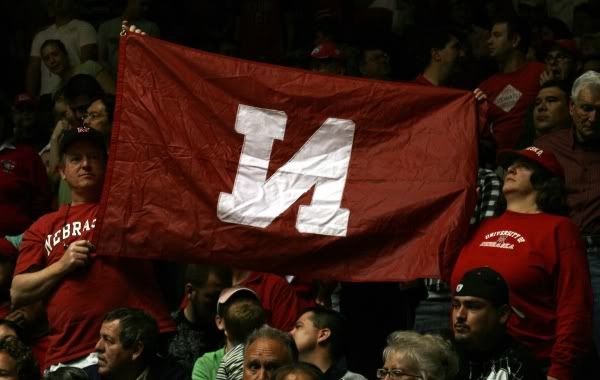 What does that "N" stand for again?
It was a hard-fought, testy, and whistle-punctuated game from start to finish. Nebraska has the smallest team in
NCAA Division I
, and the Lobos -- the only team with a true post player on the floor -- made this pay off. UNM's senior center, 6-9, 235-lb.
Daniel Faris
, scored a career high 28 points to lead his team past the
Huskers
.
Faris also pulled down 13 rebounds to tie a career high.
New Mexico
also got double-figure scoring from fellow seniors
Tony Danridge
with 18 points and
Chad Toppert
with 15.
Daniel Faris with a career high in points and rebounds.
When Faris or Danridge couldn't pound the ball inside Toppert, junior
Roman Martinez
and freshman Philip McDonald demoralized the Huskers with nothing-but-net threes. Toppert and McDonald each sank three treys, and Martinez swished a pair of three-balls.
Nebraska's busy, hard-working, five-guard offense was led by Sek Henry with 13 points and
Steve Harley
with 11. Ade Dagunduro, the Cornhuskers' leading scorer with a 13-points per game average, got in foul trouble in the first half and finished with 8 points.
The quick Huskers had 11 steals to 4 for the Lobos, and won the turnover battle by commiting 11 while the Lobos lost the ball 19 times. But New Mexico handily won the rebounding statistics, 41-24.
A big difference was that New Mexico showed it is a tough defensive team, too, and the Lobos held Nebraska to just 21 of 57
field goal attempts
, or 36.8% shooting. And the Huskers could convert just 7 of 24 three-point attempts for 29.2%.
The Lobos were harder to stop. UNM sank 24 of 47 field goal attempts for 51.1% shooting. The Lobos did even better from three-point range, swishing 8 of 15 shots for a hot 53.3% from beyond the arc.
The physical game saw 49 fouls called, 27 against Nebraska versus 22 against the Lobos. This let New Mexico sink 27 of 35 free throws to Nebraska's 22 of 28 from the foul line.
A noisily partisan home crowd of 7,974 watched the game and gave the Lobos their usual high-decibel support.
After the game, UNM
head coach Steve Alford
said he and his team -- which finished in a three-way tie for the
Mountain West Conference championship
-- are "happy to still be playing. This is a special team, and it's been a special year. We all want to see how long we can keep it going."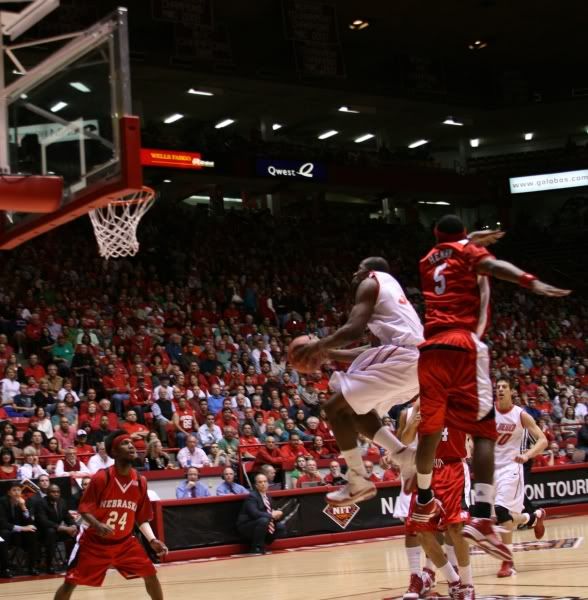 Tony Danridge prepares for a trip to South Bend!
Talk about this game on our message board!