Wow with June wrapping up and the start of July and all the recruiting news that we have some stories have been kind of put on the backburner. We are going to get out some of that information now for a quick change of pace.
First, Wes Henderson and Lee Roy have been busting it with regards to Lobo football and basketball recruiting this month, and in the process Wes had some time to speak with Lobo Offensive Line Coach Mike Degory for our newest version of "Ask Coach D" What an awesome interview as Coach Degory lets you know Red Menace that Erik Cook has been instrumental in talking to the new coaching staff about UNM football tradition like The Lobo Leap, Got Syrup?, and The Hitmen! Figures as both Coach D and Erik are both centers!


Two Centers keeping Red Menace Tradition alive:
Coach Mike Degory playing days with Florida, current Lobo Center Erik Cook


Click here to listen to Wes and Coach Degory
Also, earlier last week former Lobo and current Chicago Bear LB Brian Urlacher had the Indoor Practice Facilities' field named after him. TheRedMenace.com 's Rudy C. was there to interview Mr. Urlacher for you Red Menace!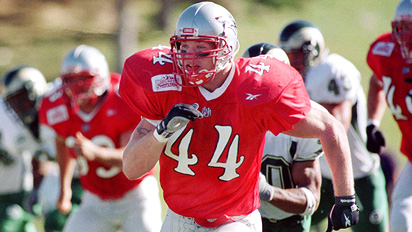 Click here to listen to Brian Urlacher
Finally, some men's hoops news… The men's basketball team filled their assistant coach vacancy today as Wyking Jones has been added to the staff. Here is the official press release from UNM:
Wyking Jones Named Men's Assistant Basketball Coach
Wyking (WHY-king) Jones begins his first season as men's assistant basketball coach at the University of New Mexico. Jones replaces Chris Walker, who last month accepted a similar position at Villanova, his alma mater.
Jones, 36, spent the past two years as a travel team manager with Nike.
Prior to Nike, Jones worked five seasons (2002-06) at Pepperdine as an assistant to head coach Paul Westphal.
"We're very excited about Wyking joining the staff," said Lobos head coach Steve Alford. "He's been with the Nike Grassroots program the past couple of years, so his experience of being around a lot of student-athletes and making those ties should help us a lot in recruiting. Wyking gives us a good transition with Coach Walker because he played for Coach Walker at Loyola Marymount. Wyking has really good West Coast ties because he played high school and college basketball in California."
Before Pepperdine, Jones played professional basketball in Italy, France, Japan, Lebanon and South Korea.
"I'm extremely excited and honored to be a part of Steve Alford's staff and the Lobo basketball family," said Jones. "I have been very impressed – really blown away - with the fan support of New Mexico men's basketball for many years."
Jones was a four-year letterwinner for head coach John Olive at Loyola Marymount from 1992-95, totaling 1,076 points and 493 rebounds in his career. He earned all-West Coast Conference honors as a junior in 1993-94, averaging 19.7 points and 8 rebounds a game. Jones was also tabbed LMU's Student-Athlete of the Year following his junior season.
Jones' junior season was highlighted by a 39-point, 16-rebound, five-block effort against San Francisco. He tallied 20 or more points 12 times with eight double-doubles, including a career-high 17 rebounds against Oral Roberts. Jones was honorable mention all-WCC as a senior when he averaged 13.1 points and 5.9 rebounds.
Jones earned a bachelor's degree in business administration from Loyola Marymount in 1995. He served as a Lions' assistant coach during the 1996-97 season.
Jones also has acting experience. He had movie parts in "The Wood," "Brown Sugar" and "The Benchwarmers," and has done some television commercials.
Jones, and his wife, Estrella, have a son, Jameel, and a daughter, Zoe.