The University of New Mexico Lobo football team is kicking off their second spring practice under Coach Mike Locksley. Last year (Lock's 1st) didn't end up the way anyone planned so I was very interested in what Locks thought he would change or do different in his sophomore coaching year.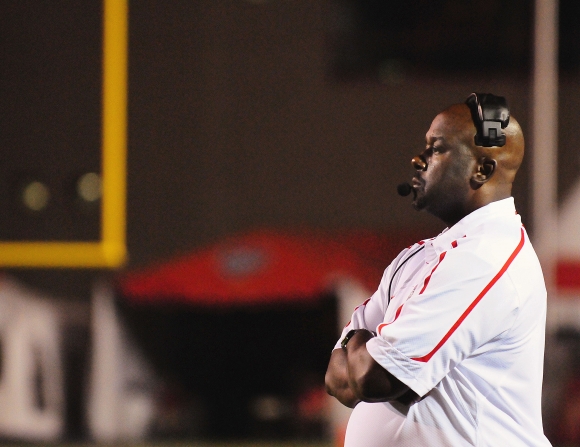 I evaluate what I did well and didn't do well," answered Locks. "I'm not big on change for the sake of change, and I. believe in our system. We will make changes where it is needed.

Coach Locks also mentioned that he know this team after a full year in his system on and off the field. "I am more familiar with these guys, at this point I know which buttons to push to motivate them," said Locksley. "Coming in last year I didn't know that."

One of the themes I kept hearing was "all in"... I was curious what Coach Locks meant as he kept saying the players and coaches are "all in."

"All in is a player committing to doing his best academically, improve and be the best he can athletically, and do things for society," said Locks.

"Troy Hatton has a book showing how much better we as a team have become physically, we are working on school, and our guys are required to donate five hours to various community service," said Locks. "We have guys doing work with Special Olympics, we only require 5 hours but these guys are doing 8 and beyond. We are working with Habitat for Humanity and Evan Jacobsen is heading that up as guys will be building a home at the end of spring, and we have many volunteering with the Boys and Girls Club."

Coach Locksley made it very clear that he does not want his players leaving UNM as just football players. He wants them to graduate and to "leave UNM as men!"
We did ask Coach a little about football, mainly some of the guys participating in Spring Ball this year… I asked Coach how he motivates these guys knowing that there are guys coming in the fall trying to take their jobs. Coach hit me with a great answer.
"#1 I never talk to them about losing their job. I'm a glass is half full guy," said Locksley. "our players are our biggest allies in recruiting and I tell the current guys if you are worried about a high school guys coming and taking your position, then you aren't the competitor we are going to need anyway. Besides, if you are a guy that want to win you are going to embrace having a lot of great players around you."

Click here to listen to BR Holbrook

Coach Locksley emphasized that the Lobos had to build upon the strengths of their running game and defensive line. With an inexperienced QB starting this fall, whomever it is, nothing helps a QB more than a great running game and UNM has a trio of great backs. The D-line is solid as is the LB crew, the Lobos have some question at the offensive line and at this point the safety positions are very thin, though Locksley had some great things to say about Freddy Young amongst others. I did ask Locks about a depth chart this year and he said…
"At the end of this spring we will have a good idea of who we want out there," said Locksley. "Last year we didn't really know how good the players were except through film, this year we do.

Click here to listen to Coach Mike Locksley

Part of that mix and match was to find out who fits in and where. "It will change daily," said Locks. "It is upon our position coaches and the players to know why they are or aren't playing…"
So get ready folks Spring Practice kicks off Tuesday afternoon… The Red Menace will once again be covering all spring practices on TheRedMenace.com and as an added bonus every day at 6:05 PM I will be contacting 101.7 The Team with a live practice report from the Lobo practice fields!