The annual and not so prestigious "Eye On You" is now in full effect… We are going to do something a little different this year, as Mike "The Anonymous One" will be joining Lee Roy Lucero in naming players. So I guess it is Eyes On You!
Once again this isn't an MVP award, it doesn't mean these players are starting, or are better than everyone else, all it means is that when Mike and Lee Roy were shooting pictures this year, these individuals were making plays and were really noticed!
We will go position group by position group. Lee Roy's choices will be on the left side and Mike's choices on the right! So here we go Lobo fans, our eyes were on the following players this spring…
Quarterback
BR Holbrook
When spring first started, wasn't sure what to expect, but BR looked quicker, his footwork improved especially in the 2nd week as Coach Reaves and Holbrook were able to study more film.
BR Holbrook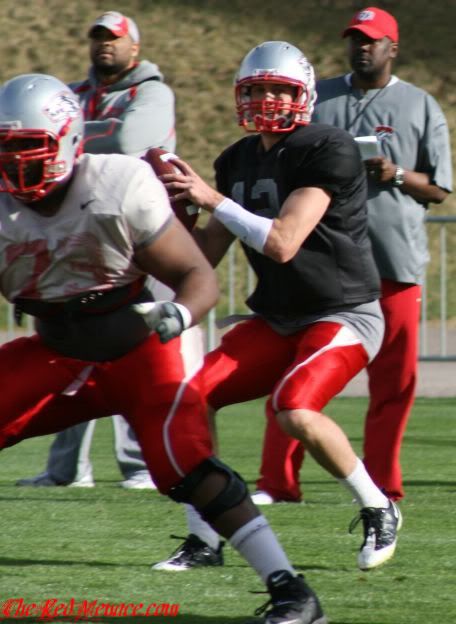 Running Back
Demond Dennis
What can be said about the 'Dreadlocked' Double D? The guy is speed, power, and excitement! His cutback ability and the way he is able to reverse his runs can only be labeled special.
Demond Dennis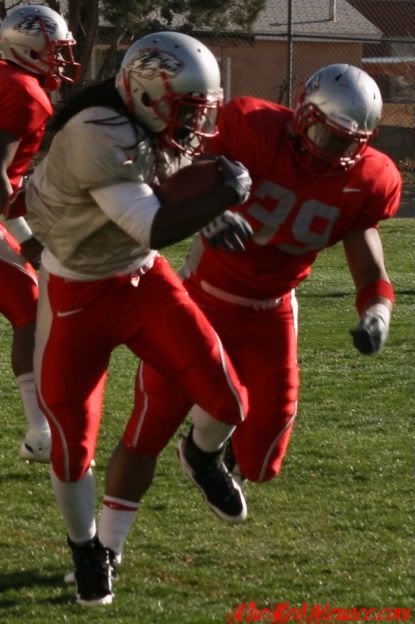 Wide Receiver
Bryant Williams
In my opinion Williams is the most improved player. He looks more comfortable within the offense, he catches the ball, and when drags over the middle, he is a nice threat with the ball. Kirk has had a solid spring making nice catches, especially when streaking up the sidelines.

Ty Kirk
Offensive Line
Karlin Givens
Maurice Mears
Going into spring the O-line was the most concerning part of this football team. While Givens did play last season, I think there was still serious questions about both Mears and Givens stepping into their positions. I'm thrilled to say that both men have stepped up to the challenge and it isn't like they are going against some lame D-line. UNM is blessed with a serious defensive line this season. Bell is one of those guys that Coach Locksley really talked up at the beginning of spring when the term "all in" was coined. Bell was all in this spring and looks like he is ready to become the "next" Lobo O-line superstar!
Byron Bell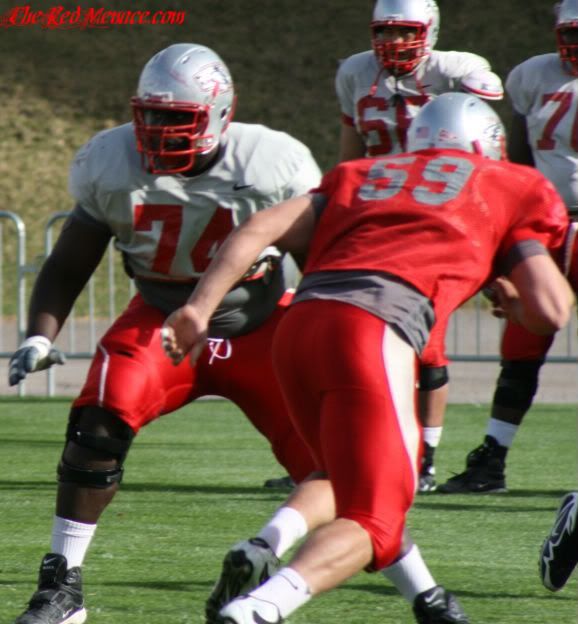 Tight End
Lucas Reed
Reed is the best receiving TE UNM has had in a long time. Look for his numbers to grow this year, as Lobo fans have wanted a receiving TE for years. Reed fits the bill!
Lucas Reed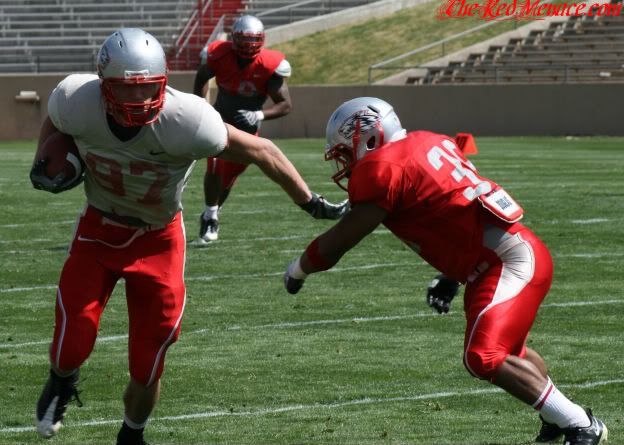 Defense
Defensive Line
Jaymar Latchison
UNM in my opinion can boast the best defensive line in the school's history. Top to bottom the rotation that Coach Mallory has at his disposal is scary. When it came to the player that made the most plays and was constantly caught on camera… #48 is your guy!
Jaymar Latchison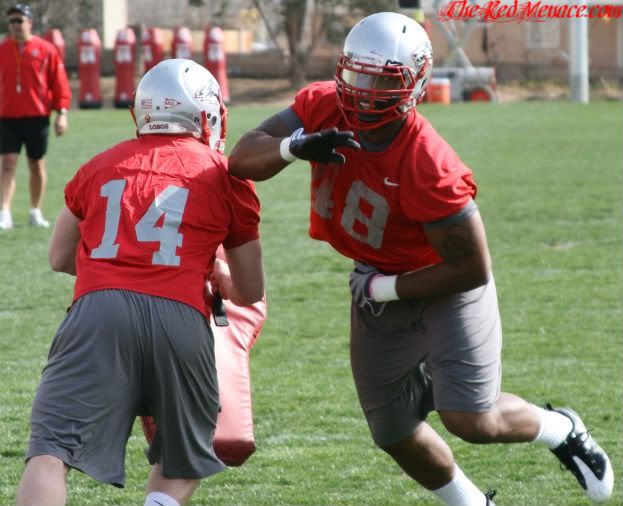 Linebacker
Joe Stoner
Stoner was the most consistent LB this spring, from Day 1 to the last day of spring he was in the mix for every play. You want a LB zeroing in on the ball Stoner is your man! Merritt really came on strong the last 2 weeks of spring making multiple plays around the line of scrimmage.
Spencer Merritt
Safety
AJ Butler
Butler moved from running back to safety this year and as he grows into the position he just looks better and better. By far the biggest "Surprise" of spring. Brian was the guy I kept seeing make plays
Brian Hill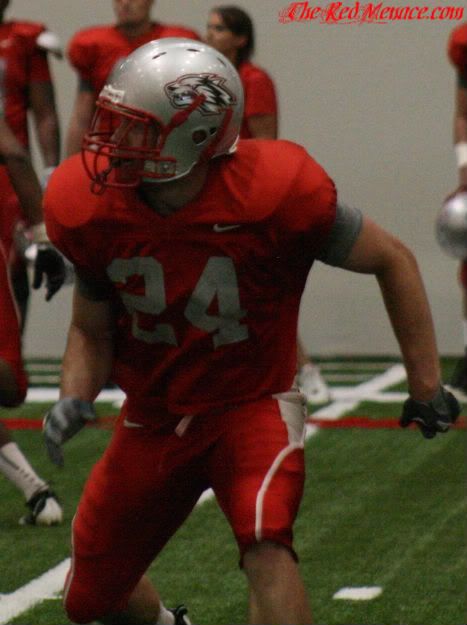 Cornerback
Emmanuel Fatokun
This was a tough one as I was really impressed with the way Anthony Hooks has become a more physical corner, but Fatokun came out of no where and made plays in coverage and around the scrimmage all spring. Emmanuel didn't feel he had a good spring, which is good because I feel he did really well, and if he has the desire to improve on his spring performance that only means good things for the Lobos.

Emmanuel McPhearson
Specialist
Ben Skaer
Dom would kill us if we didn't add a kicker on this list! Seriously though, Ben showed this spring why Coach Locksley used a scholarship on a specialist as Ben is a really good punter that will get the Lobos out of bad situations."Take more pictures of the specialists man." Lee Roy kept saying isn't he #31 but I knew he wore 41! Not only do you get your picture, but you also get a shout out for sticking up for your boys and practicing injured!

Christian Johnson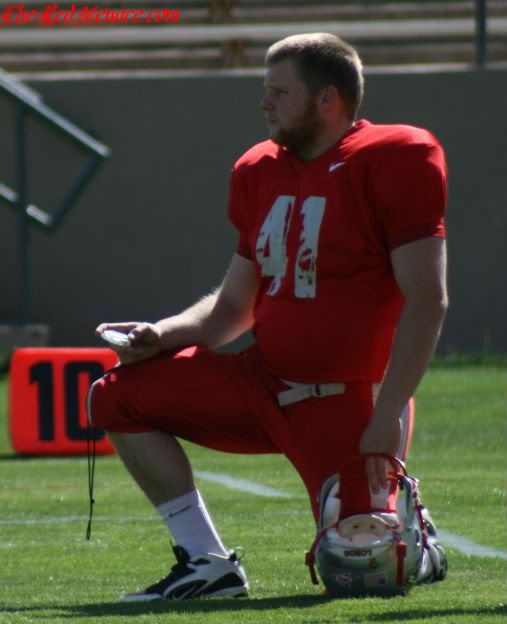 I hope you enjoyed our coverage of the 2010 Spring Football season. Stay tuned to TheRedMenace.com this summer as we will cover Coach Locksley's football camp, and all the recruiting info you can stomach. Also, don't forget we will once again be getting folks to join us in The Red Menace section come fall, and donating money to The Red Menace YAFL Program!
Thank you to Coach Locksley, his staff, and all of the Lobo football players for providing the two of us with many great athletic plays and photos. Can hardly wait to see you Lobos in the fall!