Follow Jerry on Twitter @JerryCornwell for updated NC State links after the Web Run
---

UNC claims "Our State" at NC State midfield
Erin Summers * WRAL
The North Carolina-NC State game wasn't pretty, but what happened after the game is perhaps what made the Wolfpack the angriest.
North Carolina State fell to the Tar Heels 27-19 after a shaky second half that saw two Brandon Mitchell interceptions, an inability to get into the end zone and eventually Pete Thomas being inserted under center late in the fourth quarter.
The loss will sit with the NC State team for awhile but that's not what the players are going to remember most.
Read More
LOVE that the #NCState players & #DaveDoeren were whining about #UNC players jumping on that stupid logo post-game. pic.twitter.com/oISf70V0Bo

— StuffLarryFedoraSays (@StuffFedoraSays) November 3, 2013
---
ATLANTIC COAST CONFERENCE
---
North Carolina vs NC State | 2013 ACC Football Highlights
Thornton: It's disrespectful
Ebron: I mean this is our state
---

"I'm going to remember what they did on the 50-yard line for the next 364 days. I'm going to look forward to playing them next year."
- Dave Doeren on UNC's celebration on the Mid Field Logo.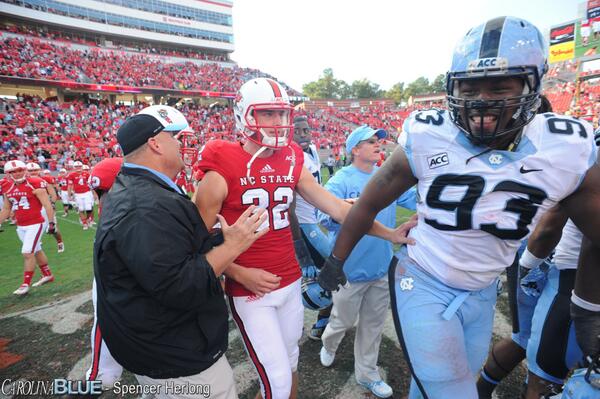 ---

Locker Room Report: Dave Doeren
James Henderson * Pack Pride
Locker Room Report: NC State
James Henderson * Pack Pride
Pack Falls Against UNC
NC State Wolfpack Football
Quotes: Dave Doeren & Larry Fedora
NC State Wolfpack Football
Scoring Summary (Final)
NC State Wolfpack Football
Gallery: North Carolina defeats NC State, 27-19
WRAL
UNC tops NC State, celebrates on logo
Joe Giglio * News & Observer
Gallery: UNC 27, NC State 19
News & Observer
North Carolina celebration rankles N.C. State, but Wolfpack asked for it
Luke DeCock * News & Observer
Four Downs: UNC upends rival NC State 27-19
Lauren Brownlow * Fox Sports
Four Downs: UNC upends rival NC State 27-19
Lauren Brownlow * Fox Sports
Quarterback quandary brews as Wolfpack sputters on offense
Andrew Wilson * Times-News
Tar Heels beat Wolfpack 27-19
Associated Press
Gallery: North Carolina-North Carolina State 11/2/2013
Associated Press
Tar Heels drop Wolfpack in Raleigh
Andrew Schuett and Zack Ellerby * Technician
New Midfield Logo: Turns Out It's A Great Idea
Backing The Pack
UNC Watch
After sluggish start, UNC defense "bows up" in victory against N.C. State
Andrew Carter * News & Observer
Tar Heels crank up the tempo
Nick Piotrowicz * Rocky Mount Telegram
UNC wins second straight in rivalry matchup with N.C. State
Nick Piotrowicz * Rocky Mount Telegram
Tar Heels right ship, sink Wolfpack
Greer Smith * High Point Enterprise
UNC in a much better 'State' after momentum-shifting win against rival Wolfpack
Brett Friedlander * Wilmington Star News
UNC claims 27-19 rivalry win against N.C. State
Michael Lananna * The Daily Tar Heel
Ebron candid after 27-19 win against N.C. State
Brooke Pryor * The Daily Tar Heel
Irking their rival: Tar Heels laugh off early hole, rally past N.C. State
Conor O'Neill * Times-News
UNC Football: Heel's Talent Prevails
Jon Bauman * Keeping It Heel
North Carolina Football: The Recap… NC State
isportsweb.com
Winning with Defense
Greg Barnes * Inside Carolina
ICTV: Ebron Uncut
Dijana Kunovac * Inside Carolina
Fedora: Proud this is the Tar Heel state

Gottfried Talks Exhibition Win
James Henderson * Pack Pride
Locker Room Report: NC State
James Henderson * Pack Pride
NC State Closes Out Exhibition Slate with 87-62 Win Over Morehouse
NC State Wolfpack Men's Basketball
Official Basketball Box Score
NC State Wolfpack Men's Basketball
Gallery: Morehouse College @ NC State (Exhibition)
NC State Wolfpack Men's Basketball
State sprints past Morehouse
Andrew Schuett and Zack Ellerby * Technician
T.J. Warren leads N.C. State Wolfpack past Morehouse
Mike Potter * Charlotte Observer
Desmond Lee successful in starting debut as N.C. State claims exhibition win over Morehouse
Bret Strelow * Fayetteville Observer

Friday's Scrimmage Postponed, Series Resumes Sunday at 2 p.m.
NC State Wolfpack Baseball
Andrew Colley Wins Individual Title at ACC Championships
NC State Wolfpack Cross Country

Basketball
Ingram Enjoys NC State Visit
James Henderson * Pack Pride
Major interest for Smith
Rob Harrington * Scout.com
Football
Preston Planning to Visit NC State
Steve Williams * Pack Pride

Clemson's Brownell has a big hill to climb
Ron Morris * The State
Fourth-ranked Duke beats Drury 81-65
Associated Press

Boyd shines as No. 9 Clemson routs Virginia, 59-10
Associated Press
Wake Forest punchless, loses 13-0 at Syracuse
Associated Press
Eagles capitalize on TOs in 34-27 win over Hokies
Associated Press

Notre Dame survives Navy upset bid
Associated Press
---
Salty RT @TarHeelPhoto: Tim Jackson being pushed off the logo by kicker Niklas Sade pic.twitter.com/dacAcg8jVK

— Jason Andrews (@Jas0nAndrews) November 2, 2013
"@accfootballnews: NC State Dance Team member flashes a smile pic.twitter.com/IrdJyOgwYI" found this and thought you should see it @Yoo_itzL0L0

— Chelsey Bartles (@chelsey_bartles) November 2, 2013
FINAL: Pack 87, Morehouse 62. Regular season starts in 6 days vs. App State at 7 pm. #GoPack

— NC State MensBball (@PackMensBball) November 2, 2013
Glad that tonight #WPN donated $9,000 for @TheVFoundation tonight that is something worth celebrating #BeatCancer

— Mark Gottfried (@Mark_Gottfried) November 3, 2013
---