Follow Jerry on Twitter@JerryCornwell for updated NC State links after the Web Run
---
First time for tense times: Wolfpack holds off South Florida
- Bob Sutton * Times-News
North Carolina State's first crack at dealing with tense late-game situations was good enough.
But the Wolfpack will want to improve in that area after a 68-65 escape against visiting South Florida on Sunday at PNC Arena.
"To see where we stand in a tough game, we came through," guard Cat Barber said. "I think we held our ground and we won."
---
ACC Standings
---
South Florida vs NC State | 2014-15 ACC Men's Basketball Highlights
2014-15 NC State Wrestling Intro Video
USF G/F Bo Zeigler Gets Rejected by NC State F Beejay Anya
---
""I noticed... I'm not knocking anybody in our league. We're all vulnerable. As a league, we all have to do well. We have to hold up our end of the bargain.""
-
Mark Gottfried
---
Late Hits: Joe Giglio breaks down the ACC bowl scenarios
Joe Giglio * News & Observer
PACK HOLDS OFF BULLS, 68-65
Rob McLamb * Pack Pride
LOCKER ROOM REPORT: MARK GOTTFRIED
James Henderson * Pack Pride
LOCKER ROOM REPORT: WOLFPACK PLAYERS
James Henderson * Pack Pride
BOX SCORE: USF @ NC STATE
Pack Pride
NC State Battles Past South Florida 68-65
NC State Wolfpack Men's Basketball
NC State holds off South Florida 68-65
Associated Press
NC State passes test against South Florida with 68-65 win
Joe Giglio * News & Observer
First time for tense times: Wolfpack holds off South Florida
Bob Sutton * Times-News
Wolfpack big man likes benefit of improved stamina
Adam Smith * Times-News
Recap: NC State vs. South Florida
The Sports Network
State seals pair of victories at PNC
Zack Tanner, Andrew Nantais, and Jake Lange * Technician
NC State 68, South Florida 65: Okay who said this could get interesting?
Backing The Pack
South Florida Watch

BULLS LATE RALLY FALLS SHORT IN RALEIGH
USFNation.com
USF loses first of season, falls to N.C. State
Tampa Bay Times
PackSwimDive Men Capture Team Title at Nike Cup Invitational
NC State Wolfpack Swimming & Diving
Seven-Day Trip Begins in NOLA for Wolfpack Women
NC State Wolfpack Women's Basketball
NC State Volleyball Earns Road Sweep at Notre Dame, 3-0
NC State Wolfpack Women's Volleyball
Wrestling Eases to Three Wins at Wolfpack Duals
NC State Wolfpack Wrestling
Cross Country Women Finish 16th at NCAA Championships
NC State Wolfpack Cross Country

Basketball

THORNTON CUTS LIST TO 10
ScoutHoops.com
Football

MCGIRT COMMITS!
Steve Williams * Pack Pride
PACK PRIDE'S RECRUITING RUNDOWN
Steve Williams * Pack Pride
ACC basketball night in review
Patrick Stevens * Syracuse.com
Henton's 38 lift Providence over Notre Dame 75-74
Associated Press
UMass upends Florida State 75-69
Associated Press
McClellan's 19 lead Miami over Charlotte 77-58
Associated Press
Dayton hangs on to beat Boston College, 65-53
Associated Press
Another down year for ACC football
Barry Jacobs * Charlotte Observer
East Carolina's Justin Hardy sets NCAA pass catching record
Sammy Batten * Fayetteville Observer
During NCAA review, UNC gets advice from former infractions chief
Dan Kane * News & Observer
. @Mark_Gottfried and our 4-0 Wolfpack in the locker room pic.twitter.com/soH5arx8tX

— NC State MensBball (@PackMensBball) November 23, 2014
Tell us #WPN what you are thankful for this holiday for a chance be included in our video. Tag #StatementofThanks https://t.co/bwMYqNrUzf

— NC State Athletics (@PackAthletics) November 23, 2014
NC State beats USF 68-65 to move to 4-0 first time since 2010 #GoPack #ncstate

— BigHal Nunn (@BigHalNunn) November 23, 2014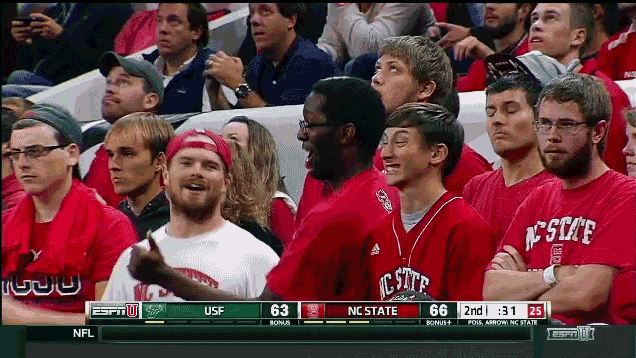 NC State basketball also begins 4-0, has clear path to bowl eligibility

— Owen Good (@owengood) November 23, 2014
NC State is a 5.5 point underdog against UNC this weekend in Chapel Hill

— Pack Pride (@PackPride) November 23, 2014