Then again, those same spectators would surely never have believed Spurrier would be plying his trade in Columbia, South Carolina, either.
South Carolina lost four of its top five running backs and three of its top four pass-catchers from 2012 and will lean on two returning veteran quarterbacks and a huge, physical, and experienced offensive line in 2013. The 'cocks also return two big and very talented tight ends in Busta Anderson and Jerell Adams; given the lack of size and experience at receiver, I'm expecting to see a lot of two-tight packages in Columbia this year, with South Carolina taking advantage of the opportunity to use multiple formations from the same basic personnel grouping. Fortunately for the Tar Heels, they play a hybrid base defense, which should allow them to match up with different formation packages without needing to substitute.
South Carolina's Power Running Game
The danger is that South Carolina will put a lot of size on the field to counteract UNC's smaller, quicker defensive approach. The UNC front figures to see a whole lot of Inside Zone and Power-O this year, with 220-pound sophomore Mike Davis figuring to get the bulk of those carries. If North Carolina is to win this game, the first priority has to be stopping that interior running game, meaning the UNC defensive line, linebackers, and Bandit are going to have to hold up against South Carolina's size. The Power-O (and the read option off that with Connor Shaw in the game) is the play Carolina fans should be especially concerned about.
The Power-O is fairly simple. The linemen to the playside (where the run is going) block "down" on the players on their inside, sealing the backside of the run, while a backside guard (sometimes tackle) pulls and leads the runner through the hole. Usually a fullback or H-Back has a kick-out block on the end man on the line of scrimmage to the playside, but sometimes that player will be left unblocked and "read" by the quarterback, who will pull the ball and run if the end man collapses on the running back. This play can be especially devastating because it gives great angles for big interior offensive linemen to have great leverage and move the defensive linemen they're "down blocking."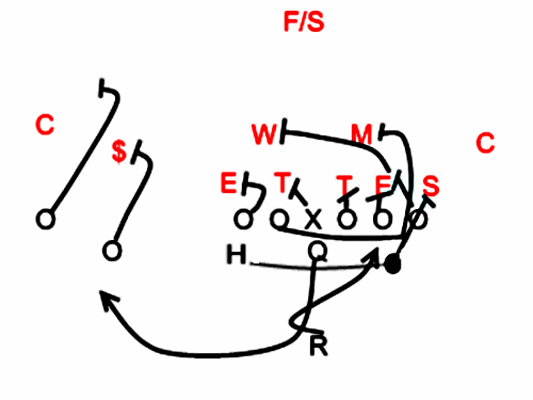 The key here will be for the UNC defensive tackles to anchor as much as possible against the down blocks to keep a large hole from forming, while the edge player (usually either the DE or Bandit) has to "set the edge," that is, compress the running lane while maintaining outside leverage. This is something the Tar Heel defense struggled with at times last year from the Bandit position, leading to some gaping holes in the running game. The linebackers will then need to meet the back in the hole and tackle securely. If UNC is able to limit this play on neutral downs (especially first down), that will be a very good sign for Tar Heel fans.
Spurrier and the Deep Post
Obviously stopping the run will help keep the Heels from just getting run over, but being able to stop South Carolina's inside power running game is also going to be critical for avoiding what is a hallmark in Spurrier's offense: the big play on the post route down the field. This is a special concern given UNC free safety Tre Boston's lack of discipline in the past. It is critical that Boston maintain his deep leverage against South Carolina, as Spurrier will use both play action and underneath "dig" (square in) and crossing routes to bait Boston and other deep middle coverage players into stepping forward while throwing over their head for big plays.
Spurrier's "Mills" play is a good example of how Spurrier goes about this:
As you can see, Spurrier has made a living off of putting that deep safety in a high-low bind and then throwing over his head when he steps up to take away the intermediate dig route. Carolina's secondary must be disciplined in deep coverage to prevent this—and the front must succeed in minimizing run success so those players can remain committed to preventing those big plays rather than having to be rolled up against the run. I'm not convinced South Carolina has the playmakers to really be afraid of on the outside this year as long as UNC is able to limit the effectiveness of the running game and maintain deep coverage discipline.
Preventing Mismatches
One other thing I expect to see from Spurrier is using those tight ends in flexed or wide alignments to create mismatches with South Carolina's small but quick receivers against UNC's linebackers, Ram, and safety. (This is where the better coverage players at Ram will be useful on passing downs.) UNC defensive coordinator Vic Koenning will need to have a plan to make sure his linebackers don't wind up with a matchup disadvantage like Michigan found themselves in against South Carolina in the Outback Bowl last year.
Note that Spurrier again finds a way to get a wide open receiver on an easy throw down the middle (in this case a quasi-post route on a "Verticals" concept). The key here will be ensuring that this kind of mismatch doesn't happen, something a lot easier in the second year in the system, since the defensive players should be much more capable of making the proper checks to this sort of alignment on the fly.
---
Jason Staples was a walk-on wide receiver at Florida State in the early part of the last decade and has provided in-depth football analysis on the Scout network since 2007. A member of the Foootball Writers' Association of America, he is presently finishing a Ph.D. at UNC-Chapel Hill and will be providing scheme and stats analysis for InsideCarolina in 2013.