CHAPEL HILL, N.C. – Ryan Switzer's best play in North Carolina's upset of Florida State last weekend was quite possibly a pass he did not catch, which speaks volumes when considering he caught 14 balls for 158 yards.
With 13 seconds left on the game clock and UNC needing 17 yards to reach Nick Weiler's preferred range, Switzer worked behind a Seminole defender out of the slot and found an open hole near FSU's 30-yard-line. Mitch Trubisky, who had been near flawless all game, overthrew his longtime roommate, although Switzer made a diving attempt for the ball, somehow getting his fingers on the leather before the pass fell incomplete.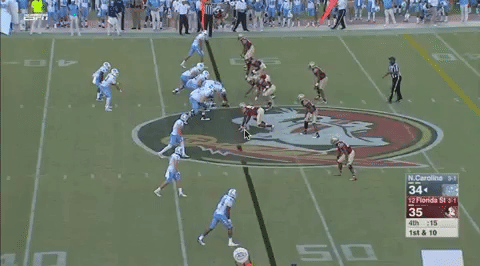 "I was close, man," Switzer said after the game. "That was one of the few times Mitch and I didn't connect. I got man coverage and got free down the middle. I think I used all of my 5-9 frame to reach out and try to get that one."
It was an incredible effort amplified by the fact that just before halftime, Switzer looked down and saw that his left thumb was dislocated. His quarterback found out in the halftime locker room after an athletic trainer popped it back into place.
"I said, 'Are you going to be able to catch the ball?'" Trubisky said this week. "'I'm not going to throw it to you any more if you can't catch it.'"
Switzer shook him off, saying, "I'll be open, so just keep looking for me."
Trubisky did just that, as he's done all season long. Switzer is tied for fourth nationally and tied for first in the ACC with 47 receptions, 14 shy of his single-season best set in 2014. He totaled 587 receiving yards and two touchdowns on a 12.5-yards-per-catch average.
Switzer has caught 30 passes for 366 yards in the last two games alone, which is an ACC record for most receptions in back-to-back games. The Charleston, W.Va. senior is 10 catches shy of tying Quinshad Davis's school record for career receptions (205) and 458 receiving yards shy of tying Hakeem Nicks's school record for career receiving yards (2,840).
Not bad for a player that many wrote off as an elite punt return man and little else early in his college career.
"I think he's just hungry," Trubisky said. "He always plays with a chip on his shoulder. His whole life he's trained and worked and people have told him he can't do it. He's not big enough."
Trubisky, who said it often feels as though he and Switzer are simply at the beach with family playing catch, praised his roommate for his attitude that no one can cover him. To date, no one has been able to cover Switzer, especially in man concepts over the middle. It's a well that Trubisky keeps going to, and it nearly paid off in the final seconds against Florida State.
https://twitter.com/DavidHaleESPN/status/783755510369574912
"I feel like I've got a greater chance, at least this year, going into the game and having an impact just because I've got a guy that's looking for me right now," Switzer said on Wednesday. "I'm the same confident dude in my abilities as before, but when you get the ball as much as No. 10 has been feeding me, it gives you a little bit of a boost."
As for the records beginning to crumble in his direction, that's confirmation of his work ethic and persistence.
"It just shows the growth that I've had since I've been here," Switzer said. "People can say what they want about me being a good receiver or not, but numbers don't lie."