William Henderson entered the NFL as a third round pick out of North Carolina in 1995 hoping to earn enough to pay for grad school. Twelve years later, he retired with a Super Bowl ring, a reputation as one of the best fullbacks of his generation, and enough money to pay for grad school a hundred times over.
It was never about attention with Henderson, which is why he stuck around so long, he says. He worked hard and kept the ship moving forward. In other words, he was the perfect fullback.
Henderson brought a similar approach to the start of a new career. This fall, Henderson joined the Tar Heel Sports Network team as a color commentator. Henderson has some experience in broadcasting, co-hosting Monday Night Kickoff on WBAY in Green Bay for eight years and covering games for NFL Europe, but he's approached this radio stint as a rookie.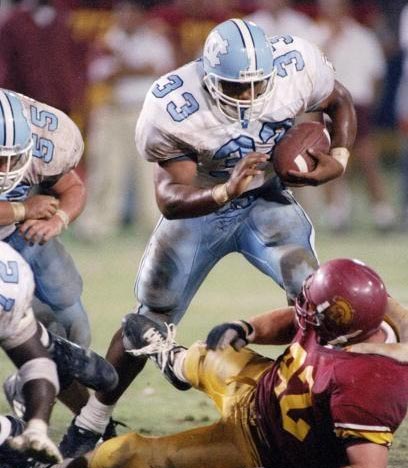 "I'm a little rusty. I took a few years off the microphone but being able to describe what's going on, I'm pretty good at," Henderson says. "It's a lot of fun."
Henderson joined THSN after former teammate and associate athletic director for football administration Corey Holliday reached out to him. Henderson, who lives in Richmond, Va. and spends most days working with charities like The Gilbert Brown Foundation and Generations Against Bullying, doesn't have any desire to play football anymore, but admits he missed the game.
"(Broadcasting) is the closest a former athlete can be to being involved in the game, other than coaching or being part of the administration," Henderson says. "So, this is a chance for me to be a part of football, without getting up on Mondays and feeling like I just got hit by a Mack truck."
Henderson says prepping for broadcasts involves reading anything he can get his hands on. Also, he's learning how to put together a legible and logical board for the booth so he can stay on top of everything.
"One of the main things is getting a rapport with Jones Angel because he is so talented at what he does," Henderson says. "I try to be a complement to the great performances he's giving week in and week out."
If Henderson's pro career is any indication, he should have no problem making the transition. He only missed four games as a professional and was known for his work ethic, which he says came in part from Hall of Fame defensive end and teammate Reggie White.
"Reggie was my inspiration," Henderson says. "I had a great father and mother who taught me work ethic, but coming into the game, I was kind of a nervous guy and basically unsure of my ability. … Reggie took time out of his preparation to be a leader and to seek me out."
Traveling with the team has allowed Henderson to get to know the character of the players on this year's team, which he thinks is important.
One of his best memories from playing at Carolina was when his teammates raised money to send his father to the Sun Bowl in 1994 after William's mother unexpectedly passed away. Carolina football players were impressive people then and he's been happy to see they are now, too.
"I'm looking forward to telling those stories so people can get to know them and truly want to support Carolina football," Henderson says.