Three days before his 37th birthday,
Thad Matta
took a demotion.
Not in pay, and not even in prestige. But for a young head coach hellbent on capturing a national championship, Matta admittedly took a step backwards in his pursuit of that goal when he left Xavier University for the head coaching job at Ohio State on July 8, 2004.
Historically, the Musketeers' program couldn't hold a candle to the Buckeyes, but this wasn't your father's Ohio State squad that Matta was taking over. Long gone were the days of Fred Taylor, Jerry Lucas, and John Havlicek, and present were looming NCAA sanctions and an uncertain future thanks to violations committed by the previous regime in Columbus.
Nevertheless, Matta packed his bags, leaving a program that was mere minutes away from a Final Four appearance in 2004, and headed two hours north for what was once Ohio's premiere college basketball program. At his introductory press conference, the Hoopeston, Ill. native stated a simple -- albeit lofty -- goal for his tenure as the Buckeyes' head coach.
"I have accepted this position for one reason and one reason only: To bring Ohio State basketball back into national prominence," he said. "I do realize that we have challenges, but I'm ready to roll up the sleeves, go to work."
Nine seasons later, the Buckeyes have accumulated 250 wins under Matta and hold the nation's longest active streaks of Sweet 16 appearances and years with a player selected in the NBA Draft. The now 46-year-old has accomplished just what he set out to do -- and then some -- and on the eve of his 10th season at Ohio State, he took some time to reflect on the past decade that he's spent in Columbus.
'A Defining Moment'
Taking over a team that had missed the NCAA Tournament for two consecutive seasons and was coming off of a 14-16 campaign, Matta knew that he had his work cut out for him, but was unaware of just how poor of shape the Buckeyes' basketball program was in. From uninspired efforts both on the hardwood and in the classroom, Matta knew that his new team was in for a culture shock as he attempted to implement what he described as "the Ohio State way."
"I remember saying to kids when we began our recruiting process, 'We're at rock bottom. I'm not going to lie to you,'" Matta recalled. "We had a 20 percent graduation rate. I didn't know that until I got here.
"There were 330 Division-I programs at the time, and we were the 330th. People forget where we were."
A surprisingly quick turnaround seemed imminent as the Buckeyes raced out to an 11-2 start in non-conference play in their first season under Matta, but they were then dealt a blow when Ohio State self-imposed sanctions that included a postseason ban for the 2004-05 season. With little left to play for, the Buckeyes went 8-8 in Big Ten play, but managed to leave their mark in their season finale.
On March 6, 2005, Illinois came to Columbus as the nation's top-ranked team with a 29-0 record in tow. Ohio State, however, refused to lay down to its more talented opponent, battling back and forth with the Deron Williams-led Illini in front of a fever pitch crowd inside the Schottenstein Center.
When all was said and done, the Buckeyes came out on top thanks to a Matt Sylvester 3-point shot with 5.1 seconds remaining to give OSU a 65-64 victory. In a scene that is now etched on the walls inside of Value City Arena, both Matta's practice and patience were vindicated, proving that brighter days were ahead for Buckeye basketball.
"Looking back on it, I feel like it was a defining moment, because everything that we had preached, the environment we tried to create around the basketball program came into fruition and showed that hard work does pay off," Matta said. "There was no light at the end of the tunnel for that team. Tony Stockman, Brandon Fuss-Cheatham, and Matt Marinchick were the three lone seniors that year, and they were playing for nothing and that team won 20 games and just did an incredible job. I think that kind of propelled us into the future."
Ahead Of Schedule
Despite Ohio State's impressive debut under Matta, the Buckeyes were selected to finish eighth in the Big Ten at the conference's media day in 2005. Optimism in Columbus, however, remained high, as the Ohio State coaching staff inked a star-studded, second-ranked recruiting class for 2006, that included the nation's No. 1 player in Greg Oden, as well as Mike Conley, Jr., Daequan Cook, David Lighty, and Othello Hunter.
But before the "Thad Five" could make its way to Columbus, Ohio State still had another season to play, as four prideful seniors did their best to make sure that they weren't forgotten.
Sylvester had heard all about the incoming crop of future Buckeyes, as had classmates Terence Dials, J.J. Sullinger, and Je'Kel Foster. But rather than let a group of high school seniors steal their headlines, Ohio State's 2005-06 seniors decided to make some of their own, winning the Buckeyes their first outright Big Ten regular season championship since 1992.
"We had some seniors in that second year that had a lot of pride," said now-Illinois head coach John Groce, who served as Matta's top assistant at OSU from 2004-2008. "They were in that mode that they had heard about the recruiting class and those guys that had signed -- Oden, and Conley, and Cook, and Lighty, and Hunter -- and, 'Hey, wait until next year,' and I think those guys played with a chip on their shoulder. That was maybe one of the most fun teams I've coached."
With a 25-5 record, Ohio State entered the NCAA Tournament as a No. 2 seed, but fell to Georgetown and an emerging Roy Hibbert in the second round. Nevertheless, the 2006 Buckeyes showed that OSU basketball had turned a corner, and still remain in a special place in the hearts of all who were associated with that particular team.
"That team is the team that will always be forgotten, but it's No. 1 in my mind in terms of what those guys were able to accomplish," Matta said. "Everybody was only concerned about the next year because Greg, Michael, Daequan, and David were coming in and they didn't care about that season. They just kept winning, and winning, and winning. To Terence, Je'Kel, James, and Matt, I still to this day owe those guys a lot."
The Thad Five
With the most highly-touted recruiting class in program history on campus, the Buckeyes entered the 2006-07 season ranked sixth by The Associated Press and fourth in the ESPN/USA Today Coaches Poll. Despite Oden missing the first seven games of his college career with a wrist injury, Ohio State was ranked first in the coaches poll by December, and entered March Madness as the country's top-ranked team after winning a No. 1 vs. No. 2 matchup against Big Ten rival Wisconsin on Feb. 25.
Oden proved to be as good as advertised, averaging 15.7 points and 9.6 rebounds per game en route to being named a consensus All-American, but nobody foresaw the emergence of his high school teammate, Conley, who led the Big Ten in assists with 6.1 per game and averaged 11.3 points per contest.
Well, almost nobody.
"The only two people in the world who knew how good Mike Conley was was myself and Greg Oden. We used to laugh about it," Matta said. "I used to tell people he was the best point guard in the country and nobody would believe me. You'd just see him make play after play after play. You'd go back and watch the film and you'd be like, 'Oh my gosh. I didn't see that in the game. That's one of the greatest plays I've ever seen.' But Mike just had that demeanor about him."
Behind the play of its two most talented freshmen and senior Ron Lewis, No. 1-seeded Ohio State advanced to its first Final Four under Matta after enduring close calls with Xavier and Tennessee on the road to Atlanta. It was there that the Buckeyes exacted revenge on the Hoyas in the national semifinals, before completing what seemed like a collision course to a national title game matchup with defending champion Florida.
"At the time I was young and I was so in the moment. You didn't realize what you were doing," Conley told BuckeyeSports.com. "We were just out there playing and we were experiencing everything for the first time and we basically did everything you could do the first time you were there. It was unbelievable and now you look back on it and see how special it was."
The Buckeyes' magical season came to a disappointing finish, however, when an 84-75 Florida victory made the Gators college basketball's first repeat champion since Duke in 1991 and 1992.
"In '07, we had maybe one of the best teams ever in the Big Ten and we play Florida, who has everybody back from the team that won it the year before. That's the kind of luck I have," Matta joked.
Ohio State was dealt another blow just a few weeks later when Oden, Conley, and Cook all declared themselves eligible for the NBA Draft. The Thad Five's run may have been short and sweet, but it proved that Matta and the Buckeyes were capable of competing with anybody on the court and the recruiting trail.
"We said, 'Nobody's expecting us to go to Ohio State. Nobody's expecting Ohio State to be good, but we're going to change that, We want to change the culture,'" Conley said. "And I think that's what we're most proud of is that we helped do that."
One And Dones
Losing four starters from their national runner-up squad, the Buckeyes' inexperience in the 2007-08 season was apparent as Ohio State was left out of the NCAA Tournament following a 19-12 run in the regular season. The Buckeyes did go on to win the National Invitation Tournament, an accomplishment that Matta saw as a positive, despite its inherently minor nature.
"For that team, it was a great thing because we were so young and it allowed us to continue to practice and continue to keep competing for something," Matta said. "It turned out to be a good thing for us."
Although not as talented as his predecessor in Oden, freshman center Kosta Koufos opted to enter the 2008 NBA Draft, a trend that would be followed again a year later when B.J. Mullens declared himself draft-eligible after just one season at Ohio State. The inconsistency on the OSU roster was evident in the Buckeyes' win-loss records, as OSU nabbed a No. 8 seed in the NCAA Tournament in 2009, before falling to Sienna in the first round.
While Matta admitted that he had an idea that Koufos and Mullens were likely to be short stays in college, he was not prepared to lose Conley to the pros so soon -- even if it was a move that he encouraged the No. 4 overall pick in the 2007 draft to make.
"That blow hurt us in the worst way," said Matta, who recruited under the assumption that Conley would be in Columbus for more than one year. "I told Michael, 'You have to go pro.' But that did set us back a couple of years, there's no doubt about that."
It wasn't all doom and gloom for the Buckeyes in 2009 though, as sophomore Evan Turner began to emerge as one of college basketball's best players. In what was perhaps his most impressive recruiting job to date, Matta convinced the 6-7 swingman to return to college for one more season, one that proved to be the start of another special run for Ohio State.
Turnering Things Around
Turner's junior campaign got off to an even better start than most envisioned it would, with the Chicago native notching two triple-doubles in the first month of the season. But his National Player of the Year candidacy and the Buckeyes' national title hopes appeared to each come to a screeching halt on Dec. 5, 2009, when Turner broke his back after falling from a dunk against Eastern Michigan.
Originally expected to miss eight weeks, Turner returned to the Ohio State lineup having missed just six games, in which the Buckeyes' compiled a 3-3 record.
Proving himself worthy of the National Player of the Year awards that he would go on to win, Turner led the Buckeyes to a 29-8 record and a share of the Big Ten regular season championship, while averaging 20.4 points, 9.2 rebounds, and 6.0 assists per game. After a successful Big Ten tournament run that saw Turner hit a near half-court buzzer-beater in a second round win over Michigan, Ohio State was named a No. 2 seed in the NCAA Tournament, but fell to Tennessee in the Sweet 16 in what proved to be the final game of Turner's college career.
"That team won 29 games and we probably lost a couple we wouldn't have lost had Evan not broken his back," Matta said. "Having a guy like that in your program and watching him develop into who he is as a player and a person -- that's pretty gratifying."
With another NBA lottery pick, conference championship, and Sweet 16 to their credit, the Buckeyes were finally back on track, and poised to make history in the coming years.
Sustaining Success
Despite Turner's departure, Ohio State opened up the 2010-11 season as one of the top five-ranked teams in the country, thanks to four returning starters and the program's most college-ready recruit since Oden.
It had been five seasons since J.J. Sullinger last played for the Buckeyes, but the Columbus native's association with the OSU program continued to pay dividends for Matta. J.J.'s younger brother, Jared Sullinger -- known as "Fat Jared" to Matta during J.J.'s playing days -- had blossomed into the nation's fourth-ranked recruit in 2010, and opted to spend his college career at his brother's alma mater.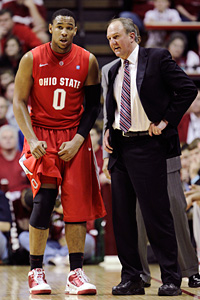 The 6-9, Columbus Northland product made an immediate impact for the Buckeyes, who raced out to a 24-0 start to the season en route to winning second consecutive Big Ten regular season and tournament championships. Ohio State entered the NCAA Tournament as the No. 1 overall seed, but again fell victim to the SEC, suffering a heartbreaking loss in the Sweet 16 to Kentucky.
Both Sullinger and junior guard William Buford -- a pro prospect in his own right -- vowed to return for the following season, in hopes of having happier endings to their college careers.
Sullinger was again named an All-American in 2012, while it was Buford's game-winning shot against Michigan State in East Lansing that gave the Buckeyes a share of their third consecutive conference championship. Sophomore guard Aaron Craft was named the Big Ten's Defensive Player of the Year and classmate Deshaun Thomas emerged in the NCAA Tournament for a second-seeded OSU squad that got over the Sweet 16 hump and advanced Matta to his second Final Four as the Buckeyes' head coach.
"What this basketball team has been able to accomplish, I'm extremely proud," Matta said at the time. "Watching these guys come together and all the great basketball they've played throughout the course of the season, all the great wins they've been a part of, the whole locker room -- they're special kids."
Ohio State would lose to Kansas in the national semifinals and Sullinger declared for the NBA Draft just a few weeks later, but the standard for the Buckeyes the following season remained the same. Even after a devastating 71-49 loss to Wisconsin in February, the Buckeyes bounced back with 11 consecutive wins, capturing the Big Ten tournament title and a No. 2 seed for the Big Dance, before falling to Wichita State in the Elite Eight.
After helping Ohio State become the only team in the country to reach the Sweet 16 in each of the past four seasons, Thomas declared for the NBA Draft, where he was picked in the second round by the San Antonio Spurs, extending Matta's run of having at least one player selected to seven years -- the longest active streak for any program in the nation.
Entering his 10th year as the Buckeyes' head coach, the standard that Matta has set in Columbus is clear, with five Big Ten championships, four conference tournament titles, six top-2 seeds, two Final Fours, and nine NBA draft picks to his credit. The only thing missing from Ohio State's third all-time winningest coach's resume is a national championship -- and Matta knows that -- but his desire to win one comes from a place other than outside pressure.
"There's an element inside of me that knows I'm representing more than myself or the university, and that is the fans and the state of Ohio," Matta said. "I don't want to say that it's a pressure, but it's a driving force to do the best that I possibly can."
Upon further reflection, Matta admitted that it's amazing just how far his program has come in the last decade. The days of sanctions and subpar seasons seem like a distant memory inside the Schottenstein Center, this time replaced with a modern golden era of Buckeye basketball, and affection from fans, which has only been reciprocated by its head coach.
"The thing about being here 10 years is every day I find myself falling more in love with Ohio State and what this university does for students -- slash athletes -- but students first. I think it's the most incredible university I've ever seen and I've really tried as much as I can to embrace it all," Matta said. "I think people look at our program today and say, 'It's been this way.'
"We set out to build one of the top college programs in the country," he continued. "I look back over my time here and I'm very proud of what we've built and how we've built it."