Braxton Miller
's move to wide receiver has been one of the most talked-about aspects of
Ohio State
's fall camp.
And yet I still don't think it's been talked about enough.
Think about all the things the Buckeyes are going to be able to do with someone that talented, that explosive and that multi-dimensional lining up, well, wherever he wants to line up.
The thought of it had Ohio State head coach Urban Meyer smiling with a kid in a candy store earlier when he was at the Big Ten Media Days – and admitting it, too.
"It's pretty intriguing," said the man who let Jalin Marshall and Evan Spencer – in the Sugar Bowl, no less – throw passes last year. "For a guy that sits and doodles all day long like a child, it's pretty exciting."
And then, with a gleam in his eye – 'I'm not letting you see (the doodles), either."
And if Urban Meyer is that excited, you should be excited. This is Mr. Spread Offense, the guy who created an entirely new way of doing things when he got to Bowling Green, unsure it would work – and then beat Missouri in the very first game.
When he got to Utah, he created an offense so good and so fun that he became a curiosity. In the Utes' famed Fiesta Bowl trouncing of Pittsburgh, he let it all hang out. He ran reverses. He ran the Shelley Shovel. He motioned backs into the backfield and created dynamic option plays. And in the coup de grace, Utah's final TD was scored on screen pass to a receiver, who then pitched it to another player coming out of the backfield.
It was masterful offensive football, and Meyer has since proved at Florida and Ohio State that his genius isn't going anywhere. He has three Ohio State teams and two of them are No. 1 and No. 2 in scoring all-time in the school record books. This guy knows what he's doing. He's not afraid to take risks. He's not afraid to use his guys. And now he has the ultimate guy.
So far in camp, we've seen Miller doing all sorts of things that he'll excel at in the Meyer offense. In one training camp video, he takes a pop pass and hits the edge. If I'm a defensive coordinator, that's a terrifying thought, because even if you defend it correctly, this is a guy who can do this from a standstill.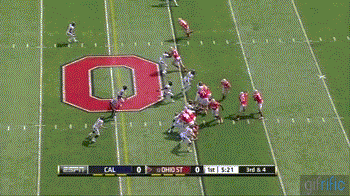 And this in the open field.
Miller also said Sunday that he's lining up some in the backfield, something our Josh Winslow spotted with his camera last week.
@BraxtonMiller5 repping at WR, punt returner, halfback during #OhioState practice today. pic.twitter.com/jXYA0IKmuP

— Josh Winslow (@jwinslow7) August 14, 2015
Look back at those Utah videos and think of all the options Miller presents. A speed option with either Cardale Jones or J.T. Barrett? Scary, given each's running skills. A shovel pass or a lateral to Miller at full speed ahead? Scarier, and Meyer knows how to teach it.
Oh, and then there's the fact Meyer also acknowledged again Sunday that once his shoulder is fully healthy, Miller will be throwing the ball as well. A whole defense trying to converge to stop the most dangerous man on the field – and then having to worry about him throwing it, as well. Scariest.
"It's like playing a video game," Miller said. "You can put anybody anywhere."
And Meyer is a guy who knows how to put anybody anywhere and make them look good. It might be the perfect combination of football mind and football player.
Braxton Miller is the talk of the town, but just wait until the season starts. He might be the talk of the nation.