ok not exactly new, just completely rebuilt since I had previously played it.  Crestview Golf Club in Waldport, had a blast and would certainly play it again.
Crestview Golf Club     9 Hole  Par 34     $35 18/$22 9
1680 Crestline Dr., Waldport, OR  97394                   541-563-3020
2558 M/1859 W yards           114 M/109 W  slope      64.6 M/61.6 W rating  
http://www.crestviewgolfclub.com/index.htm
This was fun getting to play a new course  on a cool but dry March Saturday, well actually I had played Crestview before, and vowed to myself I would not bother playing it again, but circumstances happened that my wife and I ended up in Waldport and decided what the heck lets go get 9 in.  Wow, what a very pleasant surprise finding out this course has been completely re-built guided with the hand of Doug Hickson in 2009.  It still is not a long course, and not terribly difficult, but it certainly is a lot more enjoyable than the last time I played it.  3 pretty tough par 3's, including the 245 yard 9th hole and the 180yard 4th hole that plays downhill to a narrow green with a pond on the left and a hill on the right.  Then you have the 295 yard par 4 5th hole that plays downhill over a ravine off the tee and uphill to a 3 tiered green.
The greens on Crestview are huge rolling undulating affairs that you will have a tough time finding any flat putts.  A fair number of bunkers are on the course to keep you honest with some shots, conveniently located trees will keep you playing down the fairways, and accuracy on this course is more important than length.  I would certainly play this course again if I was in the area and feel comfortable recommending this to anyone who is always looking for a fun course to play.
My rating            5  golf balls


par 3 4th




















par 4  5th hole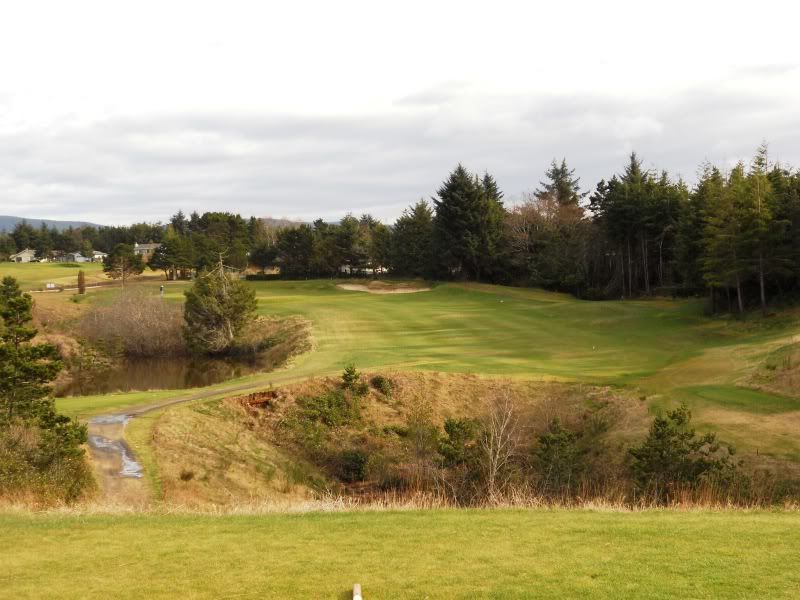 par 5   8th hole