Stuck in traffic, late for work, spilled that eight dollar coffee from Starbucks on your business suit before the big board meeting.
To some people this ruins their day, and may seem like the world is crashing down on them, and nothing will ever go right again.
Now take an American Soldier fighting overseas, away from their families and loved
ones for months at a time, in the line of fire and in danger all the time.
A lot of times people go through their daily routine, they forget that there are fellow Americans, neighbors and friends fighting everyday to protect the freedoms that we cherish as Americans ever day, and sometimes take for granted.
"So it's a pretty tough situation when you look at what they go through," Texas Tech Head Coach Tommy Tuberville said. "And we take it for granted, there's no doubt we all take it for granted. We're spoiled.
"We live in our houses and drive nice cars and we get to holler at coaches and I get to holler at referees and all these things. And what they do is real. I mean, it's not a game."
On Saturday along with the Wounded Warrior Project the Red Raiders and Oklahoma State Cowboys will be wearing special uniforms designed by Under Armour to honor the Wounded Warriors when they kickoff at 11 a.m. on Saturday at Jones AT&T Stadium.
Four wounded warriors will be honored at Saturday's game, including the most recent Medal of Honor Recipient - United States Army Specialist Louis Flores (Retired), Marine Corporal Anthony Villareal (Retired), Captain Chad Fleming (75th Ranger Regiment), and the Medal of Honor Recipient Staff Sergeant Salvatore Augustine Giunta.
Having a weekend like this is special Tuberville, whose father was killed in action, said and it's neat to have them on campus and talking to the players.
"We're excited about this week and the Wounded Warrior game," he said. "I thought last year it was a success that we all had a chance to honor a lot of our wounded warriors here. They have an opportunity to come here and be on campus and be with our players for a couple of days, talk to our players about their experiences here at home and overseas."
When it comes to the game, this is the second consecutive year that the Red Raiders have been involved in a game like this.
Last season the Wounded Warrior game came against then-No. 14 Missouri, which Tech got the 24-17 upset in, and current starting quarterback Seth Doege spent that game on the bench.
But this season, Doege will start the game and try to lead the Red Raiders to victory on a special night and special weekend.
"It's a huge, huge honor to be able to play in a game like this and represent something so special," he said. "I remember last year feeling it was probably one of the most special things I've ever been a part of. And when those guys came in and talked to us, you know, kind of talked to the team, told us stories and let us know that they're behind us, and sometimes I get a Facebook message from a guy I went to high school with and he's in Afghanistan or somewhere and saying hey, man, like we're all behind y'all.
"And that's special, something that kind of puts it in perspective when you lose that you're not -- it's not that bad. There's a lot worse things going on in the world."
The jerseys from the game will be auctioned off after the game to help raise money for the Wounded Warrior Project, which is a non-profit and non-partisan organization, which mission is to empower and honor wounded warriors.
For more information about the Wounded Warrior Project you can visit www.woundedwarriorproject.org and learn more about the project and what it is all about.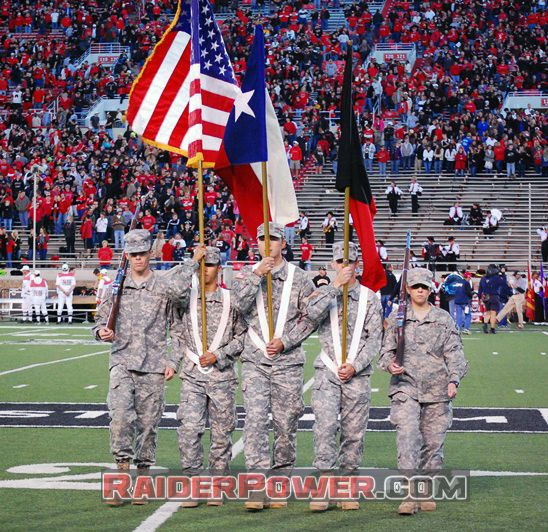 Photo By O'Jay Barbee
Thank you to all our men and women who serve in the armed forces. We can never thank you enough, and God Bless America.
Follow me on Twitter: @jokoch09
Email comments to joshkoch09@gmail.com