Four factors must be present for a football team to produce a dominant receiver. First and most obvious, there must be a very talented receiver to catch the ball. Second, the team must throw the ball a great deal. Third, there must be an accurate passer on the roster. And fourth, the offensive line must be adept in pass protection.
And there is a sneaky fifth factor as well: there cannot be too much talent in the receiving corps. If a team has four dominant receivers, it cannot have a dominant receiver.
Over the past 15 seasons or so, Texas Tech has produced its fair share of outstanding receivers. Michael Crabtree, Joel Filani, Robert Johnson, Jarrett Hicks, Carlos Francis, Wes Welker and Donnie Hart are among the luminaries. But rare has been the Tech receiver who put up truly huge numbers in a given season.
Take, for instance, 1,100 receiving yards in a season. That is a productive campaign, but would have placed a wideout only No. 33 nationally last season and seventh in the Big 12. Yet the only Tech receivers who eclipsed that number since 1997 are Crabtree, who did it twice, Filani and Hicks.
Over the last three seasons, however, no Red Raider wideout has even sniffed 1,100 yards. Eric Ward led Tech with 800 last season. Detron Lewis was Tech's leading receiver the two years prior to that, and the best he could manage was 852 receiving yards in 2010.
But is this the year a Tech receiver becomes a statistical monster?
Will any Tech receiver reach 1,100 receiving yards in 2012?
To begin with, there's not much doubt that at least one Tech receiver has the talent to have a big statistical year. Eric Ward certainly has the potential. Likewise, Alex Torres, if he can stay healthy, has a shot.
Although he's an unknown, Bradley Marquez could put up big numbers. Darrin Moore was on pace to obliterate the 1,100-yard mark last season before going down with an injury. He's back and ready for action.
Clearly the talent is there. But that could be a "problem" too. Seth Doege may have so many weapons in the receiving corps (and I by no means mentioned them all) that no single one dominates. Doege could spray the ball all over the yard, producing huge passing numbers, without a single receiver catching for over 800 yards.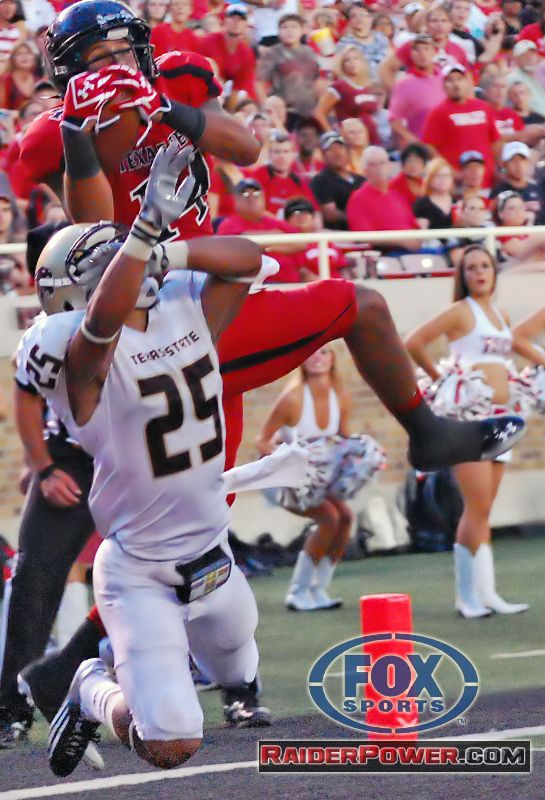 Another limiting factor could be offensive line play. As has been well chronicled, the offensive line, along with an injury-riddled backfield, is Tech's biggest question mark going into summer camp. During spring workouts the offensive line "got pushed around a little bit," to quote Tommy Tuberville. And that development was "concerning," according to the High Plains Commander.
If Doege is running for his life, or worse, if Michael Brewer is forced to, passing yardage will diminish.
One puts it all together, and no matter how well Doege may perform at quarterback, 2012 will not be the year that a Tech receiver puts up numbers like Hicks or Filani, let alone Crabtree.