*The ESPN headline says "Texas Tech Stuns Oklahoma to Stay on a Roll." The Red Raiders are most assuredly on a roll, but was this game really an upset? If you look at the team's rankings—OU was No. 3, Texas Tech was unranked—coming into the game, yes, it was an upset. If you look at the records of the teams entering the game—Oklahoma was 20-4, Texas Tech was 15-9—then, yes, it was an upset. But for anybody who had a closer awareness of how the two teams were playing in the last couple of weeks before the tip-off, then this was not an upset. For those in the know about how intimidating the USA can be for a truly big game—which this was—this was not an upset.
So, at some point the national pundits are going to have to start paying more attention to Texas Tech and revise their perception. The stark, stone-cold reality is that the Red Raiders are a very good basketball team. Right now they are playing as well as anybody in the Big 12.
Naturally, there is no guarantee that the superlative play will continue; this team is still not overpowering enough on talent alone to just waltz past anybody in the Big 12 by showing their jersey and saying boo. But if the Red Raiders play comparably well to how they've played in the last three games, this team is a shoe-in for the NCAA tournament, and if selection committee gives Tech the seeding it deserves, this team can do damage when it gets there.
*In this game, Texas Tech engineered two brief flurries that made the difference between winning and losing. The first began at the two-minute of the first half with Oklahoma enjoying a semi-comfortable five-point lead. The Sooners had 31 points and did not score another point in the half. The Red Raiders, on the other hand, got a Justin Gray jumper, a free throw from Aaron Ross, a rebound on a missed Ross free throw that led to a Zach Smith dunk, and at the buzzer, a layup from Toddrick Gotcher. Tech turned a five-point deficit into a three-point halftime lead. Huge.
The second was even huger. With less than two and a half minutes remaining in the game Oklahoma owned the scoreboard 61-57. But with their backs squarely against the wall the Red Raiders got an offensive rebound off of a missed Devaugntah Williams layup which resulted in a Gotcher 3-ball from the corner. On OU's next possession Keenan Evans stole the ball from Isaiah Cousins and converted a layup on the other end. After a Buddy Hield airball Tech got offensive rebounds from Smith and Evans, and finally two Evans free throws. Following a layup by Oklahoma's Jordan Woodard, Evans sank another free throw to put the Red Raiders up by a deuce and then got the winning stop on OU's final possession. Victory Texas Tech.
In the postgame press conference I asked Tubby Smith if those two flurries indicated that his team is very hungry, that they just wanted it more. He averred that this was entirely possible, and that his team really wants to beat the Big 12 teams that have been pushing them around all these years. Revenge, he said, is actually a very strong motivator. And the Red Raiders are now getting the big payback.  
*Devaugntah Williams had a tough scoring night with only three points on 1-of-6 shooting, but is my unsung hero for this game. Tubby Smith threw several bodies at Buddy Hield, and all did some good things against him, but it was Williams who was on Hield for most of the second half, and he harassed and frustrated the All American. Williams officially had only one steal, but his one-the-ball defense against Hield was easily the best I've ever seen him play. Without Williams' defense Texas Tech would have lost this game—no doubt about it.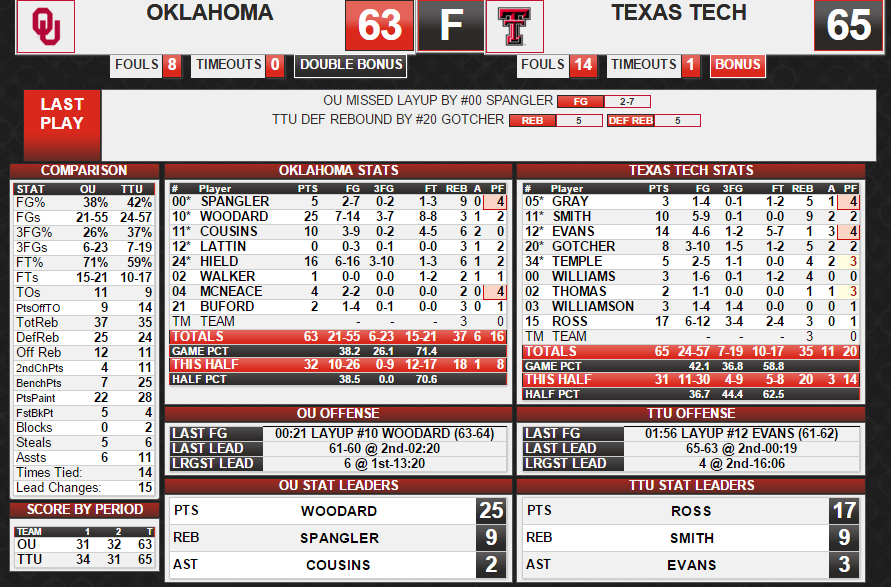 ---