*These are the games you have to win if you want to hear your name called on Selection Sunday. The hot Red Raiders faced the cold Cowboys in a Gallagher-Iba Arena that had all the electricity of a rotten banana. Forget about the fact that Texas Tech hadn't won in this venue in yonks, if the Red Raiders truly deserved an NCAA tourney berth they had to beat a team that was not their equal, no matter the locale. And although the going was far from easy, the Red Raiders got it done. They took care of business. And when you're a "bubble" team, as Texas Tech may well be, these sorts of wins are just about as important as knocking off the No. 3 Oklahoma Sooners in Lubbock. Another way to think about it is that losing to OSU would have largely negated the win over OU in the eyes of the selection committee. Instead, the Red Raiders provided further confirmation that they are legit.
*Although Tech snared a 10-point conference road win, they made it tougher than it had to be. Twice the Red Raiders ran out to nine-point leads, only to lose intensity and watch the Cowboys claw their way back into the game. But those leads truly were indicative of which team was better, as Tech proved in the final minutes as they powered out to yet another nine-point lead and then built upon it. The Red Raiders may lack a true killer instinct, but they make up for it with poise and mental toughness. It's the easiest thing to get rattled and unnerved on the road when the home team makes runs, but Tech kept a cool head and prevailed down the stretch.
*We've spoken at length about Tech's offensive balance, and how this balance makes them difficult to defend. Well the win over Oklahoma State provided more evidence of this fact. Tonight, it was Toddrick Gotcher's time to rise up and carry the load.
Prior to the game in Stillwater, Gotcher had been in a scoring slump. Indeed, the last game he even managed double figures was on February 3 when he pumped in 18 points against these same Cowboys in Lubbock. Given Gotcher's recent funk it is entirely possible that Travis Ford didn't focus much on him in his game-plan. And yet it was the senior from Garland who exploded for a career high 24 points, 21 of which came in the second half that saw the Red Raiders finally pull away from Oklahoma State.
Then too, there was the surprising 11-point contribution of Matthew Temple, which doubtless would have been even greater had not Temple gotten trucked twice in the second half, only to draw unbelievable blocking fouls which precipitated him to the bench. At any rate, when Temple was in the game he looked quite good. Should his offensive game take a major step forward down the stretch, then just imagine how much more difficult Tech will be to defend than they already are.
*Tubby Smith effectively went with a seven-man rotation tonight. Devon Thomas played six minutes, some 13 minutes less than Devaugntah Williams, who was the seventh most active Red Raider against the Cowboys. With each game Tubby Smith gets a better handle on his roster, and who he can count on in tough situations in must-win games. I would expect to see this rotation from here on out, or at least until Norense Odiase returns to the fold.
*Coach Smith threw some intense full-court pressure at the Cowboys on occasion, and although it didn't cause any turnovers, it looked pretty salty all the same. This could be another weapon Smith is honing as the Red Raiders make their NCAA tournament push.
*Tubby Smith always preaches that this Tech team needs to attack the rim on offense to be at its most effective, and that was certainly the case against the Cowboys. The Red Raiders were perimeter-oriented in the first half and in the early portion of the second half as well. But later in the half Tech really began taking it to the hoop, and although they didn't always finish, they did draw several fouls. When the Red Raiders are shooting reasonably well from outside, and attacking the hoop simultaneously, they are very tough to guard.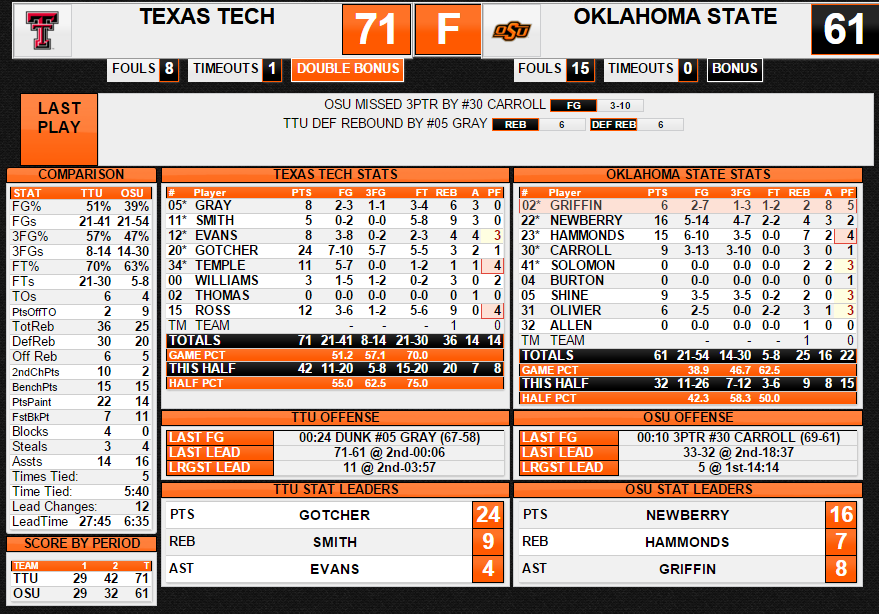 ---