The following is the latest RP round table discussion surrounding Texas Tech athletic news and some current events. The idea is to generate discussion with y'all so please feel free to chime in with your thoughts.
1. News finally went public (thanks Alyssa) about backup QB Nic Shimonek, WR Derrick Willies and CB Nigel Bethel all being out of spring ball recently. Which got me thinking, out of the three. who can Tech least afford to lose? Why?
Alyssa: I think losing Nigel Bethel (pictured below) would hurt Tech the most because you can't have enough corners when competing in this league.
Dan: While I think Willies has the biggest impact, I believe Bethel is the one we can least afford to lose. Willies being out would hurt, but there are players aplenty ready to step in. At cornerback, the depth is very, very thin and inexperienced. Although smaller, Bethel has the experience and has proven himself to be a viable player on a defense that is already replacing a number of starters due to graduation. Coach Gibbs' defense can ill afford to have Bethel out.
Jarret: Yeah, it's Bethel for me, too because he's the only returning corner who showed he can consistently compete 1-on-1 with Big 12 receivers. I'm not sure he won't be back yet, but if he doesn't return it will be a big blow. Go back and watch the tape. Film doesn't lie. 
Joe: Bethel. If he's not the team's best CB, he's very close to it. And while the offense can sustain personnel losses, the defense most assuredly cannot.
Zach: Probably Bethel since he is the only one who has started multiple games for Tech. Willies has a lot of expectations and it's devastating not to get this valuable offseason experience... but Tech will be fine at receiver.
---
2. Tech just completed a three-game sweep of OU and is 5-1 to open Big 12 play. Are the Red Raiders a legit threat to win the conference?
Alyssa: I do think they have a good chance at winning the conference, but so do Oklahoma State and TCU. This team showed a lot of good things this weekend, so we will see how it plays out as the conference schedule gets more challenging. 
Dan: Absolutely. While TCU has the name-recognition in the baseball world and Oklahoma State has looked strong led by their pitching staff, the Tadlock-led Red Raiders are showing they are fully capable of winning the conference with strong top to bottom hitting and a pitching staff that's been pretty good led by a couple studs in Howard and Martin.
https://www.youtube.com/watch?v=efHzGxEzDQA
Jarret: Yeah, what this team has accomplished since hitting the road for Cali has been impressive and enough for me to put them in the contender category. I agree with everybody, though, it's early. It should be fun to see how it plays out.
Joe: Yes. The team shows promise, but will have to maintain a high level of play for a long time. In other words, it's early days yet.
Zach: Yes, but it's not like they're over the hump yet. Plenty of difficult conference play left.
---
3. Texas Tech Hoops hosted 6-6 JUCO prospect Braian Angola-Rodas on an official visit over the weekend. Do you think he ends up at Tech? And with standout Florida guard Keon Clergeot on board, should Tech go ahead and try to sign a third guy this cycle or leave the spot open for a possible transfer?
Alyssa: I do not know enough about basketball recruiting or Angola-Rodas' visit to make a judgement on this one. I'll let you guys take this one. 
Dan: I think he does end up at Texas Tech and he has shown he can be a versatile player with length. He's capable of filling up the stat sheet on a nightly basis. Signing a third guy or leaving it open would depend on the player. Texas Tech needs to be cautious about who gets the spot because they can't just let anyone slide into it.
Jarret: Yeah, I'm going to go ahead and say Tech seals the deal this spring and Angola heads to West Texas thinking he has a good shot at starting for a team playing in arguably the best conference in America who is expected to return to the tournament. Yes, Tech has some good competition for his services, but Tubby and crew have been recruiting him for awhile and has a lot to offer. More so than in a long time.
https://twitter.com/Angola2411/status/714142149634166785
Joe: No. Angola-Rodas is really racking up the offers now. The latest reports state that Oregon, Utah, Texas A&M, and Florida State--among others--have offered him a schollie. The fact that Tech seems to have been recruiting Angola-Rodas the longest, and that it was a beautiful weekend in Lubbock help Tech's cause, but Tech's track record recruiting against Oregon is not promising. See Chris Boucher. I believe Tech must sign one more player--hopefully BAR--in this class, but a second depends upon the talent that is available. The Red Raiders need more than a roster-filler.
Zach: I think he ends up signing. And yes, unless the staff already has something arranged you'd rather take a prospect than wait for something to develop with a new transfer prospect.
---
4. The spring game isn't too far away now. Name a player on offense and then on defense you want to see the most? Why?
Alyssa: On offense I am very interested to see Steele and Akanonmu (#58 pictured below) on the offensive line, mainly because I have seen Akanonmu on campus recently and he really is huge, and then on defense Ondre Pipkins because there has been some hype around him from the coaches and other players. 
Dan: Since Willies been out of spring ball, I want to see Tony Brown. I think he just oozes potential and talent and I firmly believe he could be a great, great player for Texas Tech. While we are all disappointed to not see Willies, I hope he seizes the opportunity to show what he's capable of. On defense, it's all about Kolin Hill for me. After the Mike Mitchell debacle, I want him to show why Texas Tech fans are excited about him. He flashed that talent at Notre Dame, but that was 18 months ago. He is capable of being a real difference maker for the defense so hopefully we all see that potential coming to fruition. 
https://twitter.com/Quann_/status/675489554091020289
Jarret: QUAN! I know Tech is loaded at receiver, but I saw Quan Shorts make a pretty nice catch the other day in practice and have been a big fan of his game since I first saw his tape many months ago. Defensively I want to see Gary Moore. Is this guy going to be a star or is he just content with being a guy who can always say he played D1 ball. He seems like he's going to be one of the two, not just a guy. He'll be a star or a guy we all forget about... 
Joe: On offense, Corey Dauphine (pictured above). The hype surrounding him has really piqued my interest. On defense, Kolin Hill. Is he a difference-maker? I sure hope so.
Zach: Offense: Terence Steele. There have been a lot of rumblings about how he has progressed. Defense: Ondre Pipkins. You need guys like Pipkins (pictured above left) and  Hill (pictured above) to hit if the defensive line is going to take a step forward this season.
---
5. Happy Easter! How'd you spend the day?
Alyssa: I spent the day with my friend's family in Amarillo and enjoyed some good brisket and FaceTime sessions with my family back home. 
Dan: Happy Easter! I spent the weekend at Cocoa Beach with my wife's family and went to the sunrise mass on the beach this morning. We watched the sun come up with the sand between our toes and have spent the rest of the day just bumming around getting ready to go back to work tomorrow after a week off for spring break. (I'm a teacher).
Jarret: The weather was gorgeous in the Hub on Sunday. We had a bunch of fam come into town so I had a bunch of kids to run around with outside and act a fool with. My 4-year-old boy, Luke, had a blast, we ate some great homemade food, witnessed an epic Easter egg hunt, pet some horses and laughed a lot. It was a blessed day. 
Joe: Watched some Elite Eight action. Grilled some coriander-encrusted salmon with cilantro pesto. Continued painting a masterpiece (pictured below), and did some running in the beautiful Lubbock weather.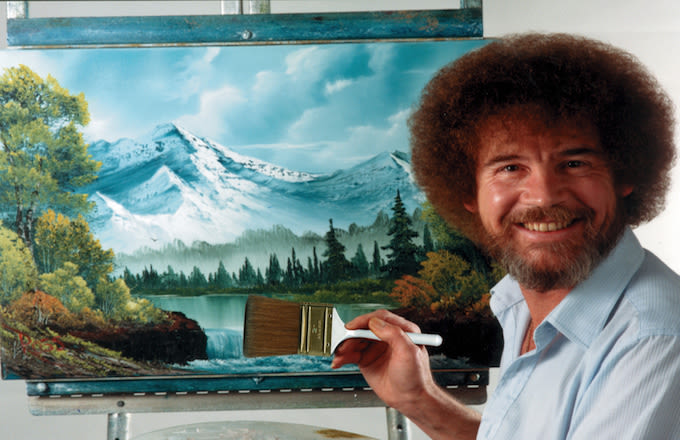 Zach: Riding four-wheelers, shooting guns, and eating some barbecue down in my hometown of Lockhart.
---