Texas Tech's scrappy 4-3 victory over the New Mexico Lobos had an entirely different feel than the previous night's 12-1 victory over Fairfield in the regional opener. 
Whereas in the game against the Stags, Tech bats touched Fairfield pitching for three early runs, against the Lobos those same bats were dormant. Indeed, UNM pitcher Tyler Stevens, using a flummoxing combination of fastballs and off-speed stuff, held Tech to just one run on three hits through seven and a third innings. And with Tech trailing 3-1 at that juncture, it felt as the Red Raiders were about to drink from the bitter cup of defeat.
But then something funny happened. Stevens issued a one-out walk to designated hitter Cory Raley. And with Stevens' pitch count north of 130, a place Stevens had never been before, Lobo boss Ray Birmingham elected to pull Stevens and replace him with Alex Estrella.
https://twitter.com/RaiderPower2/status/739285401945268224
Tech coach Tim Tadlock was diplomatic about Birmingham's decision.
"It didn't surprise me because we knew where the pitches (pitch count) were, but it wouldn't have surprised me if he had left him in either. The guys weren't jumping for joy either way because the other guy (Extrella) threw the ball pretty well."
Estrella fanned Tyler Neslony and was then replaced by Spring, Texas freshman Christian Tripp. An Eric Gutierrez single combined with an error by the center fielder, a Hunter Hargrove walk, and finally a pinch hit single by Ryan Long resulted in the tying runs for Tech in the top of the eighth.
The Lobos are surely asking themselves what might have happened had Stevens not been pulled.
After Tech reliever Ryan Shetter held the Lobos scoreless in the bottom of the eighth, the stage was set for some Stephen Smith fireworks. Smith, who stated in the post-game presser that he was merely looking to make contact, instead lashed a 3-2 Tripp offering down the right field line and over the fence for the winning run. The offensive side of the rally was complete, but it remained for Tech pitching and defense to seal the deal.
With ace Hayden Howard on the mound in place of Shetter who pitched two excellent innings ("I really thought Ryan Shetter stabilized the game for us," said Tadlock), .343 hitter Jake Stajduhar came to the plate. He rocketed Howard's very first pitch down the third base line where Hunter Hargrove, who had already committed two errors, awaited. But this time Hargrove stayed in front of the ball, snatched it from the turf, and got the putout to first base one step ahead of the sprinting Stajduhar. What would have been a double had it gotten past Hargrove, was an out instead. It was the underrated play of the game.
The next at bat wasn't quite as dramatic. Slugger Chris DeVito went down swinging on an 0-2 pitch.
But just when it looked as though the home crowd could breathe easy, Jake Zoellner whacked a single up the middle and the Lobos still had life.
Birmingham then inserted Austin Bell to pinch run for Zoellner. But then in the irony of ironies, Howard picked off the pinch runner at first base and the victory was complete.
https://twitter.com/NCAACWS/status/739286102716997632
The Red Raiders will face the winner of tomorrow's elimination game between New Mexico and Dallas Baptist in the regional championship at 6:00 p.m. Sunday evening. A final game will be played 2 p.m. Monday if necessary.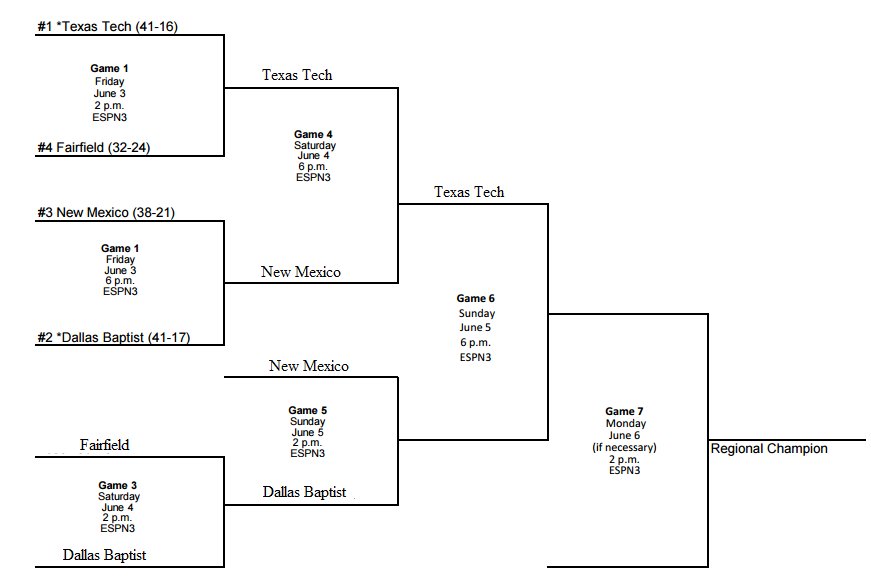 Lubbock Regional
at Dan Law Field
(All times central standard)
*All games will be broadcast on ESPN3
FRIDAY, JUNE 3
Game 1: No. 1 Texas Tech 12, No. 4 Fairfield 1
Game 2: No. 3 New Mexico 12, No. 2 Dallas Baptist 6
SATURDAY, JUNE 4
Game 3: Dallas Baptist 8, Fairfield 5
Game 4: Texas Tech 4, New Mexico 3
SUNDAY, JUNE 5
Game 5: Dallas Baptist vs. New Mexico, 2 p.m. 
Game 6: Texas Tech vs. Game 5 winner, 6 p.m.
Monday, JUNE 6
Game 7 (if necessary): Game 6 winner vs. Game 6 loser, 2 p.m.