Quarterbacks
Mahomes: Looks really sharp. Even when he's had pressure he's done his thing rolling out and making plays with his arm down field. He looks jacked, healthy and in command. 
Shimonek: I definitely haven't been wowed by anything yet, but he's made some nice throws when I have been there and is entering Year 3 in the system.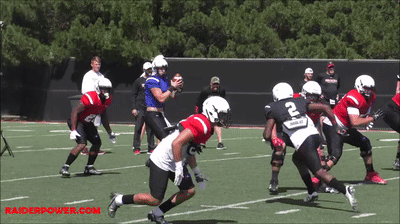 Duffey: I haven't seen enough of him to render a judgement, but dude is a lot bigger than advertised and participating in spring ball has him ahead of the curve.
Sullins: Once again, I haven't seen him take any reps, but he's been here for awhile now and even took a couple snaps during last season.
Colt Garrett: I wrote some about the walk-on from nearby Lubbock Roosevelt. I would be surprised if he made the season roster due to the numbers crunch, but Pat said some good things about his work ethic. 
---
Running Backs
Stockton: He's up to 200 pounds but has retained his speed. Whether or not he can consistently run between the tackles won't be answered until the season.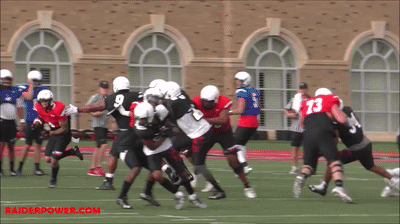 Felton: He looks sharp to me. He's one compact muscle and as it has been stated numerous times, has great rhythm as a runner. I expect big things from him.
Q: He's a reliable pass blocker, runner and receiver. He's not flashy, but his versatility will make him valuable, especially in two-back sets. He's done everything the coaches have asked him to and is a senior leader.
Dauphine: I have seen him out there at practice, but haven't seen him get a rep yet. That may be a really bad sign or might mean absolutely nothing, but I will keep monitoring the situation. 
Ward: The freshman has looked really good getting reps with the 2's. I was a big fan of his on NSD, but he's bigger than I thought he'd be, but just as fast. Another stallion in the stable.
---
Receivers
Willies: Hurt his hand and missed the first week of practice. Kingsbury said they expect him back "early" this next week.
Lauderdale: Looks great. Despite missing spring he showed up in great shape and has made several plays especially some nice YAC on short hot routes.
Giles: He dropped a couple passes early in camp, but when he gets the ball in his hands he is the real deal as a playmaker. He has surprising acceleration and wiggle for a guy his size. I also saw him make a tough catch over the middle before getting crunched.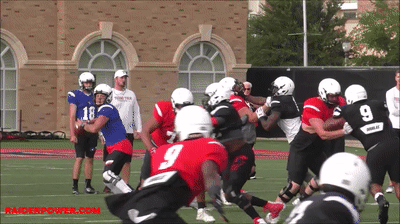 Batson: Steady. He's had a great offseason and looks ready to go out there.
Cantrell: What a monster. All the reasons for optimism this offseasons are legit. He's going to have a great season.
Davis: Davis has that senior motivation going for him and has put in the work this offseason. I have seen him make several catches in scrimmage situations and expect a big season from him as well.
Austin: This guy is just always open in the slot. Mahomes loves him. Kingsbury loves him. And you'll love him too, if he gets the snaps. 
Vasher & Wesley: The two big freshman receivers are winning the battles against the freshmen DBs. They appear to be the big targets Tech envisioned them to be when Tech recruited them. 
Sadler: Made some plays early last week, but I don't remember him out there Thursday. Maybe he had finals, but I'll check and see what his status is. 
---
Offensive Linemen
Brown: He's the grizzled vet, Mr. dependable. That being said quick athletic guys are going to beat him sometimes--it's just a fact. 
Morales: He's been healthy and done a good job snapping the ball, which is overlooked. I haven't seen any mental breakdowns, but Pipkins and Fehoko have pushed him around some. 
Murphy: He's a beast inside and really packs a punch inside for Tech. I have seen him dominate in the run game, but then miss an assignment on a twist and stunt which gave Moore a free run at Mahomes. 
Steele: I could watch him and Gary Moore battle all day. He's lived up to the hype, but as a RS freshman will have some growing pains.
Akamnonu: He's a very large human being who I expect to be the starting left guard. 
Wheeler: He's a very important swing guy as the backup center and likely backup at both guard spots.
Reichel: He's in the mix battling at a couple positions, but I'd like to see him get a little stronger before he's thrown to the wolves in the Big 12.
Bruffy: Has really stood out to me. He has a huge frame and is very athletic. He just needs to pack on the weight and get some D1 seasoning. 
---
Defensive Linemen
Fehoko: Looks great, just a bigger, stronger, faster version of his freshman self.
Pipkins: He's consistently been a handful for the OL and pretty much locked up the starting spot.
Moore: He's a beast at rush end and perhaps the most important player on the defense.
Hill: Big, strong, mean, fast and aggressive. Hallelujah!
Barnes: Competing with Hill for starting gig. I think he will be the backup, but will play a lot of snaps as a senior. 
Washington: Described by DL coach as his "dark alley" guy, but was quick to point out he hasn't played one snap on defense before. Ever. Looks good, though and will play both nose and 3-tech.
Big Mych: Man, he looks to be in shape for him. I covered him in HS and looking back at his tape from JC, I think he's ready to go.
Wallace: Impressed people with his aggressiveness. Kingsbury said he hasn't backed down from anybody.
Miller: Made news for sleeping up at the facility, but I also noticed he was the last guy off the practice field one day last week. He won't fail because of a lack of effort, that's for sure.
---
Linebackers
Hinton: Looks really good. He's moving around better than I have seen him in some time. It was a good move to keep him out of spring ball. 
Jenkins: Is noticeably bigger. I wish he could have redshirted a couple years back, because I think he's on the cusp of being a pretty good backer. It's all mental for him, because the physical tools are there.
Stice: I noticed he was usually in the right position as far as run fits or being in the right gap so that's good. All reports say he's one of the hardest workers on the team.
Picone: Is definitely bigger or at least more cut than when he arrived last spring. He's going to play a lot.
Johnson: I haven't seen him a lot, but Jenkins said he's doing a great job so that's good news. 
Brooks: The freshman is huge and can run. How's that sound? I think he plays a LOT this season. 
Stringer: He's still too small to play LB in my opinion, but he's having a good camp so far. He's definitely not afraid to hit and has great instincts. He's also faster than he probably gets credit for.
---
Cornerbacks
Nguema: Consensus best CB in camp so far. He's been very physical and competed for the ball when in the air when I have been there. 
Nelson: Working at nickelback. The hope is he has one of those senior breakthroughs which has happened often in the past for Tech.
Banks: He's developed some and is better than I though he'd be at this point. He's battling Polite-Bray for a starting spot.
Polite-Bray: He's big and a competitor. He's also inexperienced at CB, but will play a LOT this season.
Jones: The NMSU transfer who sat out last season has been running with the 2's all camp. Kingsbury has described him as tough.
---
Safeties
Johnson: Like many of his teammates, he's bigger. He's been solid so far and is the type of guy who will have a quiet camp, then the season starts and he's the best player on the field.
Ward: Senior leader who's made some plays in camp. He's a physical presence in run support, but has been victimized in coverage some in the past.
Hendrix: He's looked good to me, but will let receivers get behind him some when peeking in the backfield. He's progressing, though.
Madison: He's added weight and looked good at safety with the second team. He's also invaluable as a guy with a lot of experience at CB.