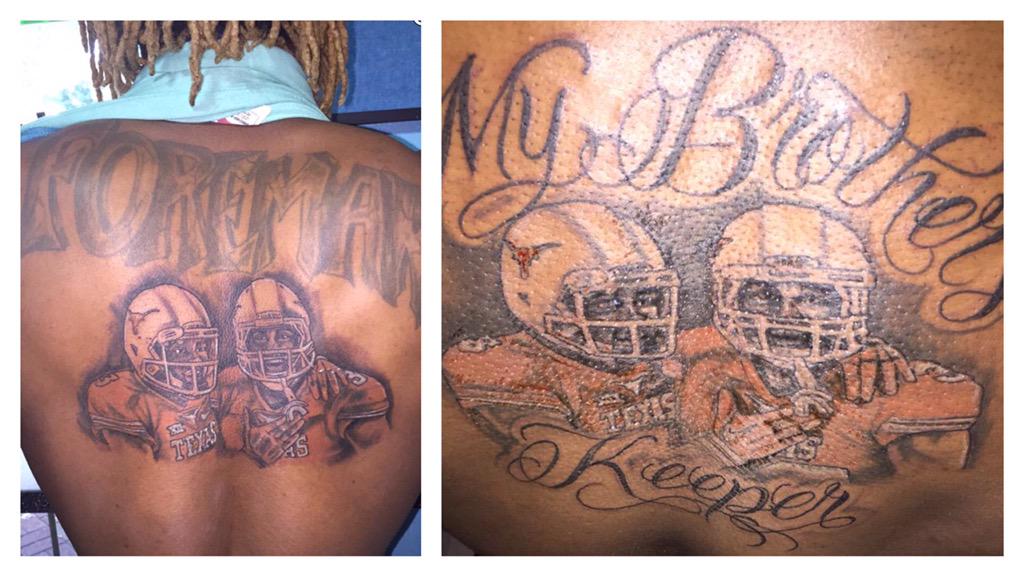 The tattoo etched last Wednesday across the back of Texas' D'Onta Foreman says, "My Brother's Keeper."
But the way the Longhorns' sophomore running back was treated in recruiting compared to his highly sought-after identical twin brother, Armanti, a four-star receiver coming out of Texas City, D'Onta could have easily felt like his brother's add-on, kick-in or tag-along.
Then-Oklahoma co-offensive coordinator and receivers coach Jay Norvell was the first to offer Armanti Foreman. There was no offer from Norvell for D'Onta.
"Oklahoma offered my brother, and didn't offer me, so I didn't really like Oklahoma, and I was thinking about that before we played them," D'Onta said Monday.
Then-Texas coach Mack Brown and Major Applewhite offered Armanti a scholarship in the spring of 2013, right in front of D'Onta, who walked out of Brown's office empty handed.
"They just kept talking to my brother, and I was just sitting there," D'Onta said.
"They said they were offering my brother. I was sitting there, and I never got offered. We left, and I was hurt. I thought that was messed up. They came on later, and at that time, I didn't really care for Texas."
NOT GOOD ENOUGH
Texas City offensive coordinator Chase Fickessen, who remains very close to the Foreman brothers, said both Mack Brown and Kevin Sumlin basically told D'Onta, "Your brother's a great player, and you are just a good player, so we're not going to offer you yet."
Several coaches told D'Onta they just hadn't seen enough explosive plays from him – not enough long runs – through his junior season at Texas City.
In fact, things didn't change for D'Onta at Texas until he attended a summer camp at UT months later needing to run a 4.48 in a timed 40 to ensure a scholarship offer.
"I told the coaches at Texas, 'Just offer D, and they'll both commit right now,'" Fickessen said.
"But it seemed to come down to the camp. A week before the Texas camp, (then-Texas running backs coach) Larry Porter asked me what D ran in the 40. And I said, 'Every combine we've had he ran a 4.48 – no better, no worse.
"He said, 'Tell D to run a 4.48 at camp.' I told D, 'Coach Porter said you need to run a 4.48.' I was standing next to Porter and Major (Applewhite) when he ran a 4.48 at the Texas camp."
ACCEPTANCE ... FINALLY
Texas finally offered D'Onta Foreman a scholarship.
But D'Onta wanted to take a little time before accepting. Texas had made him wait, after all. A few weeks later, when D'Onta was finally ready to accept, he called Texas to tell the coaches he wanted to commit.
He called and left messages. He called four times in one day. UT's assistant coaches told him Mack Brown was the only one who could accept a commitment, and he was at his house in North Carolina, where he doesn't get cell reception.
This went on for a couple weeks, until Armanti, who had not yet committed to the Longhorns, decided to call UT's coaches to find out what was going on?
"Of course, Armanti's call was taken that day," Fickessen said. "That just put more of a chip on D's shoulder."
After being told he didn't have enough explosive plays through his junior season, D'Onta went off as a senior. He rushed for 2,500 yards, 32 touchdowns and posted numerous sacks on defense while also returning kicks, including a 99-yarder for a touchdown. Explosive plays everywhere.
That massive senior season finally brought the attention D'Onta had been waiting for, including Missouri's coaches, who wanted the Foreman brothers to visit just before national signing day in 2014. But Charlie Strong, who had taken over for Mack Brown by then, talked them out of it.
"I hadn't visited anywhere else," D'Onta said. "And we just thought it would be fun to take a visit. But Coach Strong basically said, 'Don't do it.' So we didn't."
But then D'Onta had some academic issues that kept him from being able to enroll in the summer of 2014, when Armanti enrolled. D'Onta had to wait until the fall.
"Him being at home while I was up here, he was going through a lot of stuff," Armanti said. "Then, when he finally got here, they had to get some weight off of him."
UNSINKABLE SPIRIT SHAPED BY COMPETITION
But Fickessen said he never worried about D'Onta getting discouraged.
Why?
Because D'Onta always had to compete for everything he got. Even at Texas City, D'Onta had to compete with a running back named Donald Lynch, who was recruited by Arkansas before going to a junior college in Arizona.
Armanti was far and away the best receiver on the team at Texas City and was never really pushed.
"Armanti never had to compete for a starting job," Fickessen said. "I was worried about him at Texas, because I wondered if he'd just expect to be a starter without having to fight for it.
"If he wants something, Armanti will get it, because he's so talented. But he's never had to work the way D'Onta had to work for playing time."
Fickessen said Armanti was so fast (4.3 in the 40), he could beat some receivers at Texas City in a 40 – while backpedaling.
"Armanti can act like a real diva if he's not challenged," Fickessen said. "When Armanti is engaged and challenged, he's at his best."
Fickessen said he's never seen Armanti more engaged and challenged than when Texas City played Pearland Dawson in 2014 after Armanti contracted a stomach virus and threw up for almost 24 hours before the game.
Two hours after being released from the hospital, Armanti exploded for 110 yards receiving and two touchdowns, a 50-yard touchdown run and three interceptions, two of which he returned for TDs in a 44-14 win.
"It was like Michael Jordan's flu game," Fickessen said. "Armanti even spoke to the team before the game, which is something Armanti never did.
"We had lost to (Pearland) Dawson by a field goal the year before, and he told his teammates, 'This is the only team I've lost to, and I'm going to ball out, so help me, help you.' And that's what happened."
So flash forward to last Wednesday, when Armanti said he wanted to get a tattoo on his back of a picture taken of he and his brother right after an 81-yard run by D'Onta in a 24-17 win over Oklahoma.
"In that moment in the picture, (Armanti) kept saying, 'I'm so proud of you, I'm so proud of you. Keep working, keep playing hard,'" D'Onta said Monday.
"He said, 'I haven't been able to do what I had to do. I haven't even gotten the ball yet. But I'm just so happy for you.' It was amazing, the picture of us, the shot that they got, it means a lot.
"I posted the picture on Twitter. He said, 'I really like that picture.' It meant so much to us, because of the timing and what was going on at that time, it's just a wonderful picture."
D'ONTA'S TIME TO SHINE
Charlie Strong was asked about the Foreman brothers' matching tattoos across their backs, and Strong said, "I thought about getting a tattoo, but I thought we needed to do a little more winnng.
"Armanti was the one everyone was talking about early on," Strong added. "And it's D'Onta doing some great things. But you don't see one without the other."
Halfway through their sophomore seasons, D'Onta's role in the offense is surging, coming off back-to-back, 100-yard rushing games, while Armanti has just 4 receptions for 23 yards the past three games and went without a catch against OU.
For the season, D'Onta has 53 carries for 328 yards (6.2 ypc) and 2 touchdowns as well as 4 receptions for 52 yards (13.0 ypr). Armanti has 10 catches for 142 yards (14.2 ypr), including a 32-yard TD catch against Rice.
"My brother was a higher recruit than I was, and I was happy for him," D'Onta said. "But I felt like a lot of people underestimated me. And I just used that. Even though I did good my senior year, I didn't feel like I got the credit I deserved.
"I just go out there every day at practice and in games, and try to show people that they missed out. But I'm here now, and I'm just trying to make the Longhorn family proud."
Asked if Armanti lacks his hunger, D'Onta said:
"I think he has that hunger. It's just right now he hasn't been playing the best ball.
"I told him you haven't really had to fight coming out of high school. He was the best receiver on our high school team. I had to compete with other backs on our team, so I couldn't go out there and have bad practices or they would have replaced me.
"We couldn't do that with him, so now he sees you have to go out there and work hard every day. You can't get complacent. He understands that. 
"But I feel like maybe there was a time when maybe he did get a little complacent, I don't know. But he's had some really good practices lately, so I think we're about to get things rolling."
Armanti, who is being asked to block more and more for the team's emerging running game, proudly said his brother has overcome a lot to get where he is now.
"That's what I like about my brother the most, because he's never going to give up," Armanti said.
"I use that to motivate myself, because I see my brother grinding and grinding every day, trying to get shine. Trying to do things he knows he can do and I know he can do.
"But he's just trying to show the world he can do it. He has a lot of grind to him. That motivates me."
Fickessen said D'Onta has always been the more "nurturing" of the twin brothers. 
D'Onta may have felt like his brother's kick-in, add-on or tag-along during recruiting. But as the tattoo on D'Onta's back says, he is now and forever, "My Brother's Keeper."