All photos courtesy of Steve Cheng.
Brett Hundley and Thomas Duarte warm up before the game.
Marcus Rios gets in some push-ups.
Eldridge Massington
Priest Willis
Marcus Rios
Anthony Jefferson
Kenny Young
Eli Ankou
Deon Hollins
Brett Hundley
Kenny Clark
Alex Van Dyke
Cal QB Jared Goff with Deon Hollins on the rush.
Fabian Moreau
Jaleel Wadood
Paul Perkins
Myles Jack at RB
Devin Lucien
Brett Hundley
Jordan Payton defended by Cal DB Cedriz Dozier
Jake Brendel
Paul Perkins scores the Bruins first TD on a pass from Hundley
Cal's Trevor Davis on a big kick-off return
Takkarist McKinney hits Jared Goff
Raise your hand if you love UCLA!
Ellis McCarthy sacks Cal QB Jared Goff for an 8 yard loss and forces a fumble.
Cal DB Darius White tackles Jordan Payton
Brett Hundley on play action with Paul Perkins
WR Tyler Scott
Brett Hundley
Brett Hundley's fumble is recovered by Cal Hardy Nickerson and returned for 27 yards to the UCLA 18.
UCLA cheerleaders have reason to be concerned as Cal rallies in the 2nd half.
Nate Iese recovers Cal's squib kick.
Nate Iese on a hard earned 5-yard pass completion. Nate is a tough guy to tackle.
Brett Hundley scrambles for a short gain.
Paul Perkins lunges for extra yards.
Ka'imi Fairbarn kicks a 37 yd field goal in the 2nd quarter.
Cameron Judge blows up Cal Frosh Trey Watson and drives him into Cal return-man Trevor Davis.
Kenny Clark chases Cal QB Jared Goff.
Kenny Clark, Eric Kendricks and Jaleel Wadood slam Cal RB Daniel Lasco into the turf.
Takkarist McKinney on a speed rush.
Marcus Rios on Cal WR Chris Harper.
Cal WR Chris Harper makes a one-hand catch over Ishmael Adams despite being held by Adams.
Ishmael Adams has a lot of pre-kickoff rituals. Sucking his finger is one of them.
Jordan Payton with yards after the catch.
Paul Perkins
Jordan James bulldozes Cal safety Michael Lowe on his way to the endzone in the 2nd quarter.
Jordan James lunges for the touchdown.
Paul Perkins
A terrific UCLA crowd was on hand to cheer for the Bruins.
Mossi Johnson with a 67-yd kickoff return which set up a 24 yd FG by Ka'imi Fairbairn.
Kenny Clark nearly hauls in a TD pass. UCLA would have to settle for a FG.
Matt Mengel
Eric Kendricks
Ellis McCarthy applies pressure on the QB while Myles Jack almost intercepts Goff's pass.
Devin Lucien
Brett Hundley
Brett Hundley passes to Nate Iese
(top to bottom): Owa Odighizuwa, Kenny Clark, Eddie Vanderdoes, Deon Hollins
Ellis McCarthy, Takkarist McKinney, Eric Kendricks, Deon Hollins
Brett Hundley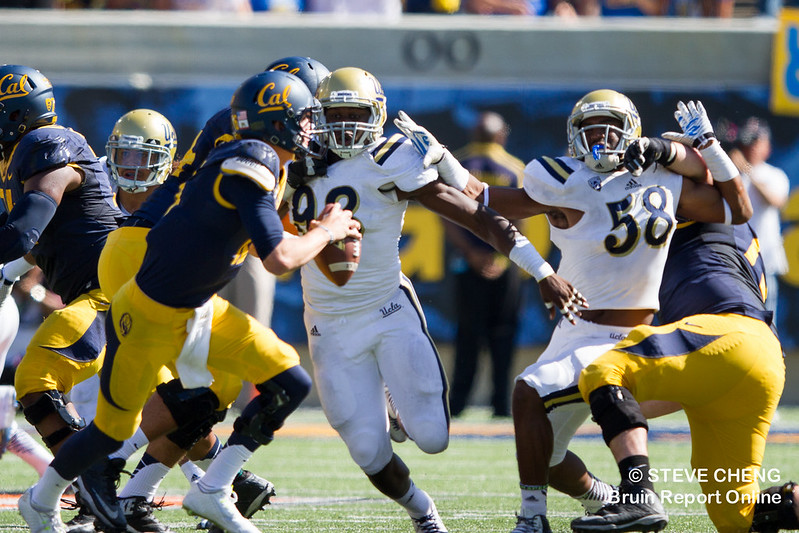 Takkarist McKinney and Deon Hollins force Jared Goff out of the pocket.
Eric Kendricks
Devin Lucien looks to block his DB in the run game
Brett Hundley
WR Mossi Johnson
Fabian Moreau on the coverage and gets called for a phantom PI.
Jaleel Wadood gets burned in the endzone.
RB Nate Starks
Brett Hundley passes out of the endzone.
Mossi Johnson catches Hundley's pass and fights for a first down.
Mossi Johnson catches another pass for a first down.
The defense rests on the sideline as the offense tries to drive for a 2-score lead in the 4th quarter.
(Jayon Brown, Takkarist McKinney and Owa Odighizuwa)
Danielle Alvari, Sports Illustrated cheerleader of the week.
Nate Starks
Cal's Cameron Walker intercepts Brett Hundley's pass in the 4th quarter and returns it 39 yards to UCLA's 32.
Eddie Vanderdoes
Eric Kendricks
Eddie Vanderdoes
Cal Memorial Stadium erupts after Jared Goff passes to Kenny Lawler for a 23-yard TD to take the lead 34-33 midway through the 4th quarter.
Jim Mora peers at the scoreboard after Cal takes the lead 34-33 midway through the 4th quarter.
DL Coach and Bay Area recruiter Angus McClure
Brett Hundley hurdles over Cal defenders.
Brett Hundley leads the offense down the field while trailing 34-33.
LT Conor McDermott
Brett Hundlles scrambles for 6-yards to Cal's 8-yard line on 3rd and 8 to set up Ka'imi Fairbairn's FG attempt.
Josephine Bruin shows her nerves before Fairbairn's kick.
Fairbairn's 26-yard kick is good! UCLA 36, Cal 34.
Cal's Trevor Davis gets drilled in the head by Ryan Hofmeister on the ensuing kickoff.
The game stopped for several minutes while Davis was stabilized and taken off the field in a cart. It was an emotional scene at Cal Memorial Stadium.
A few plays later, Cal RB Daniel Lasco got hit in the back of the helmet by Jaleel Wadood and play stopped again.
Jaleel Wadood with a hit on Jared Goff.
Cal kicker James Langford warms up for a possible game-winning FG as Cal drives into scoring territory.
Cal's Jared Goff throws to the endzone but is intercepted by Marcus Rios.
UCLA in victory formation
OG Scott Quessenberry celebrates as UCLA runs out the clock.
Nate Iese after the game.
Kenny Lacy
Malcolm Bunche
Eric Kendricks gives his gloves to fans.
Marcus Rios, Adarius Pickett.
(top to bottom): Jalen Ortiz, Justin Combs, Kenny Clark, Tahaan Goodman
Jaleel Wadood
View of the Bay Bridge from the press box elevator.
Copyright 2014 Steve Cheng. All Rights Reserved.