Copyright © 2014 Steve Cheng. All rights reserved.
For die-hard fans, this is an emotional gallery--at least it was for me, not because of the devastating loss, but because we're saying goodbye at the Rose Bowl to some amazing Bruins.
General guideline on sharing photos: Feel free to share on social media, but please do not re-edit the photos. Please give photographer credit when possible. Thanks! (Keep in mind that these are down-sized jpgs and not suitable for printing or much else other than viewing on the web).
Brett Hundley and Thomas Duarte
Kenny Young and Myles Jack
Nate Iese
Anthony Jefferson
Jordan Payton
Jordan Payton
Jordan Payton
Marcus Rios
Justin Combs
Paris Hundley
Ishmael Adams
A new generation of UCLA fans will grow up idolizing the likes of Brett Hundley and Eric Kendricks.
The luckiest boy alive.
Eric Kendricks, the greatest tackler in the history of UCLA Football.
Kenny Young, the heir apparent.
Brett Hundley and Kenny Young
Sam Handler, defender of the Rose Bowl.
Alex Van Dyke
Alex Van Dyke
Anthony Jefferson
Anthony Jefferson and his dad.
Brett Hundley
The Hundley family.
Troy Aikman
Eric Kendricks
Kenny Young
Kendricks almost gets the interception
Tahaan Goodman
Jordon James
Brett Hundley throws a swing pass to Paul Perkins
It was fun early on for the defense...for about 1 minute.
Then it wasn't so fun...
Eric Kendricks
Eric Kendricks
Eric Kendricks
Owamagbe Odighizuwa
Kenny Young
Anthony Jeffereson
Deon Hollins
Deon Hollins
Kevin Hogan on the run (left to right: Eddie Vanderdoes, Anthony Jefferson, Kenny Young)
Owa looks much smaller next to Stanford's brawny linemen
You're right, eye black looks much worse on the losing team.
Myles Jack
Paul Perkins
Paul Perkins
Paul Perkins
Kenny Clark
Owamagbe Odighizuwa
Takkarist McKinley
Ishmael Adams and Anthony Jefferson
Anthony Jefferson
Reminds me of a photo I took at fall camp. A wall of white. Stanford linemen did an incredible job.
Stanford TD. We couldn't stop their run.
Paul Perkins, another 100+ yard rushing performance.
Brett Hundley
Brett Hundley
Logan completes a pass with Owa in his face
Devin Fuller
Mossi Johnson
Brett Hundley
Devin Lucien
Brett Hundley scrambles down the sideline.
Jerry Neuheisel on a fake FG attempt.
Stanford isn't fooled.
Neuheisel's desperation pass is intercepted.
Marcus Rios
Eddie Vanderdoes and Owamagbe Odighizuwa
Brett Hundley
Brett Hundley
Jordan Payton's helmet gets knocked off.
Brett Hundley gets hit as he releases the ball.
Hundley gets pressured again.
Conor McDermott and Brett Hundley
Brett Hundley
Brett Hundley. Last pass in a Bruin uniform?
Hi Jerry.
Hundley gingerly removes his mouthpiece.
Neuheisel will compete for the starting QB job next season.
Jerry Neuheisel
Myles Jack
Eric Kendricks
Big Ellis McCarthy
Kenny Clark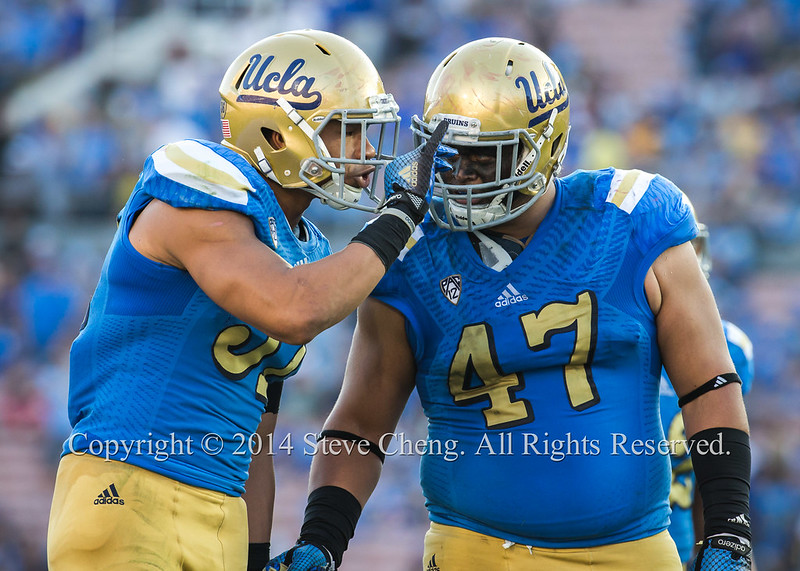 Aaron Wallace and Eddie Vanderdoes
Nate Iese and Cameron Judge
Jordan Payton returns the punt.
Paul Perkins with Conor McDermott blocking
Alex Redmond
Devin Lucien
Left to right: Nate Iese, Jordon James, Mossi Johnson, Kenny Walker
Coach Jeff Ulbrich and Deon Hollins exit the Rose Bowl.
Brett Hundley leaves the Rose Bowl as one of the greatest Bruins to ever play here.
Marcus Rios had an incredible comeback season.
Ryan Hofmeister
Takkarist McKinley
Simon Goines
Scott Quessenberry
Eric Kendricks
Myles Jack
Eric Kendricks
Eric Kendricks