Updated Monday, 7:21 a.m:
 From Scout's Chad Simmons:
The 2017 UCLA-committed linebacker Jaquan Henderson was offered by Michigan Sunday night.
He has two teammates in the 2017 class committed to Michigan already, so this is a big offer for him.
As of now, Henderson remains committed to UCLA, but you have to worry if you are a Bruins fan.  For now, Henderson is going to wait for a new DC to be hired at Michigan, and if it fits him, then he could really think hard about flipping to the Wolverines I am told.
UCLA being so far away and with his teammates/close friends visiting Michigan on a regular basis could make it tough for the Bruins to hold on here, but we will see how it plays out.  Still a long way to go with Henderson only being a JR, but that is what I am hearing on this situation right now.
https://twitter.com/JaquanHenderso2/status/676232862593622016

_____________________________________



UCLA got in a last-minute in-home visit right before the dead period Sunday night, visiting OL Francisco Perez.
https://twitter.com/pacostacos73/status/676271496835153920



Khaleke Hudson on his official visit:
https://twitter.com/NeverDone_21/status/675743245125586945


Hudson with Boss Tagaloa and Devin Asiasi:





Devin Asiasi on his official visit:











https://twitter.com/asibo_/status/676288083730391040


 Committed JC DT Nick Terry on his official visit:
https://twitter.com/UCLA_Recruiting/status/675776467624591362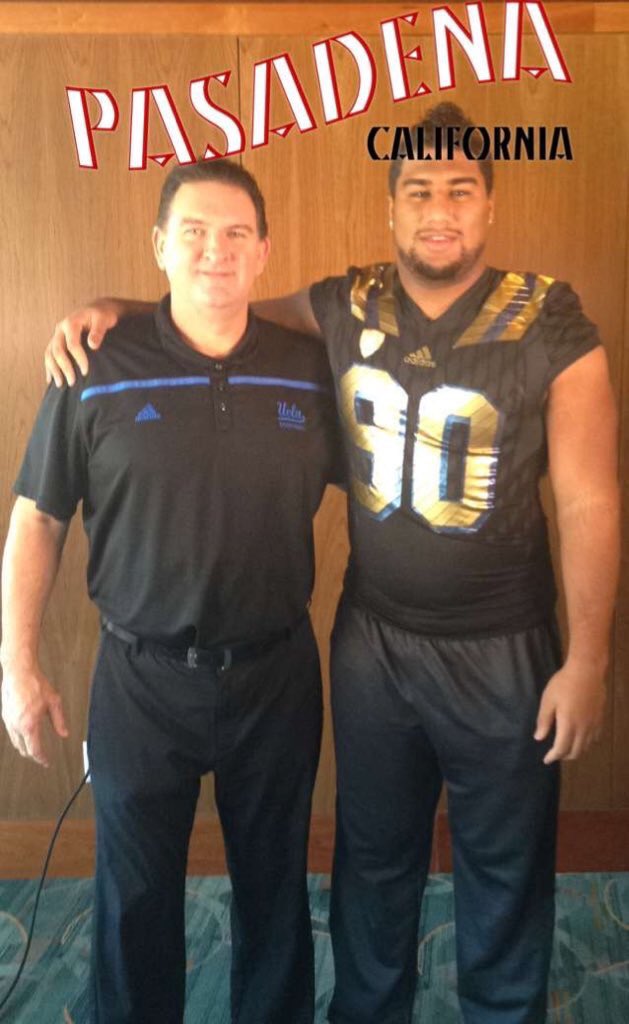 Updated Sunday 7:22 a.m.:
https://twitter.com/yungbre1/status/675731773251125249


Leni Toailoa, Breland Brandt and Lokeni Toailoa on their official visits. 









Update 8:49 Friday 

https://twitter.com/IGRSports/status/675516500682268676

Theo Howard with UCLA Staff on In-Home Visit


From Greg Biggins:  

In addition to Tristan Wallace, we've heard UCLA could also take a look at Norco (Calif) ATH Victor Viramontes. Viramontes, who recently decommitted from Michigan, would love an opportunity to play QB at the college level. Michigan had told him he could get that shot originally before telling him they wanted him strictly at LB/FB.

Viramontes is a UCLA guy and would probably jump on an offer. The question will be if UCLA thinks he has the skill set to play QB at the college level. I think he's an intriguing kid who's simply a football player. If it doesn't work out at QB, I think there's definite upside on defense so this will be interesting to monitor.
UPDATE 5:29 p.m. Thursday

Since it's now been reported that four-star De Soto (Tex.) athlete and Ohio State commit Tristen Wallace is the secret visitor this week, we can report that UCLA offensive line coach Adrian Klemm and offensive coordinator Noel Mazzone were out to see him last week.

UPDATE 2:06 p.m. Wednesday

UCLA defensive line coach Angus McClure will be at De La Salle to see DT Boss Tagaloa and TE Devin Asiasi. Both players are officially visiting this weekend as well.

UPDATE 1:09 p.m. Wednesday

UCLA defensive backs coach Demetrice Martin was in to see Baldwin Park OG Francisco Perez. Perez, who committed to California a while ago, was just offered by UCLA last week.

UPDATE 9:20 a.m. Wednesday:

Four UCLA coaches -- Jim Mora, Eric Yarber, Noel Mazzone and Taylor Mazzone -- are in the home of Thaddeus Moss, the North Carolina TE prospect (and son of NFL great, Randy Moss). 

UCLA has cancelled the official visit this weekend of Corona Centennial WR Javon McKinley.  We're hearing that two other receiver types recently gave UCLA very strong indications they're coming to UCLA, and that precipitated the UCLA staff cancelling McKinley's visit.  And there is also the possibility of adding Moss and Devin Asiasi to the receivers class. 




Update 11:38 a.m. Tuesday:

According to Scout.com's Brian Dohn: 

Washington (D.C.) St. John's OLB Aaron Hansford (UCLA is talking WR with him as well) changed is official visit from this month to the weekend of Jan. 15.

Also, UCLA DC Tom Bradley visited Hansford Tuesday.


News as of 6:47 a.m. Tuesday (12/8):

UCLA coaches Adrian Klemm and Eric Yarber visited Texas WR Adewale Omotosho Monday.  From what we hear, UCLA has a very good shot with Omotosho. 

There are rumors going around that UCLA could be backing off Corona (Calif.) Centennial WR Javon McKinley, and those are absolutely not true.  He'll officially visit UCLA this weekend and UCLA will go hard for him.

UCLA offered Centennial corner Kentrell Love Monday night.  Love is committed to Washington, but Scout's Greg Biggins believes UCLA has a chance to flip him.  UCLA was waiting for a look at Love's transcripts before they were able to offer, and now, since they have, you can expect an in-home visit pretty quickly with Love. 

UCLA DL Coach Angus McClure visited UCLA-committed DL Osa Odighizuwa in Oregon Monday night. He watched Odighizuwa wrestle, according to people at the event.  

McClure will be back in his region of NorCal Tuesday to see UCLA-committed JC DT Nick Terry, and be back on the campus of Concord De La Salle to see DT Boss Tagaloa and TE Devin Asiasi, both of whom are visiting UCLA this weekend. 

Noel Mazzzone did indeed go to his recruiting region of Arizona and see DT Garrett Rand and DE Connor Murphy. Rand is verbally committed to Wisconsin, but UCLA is still trying and could get an official visit.  

QB Coach Taylor Mazzone visited UCLA TE target Thaddeus Moss, the son of NFL great Randy Moss. 

UCLA visited Lawndale Leuzinger DL Semisi Lauaki last week, and is now showing interest in him but haven't offered as of yet.  Lauaki's sophomore year academics are a little low, but he experienced a considerable family tragedy during that time.  






News as of 8:50 a.m. Monday (12/7):


On Saturday evening, Adrian Klemm was in San Diego to see committed offensive lineman Mike Alves in the CIF-SD championship game. 


News as of 5:43 a.m. Monday (12/7):


Sunday Jim Mora and Angus McClure did an in-home visit with UCLA-committed defensive end Marcus Moore. 

Also, Mora, McClure, Noel Mazzone and Eric Yarber did an in-home visit with UCLA-committed QB/WR Dymond Lee. 
 https://twitter.com/miquejuarez3/status/673726489678876672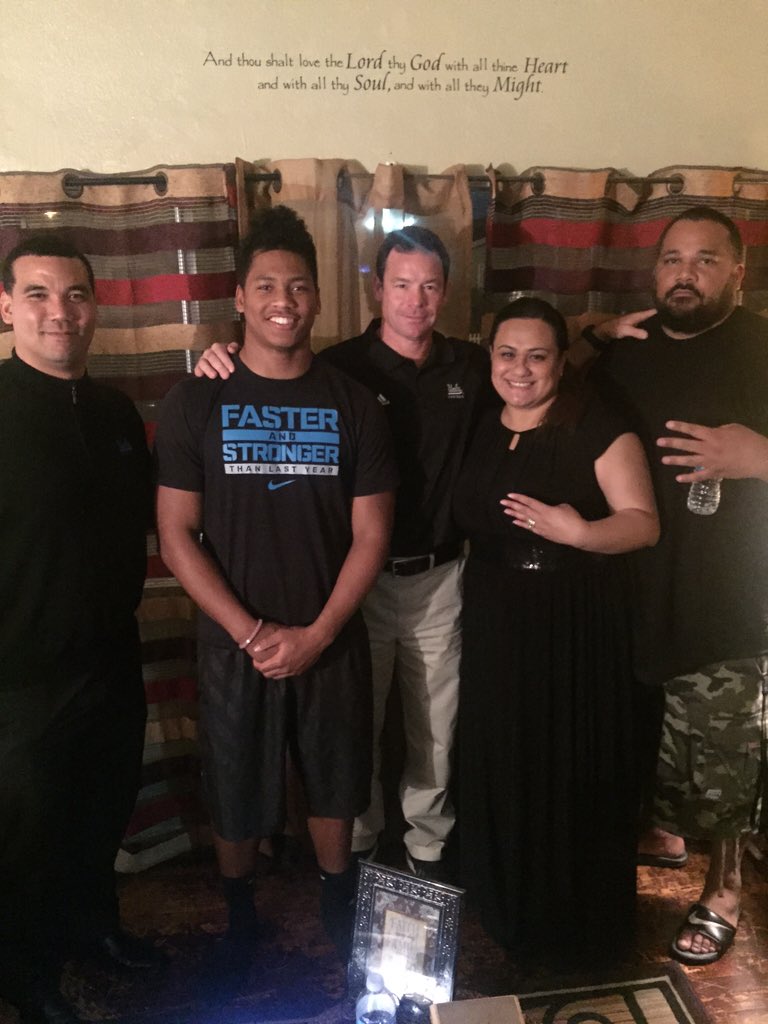 UCLA LB coach Scott White and Jim Mora visited 
Mique Juarez
 Sunday night.  
News as of 7:24 a.m. Sunday:

Demetrice Martin and Angus McClure were in NorCal Thursday to see Elk Grove (Calif.) Franking safety Lamar Jackson play Saturday night.  

News as of 8:23 a.m. Saturday:

Jim Mora flew up to Norcal in a private jet to see Owens and Barnes.




News as of 6:20 a.m. Saturday:

Defensive backs coach Eric Yarber and linebackers coach Scott White were in NorCal to see Fresno (Calif.) Clovis West commit Darian Owens, and then linebacker commit, Bakersfield (Calif.) Liberty's Krys Barnes, with Liberty playing in the CIF championship game (Liberty won).  

Yarber will visit UCLA-committed Y receiver Jordan Wilson, at Nashville (Tenn.) Montgomery Bell Academy, Monday.  

News as of 11:15 a.m. Friday: 

UCLA spent a great deal of time with five-star athlete Jack Jones, from Long Beach Poly, Thursday.

Defensive backs coach Demetrice Martin and running backs coach Kennedy Polamalu (who recruits the school) were at Long Beach Poly during the day.  

Then Martin visited Jones and his family in his home.

Jones then came to the UCLA/Kentucky basketball game, and spent time Martin and Jim Mora.

UCLA defensive coordinator Tom Bradley visited four-star athlete (LB/S) Khaleke Hudson, from Pennsylvania.

UCLA offensive coordinator Noel Mazzone and DL coach Angus McClure will be in Arizona Friday to see Garrett Rand, the defensive line prospect verbally committed to Wisconsin.

Mazzone, McClure and other UCLA coaches are expected at Las Vegas Bishop Gorman to see all the underclassmen, like defensive lineman Haskell Garrett, safety Bubba Bolden, and others. 

I've also heard that UCLA coaches are expected to check in on 2017 Los Angeles High defensive tackle Martin Andrus.

And a contingent of coaches will be at the Pac-5 Championship game at Angel Stadium Saturday between Corona Centennial and Bellflower St. John Bosco.   The primary targets in that game are Centennial WR Javon McKinley and 2017 five-star offensive lineman Wyatt Davis, who has UCLA as his leader.  

UCLA will also be scouting 2016 St. John Bosco QB Quentin Davis. Scout's Greg Biggins talked to Davis recently and he said: Davis currently has an offer from Fresno State and said UCLA and Washington State are showing a lot of interest. UCLA will be at his game on Saturday against Centennial and Davis said he feels they could be close to offering. He said he would obviously love an offer from UCLA but wouldn't commit right away, he still wants to go through the process but I think it would be very tough for him to turn down the offer. 

_______________________________________________________




New as of 5:00 p.m. Wednesday:

Tonight, not only will Demetrice Martin and Eric Yarber be in the home of David Long, the corner prospect from Los Angeles Loyola who is verbally committed to Stanford, but Jim Mora will be, too.

It's clear UCLA is highly prioritizing Long.  

___________________________________________________________


New as of 10:45 a.m. Wednesday:

On Monday, defensive line coach Angus McClure was at Gardena Serra to visit with Oluwole Betiku.  The feeling now is that it's between UCLA and USC, and who USC hires as its DL coach will be key.

Running backs coach Kennedy Polamalu was in Norcal with McClure and stopped in at Concord De La Salle to see DT Boss Tagaloa and TE Devin Asiasi.  The two are slated to officially visit UCLA Dec. 11th. 

Polamalu and McClure also went by Antioch to see 2017 5-star running back Najee Harris, who is verbally committed to Alabama, but the thought is that he'll probably open up his recruitment.  We were told that UCLA coaches visited Alijah Vera-Tucker, the 2017 offensive lineman from Oakland Bishop O'Dowd, who is verbally committed to Washington, and he received a UCLA offer.

In L.A. yesterday, Eric Yarber and McClure saw Nahje Flowers, the defensive end UCLA has offered from Los Angeles Dorsey, and checked in to see andSemisi Lauaki, the defensive end from Lawndale Leuzinger, who is verbally committed to Utah but looking around.  

McClure visited UCLA-committeed JC defensive lineman, Nick Terry.  

Today will be a busy day in the Valley and Ventura County.  From sources at Westlake, UCLA coaches Yarber and McClure will be on campus to see UCLA-committed receiver Theo Howard.  Head coach Jim Mora probably won't be there since they'll save his visit for when he can visit with Howard's father, who is out of town.  

The pair of UCLA coaches will then visit Oaks Christian to see Michael Pittman and 2017 tight end Colby Parkinson and 2018 quarterback Matt Corral.  It's generally speculated that now that Clay Helton was hired as USC's head coach, Pittman would more than likely be USC-bound, so the meet-up at the school will determine whether UCLA still has a shot with him.  Yarber and McClure are then expected at West Hills Chaminade to see UCLA-committed QB/WR Dymond Lee. 

Polamalu and McClure will then go to Encino Crespi to see UCLA-committed running back Jalen Starks, and UCLA-committed defensive end Marcus Moore.  

_______________________________________



Jim Mora, offensive coordinator Noel Mazzone, defensive backs coach Demetrice Martin and receivers coach Eric Yarber visited Damian Alloway, the wide receiver prospect from Fontana (Calif.) Summit, early Tuesday evening.  Alloway is slated to officially visit UCLA Dec. 12th (on a big visit weekend for UCLA) and then he'll decide between UCLA and Notre Dame. We've heard from sources that his official visit to Notre Dame a couple of weeks ago was just okay for him, and that UCLA is looking good.

On Monday, linebackers coach Scott White checked in on five-star linebacker Mique Juarez at Torrance (Calif.) North Monday. 

UCLA coaches also visited Gardena Serra safety Brandon Burton Monday night. 

The two UCLA-committed brothers from Rialto (Calif.) Carter, linebacker Lokeni Toailoa and safety Leni Toailoa, received an in-home visit Tuesday night from Mora, UCLA linebackers coach Scott White and Demetrice Martin, according to sources at Carter.

Also on Wednesday, we've heard from our I.E. sources that White will check on 2017 Pomona (Calif.) LB Javaris Steward. Los Angeles (Calif.) Salesian linebacker commit Rahyme Johnson and cornerback target Deommodore Lenoir are also expecting White to stop by.

Sources at Long Beach Poly are indicating that UCLA coaches Mora and Martin will be visiting Thursday to see elite athlete Jack Jones. 

On Tuesday, UCLA coaches visited and offered Baldwin Park (Calif.) offensive lineman Francisco Perez, who is verbally committed to Cal.  With there being some talk that Cal coach Sonny Dykes will leave the Bears program, UCLA could be there to pick up Perez.

Offensive line coach Adrian Klemm will visit UCLA-committed OL Mike Alves, from San Diego (Calif.) St. Augustine later this week, according to sources close to Alves.  And we've heard that Klemm visited with UCLA-committed Alex Akingbulu, from Harbor City (Calif.) Narbonne.  

Our sources in Central California indicated that White will be at Bakersfield (Calif.) Liberty's CIF championship game this weekend to see commit Krys Barnes and he'll likely check on Fresno (Calif.) Clovis West commit Darian Owens while in the Valley.


UCLA coaches will be at the CIF Pac-5 Championship Game Saturday at Angel Stadium specifically to watch Corona (Calif.) Centennial WR Javon McKinley.  Because they'll be at that game they can't visit McKinley this week.