This story was originally published on the Scout Dallas Cowboys site, CowboysHQ.com. 
---
While there is always going to be mystery when it comes to the NFL Draft, over the years the Dallas Cowboys have done their fans a bit of a favor and "tipped their hands,'' so to speak. Not only have they (not once,  or twice, but three times!) somehow via social media given us a look at their draft boards after that year's draft was completed, but in their actions they've also alerted us to some key tells about their actions.
 In our must-read post from a few off-season's ago, "6 Draft Tendencies and Tells," we listed the following:
5. Dallas uses the ... visits very wisely, and will most often select players throughout the draft that visit team headquarters through the 30 National invites of Dallas Day visits.
This is by no means an end-all be-all list. Jaylon Smith, Maliek Collins, and Charles Tapper didn't make official visits to Valley Ranch in 2016. But in total, 11 of their draft picks in the last three years have made visits to the team headquarters. In that vein, we'll be bringing you in-depth looks at the draft candidates that Dallas schedules for visits, so that you can be better informed about the small sample size many of the next group of Cowboys will likely come from.
Name: Takkarist (Takk) McKinley
Position: Defensive End
School: UCLA
Height: 6'2"
Weight: 250
Intangibles/Honors: Originally committed to Cal, but was ruled ineligible due to a transcript error. … Played one season (2013) at Contra Costa College before transferring to UCLA … High-school Track Star who ran at the state meet in two events as a Junior and a Senior … Lombardi Award Watchlist – 2016 … Hendricks Award Watchlist - 2016 … First-Team All-PAC 12 (Coaches) – 2016
 pSparq Score:  113.8. Z-Score: -0.4 NFL Percentile: 33.1
pSparq is an approximation of the "Sparq Score" metric invented by NIKE (with the help of former USC and current Seattle Seahawks Head Coach, Pete Carroll), designed as a way to standardize athletic testing of High School athletes and interpret their athleticism with a sport specific formula. For more on pSparq,(and the man behind the math Zach Whitman) check out 3sigmaathlete.com.
Measurables vs. others at his position
Measurables vs others at his position: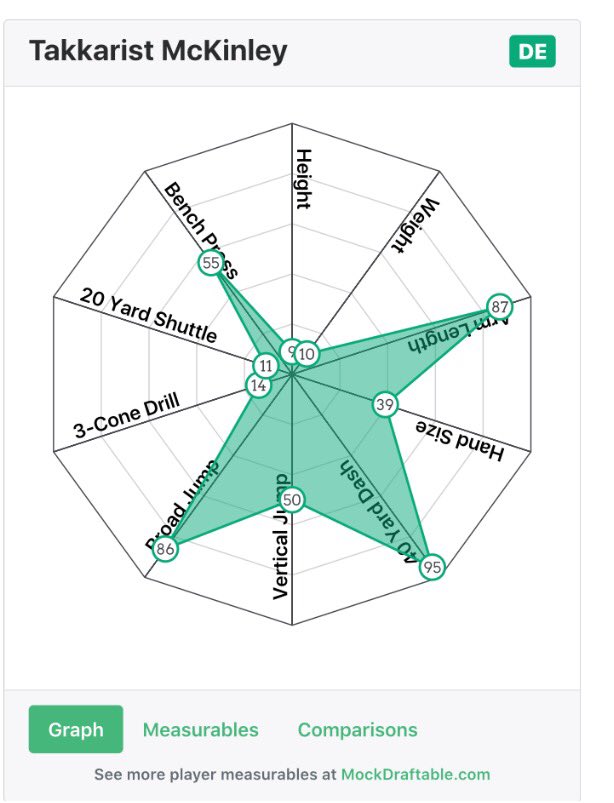 Note: This spider graph provides a visual representation of a players' measurable traits, and combine results.  The filled in area of the chart, as well as the number in the light grey circle represents the percentile among the players peers by position.  A score of 85 here represents that out of every 100 players at his position, the player has a better result in that test than 85 of those 100.
Games Studied: Utah, Colorado, Stanford
Pass Game:
McKinley lined up as a rush linebacker or defensive end in UCLA's defensive scheme. His primary role was to play upfield while maintaining outside contain as a rusher.
He displays a high level of explosiveness off the ball that is indicative of his track background. His first step and speed can put a blocker in a tough position very early in the play. Doesn't display consistent hand usage, and often when he is in position to win a rep cleanly against a blocker he doesn't show the ability to shed the block and allow him to finish the play cleanly with a sack or hit on the quarterback.  Most of his production in games I studied came on on twist stunts or on plays where the tackle attempted to cut block him and he was able to avoid the cut and close on the quarterback. did show the awareness to attack the football even while still engaged with a blocker and forced a fumble on the play.
Run Game:
Because of how he lined up in the Bruins defensive scheme he was often facing off with a tight end or fullback in the run game, although he did show the ability to hold up against tackles in this area when the opportunity arose.  Plays with discipline against read option looks, and his explosiveness allow him to be effective when asked to knife inside his man on a gap exchange. Most of the plays he made in the run game came this way. 
Conclusion/Cowboys Projection:
Takk McKinley fits the height, weight, speed, profile that the Cowboys look for in their Right Defensive Ends. He has high level production in big-time college ball on a team with a history of producing NFL quality defensive players.. He played with a shoulder injury the last two years which was operated on in early March, which will keep him out of off-season activities and could keep him out of most of his first NFL training camp. If he is available when the Cowboys are on the clock for the 28th overall pick he will present a conundrum for the Cowboys: the natural talent is obvious on tape, although he needs significant skill development as a pass rusher, but the measurable athleticism doesn't seem to match the tape, and the surgery will prevent him from improving his times and jumps at a pro day. He has the potential to become a very high quality NFL pass rusher which is something the Cowboys desperately need, but the year one impact will likely be low, and the bust factor could be higher than they like in round one as well. However, if the injury causes an unforeseen drop into the mid-to-late second round, and the Cowboys addressed a different position in round one, McKinley could be a name the Cowboys make a day 2 trade to acquire.