Anthony Denham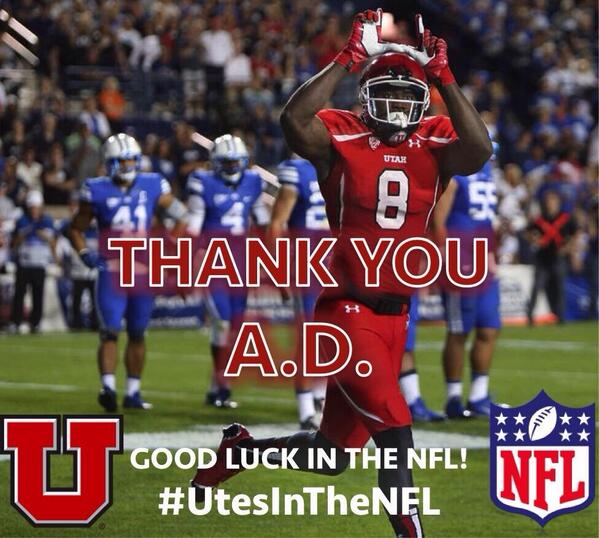 Measurables
Height: 6'4"

Weight: 235 lbs

Arm Length: 33.375"

Hand Size: 10.5"

40 Yard Dash: 4.77

Vertical Jump: 32.5"

Utah Football Career and Highlights
Games: 23

Receptions: 35

Yards: 426

TDs: 2

When I think back on Anthony Denham's Utah Career, two games in particular stand out. The first being when the fans at Rice Eccles gave a collective gasp when Kenneth Scott went down early against Utah State. A fan favorite and player with huge expectations was KScott, especially against a team that he looked unstoppable against the prior year, the Aggies. AD came in cool as a cucumber and delivered his most productive game of the season with 113 yards receiving and was key in helping Utah move the ball and convert and pick up a very much-needed win against Utah State.

The second game to me is his performance blocking on the outside against Stanford. I may still be a bit jaded because of how big of an upset it was, but I remember thinking on that night that I had never seen a better blocking-performance from a WR… maybe ever. I still will argue that Utah doesn't win that game without AD's blocking on the edge- that didn't show up anywhere in the box score, but proved to be essential in getting the upset over The Cardinal.

It was also very cool to see him catch a TD pass against BYU.

NFL Combine Recap
Anthony Denham was received by combine spectators with Tweets and comments about his physical appearance- the NFL Combine turned into the Anthony Denham Gun Show. AD always has been a 'first guy off the bus' type, but people will especially take notice when it's their job to put you in spandex and judge your every curve and move. As I stated before in the forums, anything you can do to get an edge or get noticed at the combine is a good thing, quirky or not.

People took notice of AD for his physical presence and he backed it up with his performance on the field to land him on some teams' radar. I think Denham did exactly what he set out to do: he finished in the top 8 for both the bench and vertical jump and forced Scouts to make sure they checked him out at Utah's Pro Day on March 19. Outside of running in the 4.5 range and leaping into the 'absolutely you will get drafted' discussion, this is exactly what AD needed to have happen.

Bold Prediction
The team that generated the most buzz during the NFL Combine and that is still out there being mentioned with AD is Washington. Washington has the second pick in the 7th round and while that may seem like a huge reach for AD, giving RG3 another target alongside of Jordan Reed may make sense to help in the red zone and to convert on third down. They need help on the offensive side of the ball, which was made apparent by bringing in DeSean Jackson, and when healthy Denham was productive (though most of that came while at East LA College and while he was faster than most of the other guys. That won't happen at the next level). Prediction
Best case scenario for AD is getting into the 7th round on a flyer pick as I said above, but my guess is getting an invite as an undrafted free agent. AD needs to go to a team that spins the ball a lot. New Orleans or New England and their pass-happy systems would be an ideal fit for him to get a chance to get reps and have some pretty-alright QBs throwing him the pigskin. I expect him to get a chance to at least be on a practice squad come this fall.