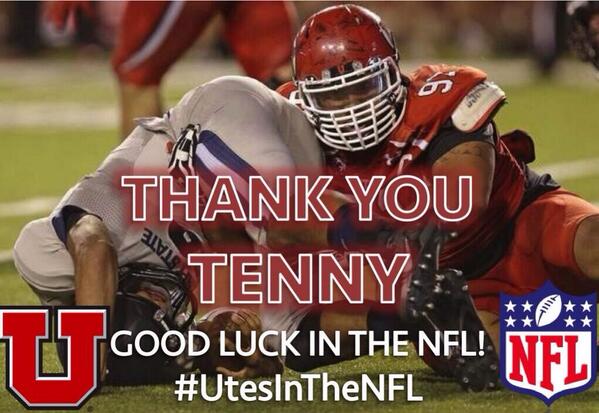 Tenny Palepoi
Measurables
Height: 6'1"

Weight: 298 lbs

40 Yard Dash: 5.10

Vertical Jump: 30.5"

30.5" Arm Length

9.875" Hand Size

31 Reps on Bench Press

111" Broad Jump

Utah Football Career and Highlights
Games: 24

Starts: 14

Tackles: 74

Tackles For Loss: 12.5

Sacks: 6.5

Forced Fumbles: 1

The one game that sticks out to me, and really wasn't even fair for our friends in Ogden, was how ridiculously dominant Tenny was against Weber State. He had 1.5 sacks and 8 tackels and I don't think he sniffed the field for the entire second half. Granted, he will never, ever see competition that inferior for the rest of his career, but all things considered that performance was incredible.

He was also on an entirely different level against Utah State. He had a big sack on Chuckie Keaton in the 3rd quarter that shows up in the stat sheet, but he was in the backfield all night long. I dare say Utah isn't victorious that night without Tenny's play on the interior of the line. You could really say that for the entire year though- he made LT and the other DTs better and gave Nate and Trevor favorable match ups that they exposed because of what Tenny did in the middle.

This dominant, productive, NFL-ready defensive line play is one of the cornerstones of Utah Football. It's awesome to see torches passed from player-to-player. Star spoke very highly of Tenny, who produced every chance he got as a junior, and stepped up when the Utes needed him to as a senior. It will be fun to see the next Ute step up and learn from what Tenny and the boys before him did.

NFL Combine Recap
To even be invited to the NFL Combine this year all Tenny had to do was fill in the shoes of the best DT in the country from 2012, a top 14 NFL Draft Pick and sure-up a defensive line that was also losing two other guys to the NFL. No way that would happen, right? Wrong. Tenny did all of that and then some.

When Joe Kruger surprised us all last year and declared for the draft, Tenny's job immediately got more difficult. No big deal for Tenny- he performed this year and earned the invite to Indy. That's the first thing you need to know about Tenny: he earned the trip to the NFL Combine with his performance on the field.

The next thing you need to know about Mr. Palepoi is that he worked his tail off to get ready for the combine and it really showed. He finished in the top 15 for bench, broad and vertical jump. What was even more impressive than those numbers was his footwork, hips and fluidity through the defensive line drills. I've seen multiple people say he had one of the top 5 DT performances at the combine and a lot of that has to do with the opinion side of the draft, the stuff you can't measure with a stopwatch.

If you ask Utah fans a year ago if he is able to do all of that and end up where he is at now, I'm not sure if many of them, if any, say yes.

Bold Prediction
Tenny Palepoi shocked all of us with his combine performance this year, and I'm here to tell you he will do it again. Pre-combine not a person around would have told you Tenny was going to be drafted. Now that we are a week away, it's going to happen.

Tenny has it all going for him right now: extremely productive senior season, answered any and all questions about how he would do replacing a guy rightfully named Star, killed the NFL Combine and Utah Pro Day, continues to impress scouts on the field and in interviews, and is next in line of a beautiful Utah DL heritage. (See: Lotulelei, Kruger, Siliga, Shelby, Finau, Kruger, Soliai, Pouha, Fanene, etc.)

My good friend Brian Swinney said on the UteSportsReport radio show the other night that Tenny was going in the sixth round, and that's exactly where I'm headed....

With the 21st pick of the sixth round, the Green Bay Packers select Tenny Palepoi, Utah.

Prediction
I don't think my Bold Prediction is too far off from reality. I legitimately think Tenny gets drafted and the sixth is a very real possibility. However, all things considered, I believe Tenny Palepoi will end up being taken in the 7th round by the 49ers from San Francisco.