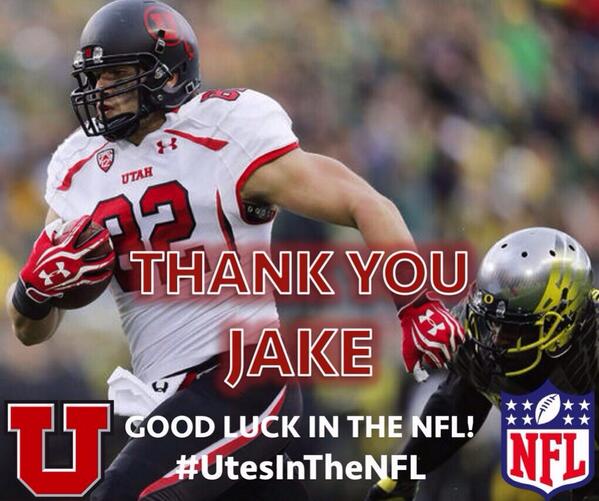 Jake Murphy
Measurables
Height: 6'4"

Weight: 249 lbs

Arm Length: 31.75"

Hand Size: 10"

40 Yard Dash: 4.77

Vertical Jump: 33"

Bench Press: 24

Utah Football Career and Highlights
Games: 30

Starts: 14

Receptions: 63

Yards: 830

TDs: 10



What is the first thing that stands out about Jake Murphy on the field? I'm glad you asked- this quote sums it up very well.

" Jake Murphy might have the best hands of anyone in the draft..."
Peter Smith, WithTheFirstPick.com.
If you go watch a Jake Murphy highlight video you will see Jake making incredible catches and plays all over the field.

Looking back on Jake's career I think the same thing I thought about watching the games live: they need to get this guy the ball more. Many pundits will agree that Jake was under-utilized, but to his credit he never complained one time. The ultimate team player. Father. Husband. Utah Man. NFL-Ready TE. That's Jake Murphy.

A few tidbits from memory lane:


Losing Jake Murphy after the gut-wrenching UCLA game was a huge blow all-around. We all knew how much he would be missed on the field, but his leadership in the locker room and at practice was more damaging. I still remember his Tweet before the Stanford game about how his boys were going to shock the world. And shock they did. Crazy to think back that he wasn't a part of the ultimate upset last season.


The 54-10 route of the TDS in Provo was Jake's really big coming out party. We all know the backstory about pre-mission and coming home and choosing to take his talents to Utah, but that 30-yard TD in Provo by Jake, then turning and flashing the U to the crowd was something else.


Jake came back from his injury earlier than expected (show's his toughness and will to win) to help his team. He started it out with one of his best one-handed grabs (see pic here. His long TD play later in the Oregon game showed a glimpse of what he can bring at the next level. Gotta hand it to a guy that comes back early to try and help his team make it to a bowl game.


The Colorado game was his last hoorah as a Ute and he ended with his best statical game of his career. He caught 8 passes for 93 yards and a TD. The first drive of the game was all Jake Murphy- 34 yards and his only TD. Looking back now, knowing Jake isn't coming back to Utah, the game was a bitter-sweet: we all wanted to see more of that, now we will have to wait until Sundays...

NFL Combine Recap
Jake's NFL Combine Performance was just like his performance on the field this season: incredibly consistent, delivered when needed, and solid throughout. Every drill and competition that Jake competed in he finished in the top seven. Every; Single. One. He wanted to beat a 4.8 in the forty and did that with a 4.77. He wanted to make sure people knew he was both strong and quick so he went and put up 24 reps on the bench and followed it up with the second fastest 20 Yard Shuttle time from a TE at 4.27 seconds. Jake Murphy did everything he was asked to, and needed to do. Tell me if you haven't heard that before.

He also made sure to Tweet out to Ute Nation how much he appreciated the support and said thank you multiple times for the coverage and fan support he had received. This guy is going to own the interview room with teams and owners. For as good as he was in the drills in Indy, I bet he was even better behind closed doors. He's the guy you want doing an interview after a game, talking to the press after a practice and doing the local community outreach events. His skill-set as a football player, coupled with that side of who Jake Murphy really is as a person, makes him a gotta-have guy.

Bold Prediction
The Green Bay Packers have been riddled by injuries at the TE spot, and Aaron Rodgers needs a sure-handed, athletic, TE that can play on the line or out in space. Enter Jake Murphy. I saw this pick on a Packers Blog earlier this week and absolutely love the fit for both sides. Most NFL Draft Analysts have Jake as a top-10 TE prospect, and pairing him up with ARod in Lambeau would be a match-made in heaven. Brady has Gronk. Brees has Graham. Rivers has Gates. ARod deserves (read: needs) Murphy.

Prediction
I don't think the Murphy to Green Bay in the fourth round is out of the question, but I see two other teams as potential landing spots for Jake. One is in the same NFC North, to the Bears in the fifth round, or the ultimate would be Jake getting picked up by The Falcons in the 6th or 7th and taking the legendary Murphy name back to the ATL.

Regardless, you will be hearing 'Jake Murphy, Tight End, Utah' read from the podium at some point this weekend.