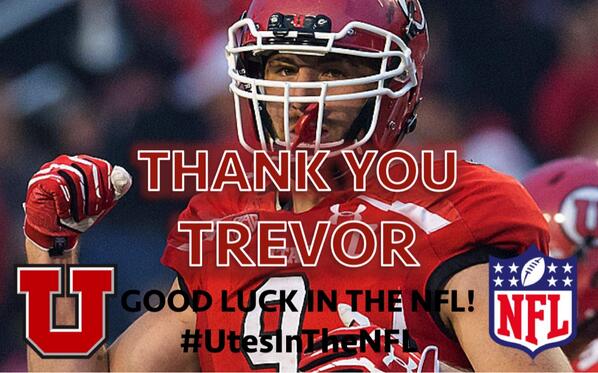 Trevor Reilly
Measurables
Height: 6'5"

Weight: 245 lbs

40 Yard Dash: 4.66

32.25" Arm Length

9.5" Hand Size

26 Reps on Bench Press

117" Broad Jump

Utah Football Career and Highlights
Games: 48

Starts: 32

Tackles: 235

Tackles For Loss: 37

Sacks: 20

Forced Fumbles: 8

Fumbles Recovered: 6

Passes Defended: 9

Interceptions: 2

Daughter(s) Carried On Shoulders From Tunnel on Senior Day: 1

Trevor Reilly's Utah Football highlights could go on for days and days, but a few things/plays that stood out to me are below. A good way to start this off is with a Trevor Reilly highlight video from McKay Pett:




Something that isn't talked about a lot is how fundamentally sound Trevor Reilly is. He is so naturally instinctive, which helps obviously, but he is a very, very good football player with a knack at how to play defense. Trevor is one of the best tacklers I have ever seen. He forces a lot of fumbles and doesn't miss many tackles in space because he has such great technique and always, always wraps up. If I was his agent I would be showing plays for days of how well he tackles.

Trevor Reilly reintroduced himself to the Utah contingent and introduced himself in a big way to Jake Heaps on that fantastic night in Provo in 2011. The romp that was 54-10 saw Trevor Reilly making plays all over the field and really started Trevor on an upward trend that would continue to this year. He ended that game with five tackles, three tackles for loss, two sacks, three forced fumbles, one pass breakup and a fumble recovery. Jake Heaps still checks his closet for Trevor Reilly before he goes to bed because of this.

It was an awful, bitter trip to Tempe in 2012 when Utah got blown out (37-7 if you don't recall) by the Sun Devils, but the lone bright spot for the Utes was Trevor Reilly. Trevor's demeanor and attitude stood out as much as anything else, leading to seven tackles, 2.5 tackles for loss and 1.5 sacks.

The entire 2013 season could basically be recapped by the following: Trevor Reilly was the best football player on the team, and there wasn't a close second. I Tweeted out many times: "I can't imagine where this team would be without Trevor Reilly...". Scary to think about it, actually. He was incredibily consistent, ended the season with 100 tackles, 16 tackles for loss, 8.5 sacks, and 3 fumble recoveries and a top-four finalist for the Butkus Award. He should have been an All American.

NFL Combine Recap
Trevor Reilly is arguably one of the greatest to ever don the drum and feather. Here is a guy who played the entire 2012 season with a torn ACL (though you couldn't tell or never knew till after the fact), a guy who was without question the most important player on the Utes roster last year and what do you know, as fat would have it, he wasn't cleared medically to participate in the workouts of the NFL Combine due to precautions on his surgically-repaired knee. But, adversity is nothing for Trevor Reilly- this was a minor setback, considering everything he had been through so far.

The plan going to Indy was that Trevor would participate in the drills and when he wasn't cleared to compete a few (read: a lot of) red flags were raised. How durable is his knee really? Is his age a bigger concern than we thought? On and on and on. Trevor made the right decision to not run and risk injury, but when everyone thinks you are going to compete, then aren't cleared and "can't", teams become leery and rightfully so (see Star Lotulelei 2013). At this point, some NFL teams took him completely off of their board.

Below is what I wrote two days after the NFL Combine ended, unedited.

What Trevor is hoping to have happen is exactly what happened with Star about this time last year- become completely cleared medically and show up at Pro Day and back-up what was accomplished on the field his senior season. His productivity and game film alone makes him worth a second or third round pick. His age (26) and lingering knee issues make some teams wonder whether they should take him off their boards completely, or wait to the mid to late rounds to take a shot at a value pick.

Utah Pro Day Prediction I fully expect Trevor to have a great Pro Day on March 19 and put himself back on the radar for teams in need of a productive, versatile and NFL-ready LB. Trevor is the biggest wildcard in terms of what round he gets selected for the Utah combine attendees, but my guess is he is a fourth or fifth round pick come May. The fan in me wants to say third round, but I think it will ultimately be a fourth or fifth round Trevor. No matter the round, pick or team, I think you are looking at a contributing member to a defense right away.

Bold Prediction
Trevor Reilly grew up in Southern California, loving the San Diego Chargers. Heck, the Chargers even made special arrangements to interview and meet with Trevor at the NFL Combine. They need help at OLB and Mike McCoy has an obvious tie to Utah Football. So there the Chargers are with the 57th pick overall and this Friday you hear....

"With the 25th pick of the second round, the San Diego Chargers select, Trevor Reilly, OLB, Utah."

Would be an excellent landing spot for him considering all he and his family has gone through. I'd love to see another #UtesInTheNFL member helping out Weddle's Beard on Sundays.

Prediction
I can't wait to hear Trevor Reilly's name called this weekend. I'm going to say it happens on Friday, not Saturday, and he ends up heading to one of the following: Jets at 80, Cardinals at 84 or Eagles at 86. Don't be surprised if he ends up in the 110-120 range though due to age and durability concerns. If he drops to there I still say the Jets are a very likely landing spot. Like him or love him, Rex Ryan is committed to defense and I'd love to see what he could do schematically with Trevor Reilly.

Regardless, I think wherever he ends up is a value pick and he will have a great NFL career.