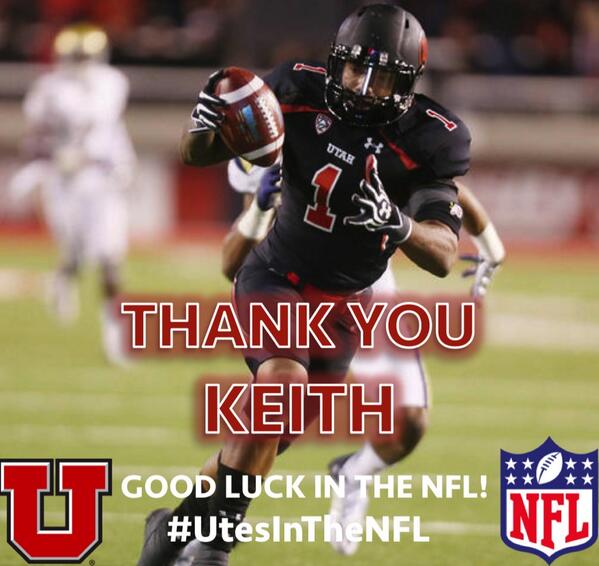 Keith McGill
Measurables
Height: 6'3"

Weight: 211 lbs

40 Yard Dash: 4.51

33.25" Arm Length

10.25" Hand Size

39" Vertical Jump

129" Broad Jump

4.18 20 Yard Shuttle

Utah Football Career and Highlights
Games: 17

Starts: 12

Tackles: 49

Tackles For Loss: .5

Passes Defended: 13 (12 as a SR.)

Interceptions: 1



If I were to tell you that Utah's impressive lineage of putting DBs into the league was going to continue this year, you wouldn't be shocked. If I were to tell you that the next Utah DB to be drafted only played one full season, only has 1 INT as a Ute, will be the most-talked about and scrutinized Utah DB of all time, and most-likely the highest drafted this century- you may be skeptical.

Enter Keith McGill.

Keith was receiving attention from Utah fans this season for all of the wrong reasons. Whether it was rumblings from the fans watching Keith get worked by Cooks from OSU, or dropping pick after pick after pick agasint ASU, most of the words around Mr. McGill weren't favorable last September/October- and that's putting it nicely.

Enter BYU and UCLA games.

From this game moving forward you could argue Keith was the best corner in the Pac-12. Crazy considering how bad the OSU game tape is. Take that with a grain of salt though, Mr. Cooks may very well be the best WR in this draft class when we look back a few years from now. He certainly is one of the quickest.

A few other tidbits, notes from Keith's 2013 season:
As I mention below in my NFL Combine recap, Keith got better as the season progressed. Maybe showing the most improvement from week 3 to week 12 of any player on Utah's roster.

Keith was in so many good positions this conference season. I can't for the life of me realize how he only had one (1!!) INT. That has to be the most frustrating things for Keith and the coaches looking back- he pulls in a few that he should have had and Utah is bowling.

Keith absolutely owned the BYU game in Provo this year. Owned it.

If Rice Eccles had a roof, it would have come off after Keith's pick-6 in the UCLA game. Great play by Keith that was much needed for the momentum of that game.

His 2013 Pac-12 Season in a nutshell:

Passes Attempted: 71

Passed Completed: 12 (Were these all to Cooks?!

Comp. Rate: 16%

Pass Break Ups: 13

Passes Defended: 12

NFL Combine Recap

You can watch Keith's NFL Combine Performance on NFL.com here.

Here is the recap I wrote the week after the NFL Combine, unedited.

For a guy who was light on interceptions this past season, Keith sure did know how to steal the show in Indy. McGill measured in as the tallest DB, had the longest arms, biggest hands, and finished in the top 10 in the forty yard dash, vertical jump, broad jump and 20 yard shuttle. Keith jumped into the national scene midway through his senior season with his opportunities to go up against the best the Pac-12 had to offer. His move from S to CB is well documented, and you can't argue anything other than this: that from the first game of the season to today, he has done nothing but got better- a trend teams love to see. A solid Senior Bowl performance also helped Keith into the national spotlight and when his number was called at the combine he stepped up in a big way.

NFL scouts and analysts oohed and awed over his measurements, ball skills, ability to catch away from his body and how he broke on the ball. Timing is everything in this business and hearing non-stop the Richard Sherman and 'Seahawk style secondary guy' comparisons have Keith in a great spot to get paid come May 8.

Prediction Best case scenario for Keith is having one team fall so in love with his measurements that they take a shot and go with him in the late first round. Worst case is a room full of scouts over-analyze his 3 Cone Drill, lack of INTs as a senior, time he's really spent playing as a corner and he slips to the late third or early fourth. My guess is he is firmly planted in the second round- his upside and ceiling is very high, and NFL teams are on the 'big, physical DB that can play man-coverage bandwagon' and Keith will gladly ride that bandwagon all the way to the bank.

Utah Pro Day Thoughts

The one note I will add here is giving a tip of the hat to Keith for being willing to run his forty time again. It was a risky move considering how well he had done in Indy, and he took to the spotlight and stepped up big time.

Bold Prediction
There are rumblings in the draft world that the Denver Broncos are looking to trade up and make a 'big move' to get the guy they want. John Elway is walking a thin-line between mortgaging the future of the franchise by going all in to take advantage of Peyton's shrinking window, and keeping all of his picks to make sure they have depth for the future.

I don't see the Broncos making a move, and the biggest, boldest prediction I can give you for Keith is Denver taking a huge shot at him at #31 overall. DB is one of their biggest positions of need, and they do like what he brings to the table to help their secondary.

Prediction
I believe there are four likely landing spots for Keith McGill.

Cardinals - 2nd Round - 52nd Overall

49ers - 2nd Round - 56th Overall

Broncos - 2nd Round - 63rd Overall

Jaguars - 3rd Round - 70th Overall

Don't discount the Senior Bowl coaching-time that Gus Bradley had with Keith in Mobile- he spoke very highly of Keith and his skill-set. He may very well end up in JAX playing with former Utah great, Zane Beadles.