http://www.cnn.com/2017/06/15/politics/otto-warmbier-north-korea/index.html
Excerpt:
Critical of Obama administration
Fred Warmbier appeared critical of the Obama administration's handling of Otto's detention, saying the family heeded the US government's initial advice to take a low profile "without result."
They kept quiet "on the false premise that (North Korea) would treat Otto fairly and let him go," he said.
He said he and his wife, Cindy, decided this year that the "time for strategic patience was over," and so they did media interviews and traveled to Washington to meet the State Department's special representative for North Korean policy, 
Joseph Yun
.
Yun met in May with North Korean representatives in Norway, and the North Koreans agreed that Swedish representatives would be allowed to visit Otto Warmbier and three other US detainees, 
a senior State Department official said
 on condition of anonymity this week.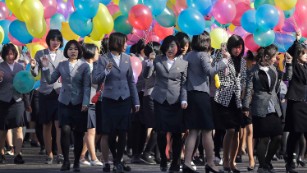 After the Swedes visited one detainee, North Korea representatives sought another meeting with Yun, and it was at that June 6 meeting in New York that North Korea's UN ambassador told Yun that Warmbier was in a coma, the official said.
North Korea released Warmbier six days later.
Fred Warmbier praised the Trump administration's efforts: "They have our thanks for bringing Otto home."
When asked whether then-President Barack Obama could have done more, Warmbier replied, "I think the results speak for themselves."