Harrison Scott
has accounted for over 3,000 yards combined passing and rushing as a two year starting quarterback for Dalton High School.
Last Saturday, he traveled up to Huntington, West Virginia to visit
Marshall
and to watch their Green & White spring football game.
"It was great," said Scott. "I got to talk to Coach Paul Nichols. He's the coach that recruits Georgia. He said he had my film on his desk and ready to look at."
"They had really good facilities up there. They had a new weight room and it's probably the best I've seen so far. I've been to
South Carolina
,
Tennessee
, and a few other places, but the Marshall weight room is probably the best I've seen."
"Their stadium was bigger than I thought it would be. It seats about 40,000. I like it a lot. Their fan base was great. You could tell their fans really appreciate the Marshall team. It's just a good college town."
Scott is still waiting on his first offer. He is being recruited by Tennessee, Vanderbilt, South Carolina, Marshall,
Indiana
,
Boston College
, Yale,
Northwestern
and Dartmouth.
At 6-foot-2, 190-pounds, Scott shows good mobility and has the ability to throw on the run with precision. He's a smart quarterback that plays with poise and makes good decisions.
Click below for video of Harrision Scott in action.
1.
2.
3.
4.
5.
Harrison Scott also plays first base for the Dalton baseball team. He's an excellent student with 3.8 GPA and 1990 SAT.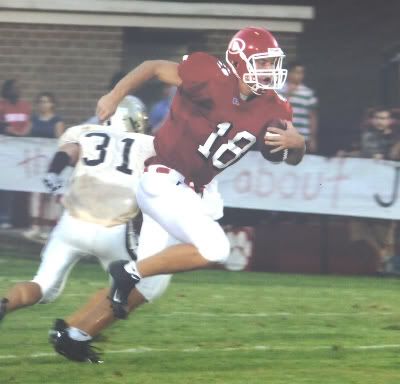 Dalton Quarterback Harrison Scott