The match-up in the girls Division I soccer championship figured to be a defensive contest and the defending state champion Strongsville Mustangs and challenger, the Dublin Coffman Shamrocks didn't disappoint.
Both teams only allowed a combined 6 goals all season and both coaches figured it would be a chess match with one goal probably being the difference. In the first half, the Coffman Shamrocks created the most opportunities and those were limited. During the first 20 minutes the "Rocks" best efforts came from Kristin Kover, Kelly Quinn, and Heather Wesley.
Mustangs coach Jon Felton, substituted more liberally in the earlier playoff contests, but chose to stick with his starters for most of the first half. Coffman's defense held Strongsville offense to only 1 shot on goal the first half. The first half ended in a 0-0 tie.

The second half started much in the same fashion but the Dublin players, led by All-state midfielder Quinn began winning more 50/50 balls. At about the 28 minute mark, Strongsville brought in their mass substitutions. Then it happened. The Mustang defense, trying to adjust with the new players brought in and without All-State defensive midfielder Jessica Roberts, had a defensive lapse.
Coffman's Alyssa Brown intercepted a lazy pass in the midfield and found Lindy Slinger unmarked. Slinger forces Strongsville's GK Michele Neff to come off her line and beats her for the goal. Checkmate, Coffman. Strongsville intensity picks up, but the tenacious Shamrock defense holds.
Coffman picks up its second state championship in three years, the other being in 2001.
Afterwards, a tired, cold and disappointed Roberts was gracious in defeat. "No excuses, Dublin played well, they deserved the win". Coach Felton echoed much the same sentiment, "They (Coffman) consistently were winning the balls, we had one breakdown and they capitalized". Dublin coach Mike Walker, was equally gracious in victory. "We expected it to be a tough match and it was. Strongsville is a great club and it just feels great to get the win."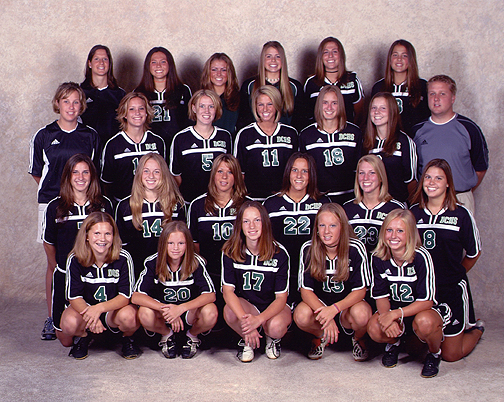 Dublin Coffman
Pos
No.
Name
Min
SOG
Saves
GA
PKF
PKS
D
SO
C/P
GK
Lauren Bachtel
80
4
4
0
W
X
Pos
No.
Name
Min
Goals
Ast
Shots
SOG
FC
FS
Off
CK
Blk
D
6
Tara Herold
M
7
Kristin Kover
2
2
M
9
Annette Bonasso
M
10
Kelly Quinn
2
F
11
Lindy Slinger
1
2
1
M
12
Marie Crocker
1
D
14
Kelsey Hunyadi
D
17
Susan Swepston
M
19
Molly Duckworth
F
21
Alyssa Brown
1
1
M
3
Heather Wesley
1
D
8
Jenny Roggenkamp
M
13
Cristen Herold
M
18
Kimberly Garrison
Totals
1
1
9
3
12
0
2
Strongsville
Pos
No.
Name
Min
SOG
Saves
GA
PKF
PKS
D
SO
C/P
GK
1
Michelle Neff
80
3
2
1
L
Pos
No.
Name
Min
Goals
Ast
Shots
SOG
FC
FS
Off
CK
Blk
D
2
Jessica Roberts
1
1
D
3
Kelly Constantino
F
4
Erin Lynch
F
5
Kristen Stalter
1
1
D
6
Stephanie Habner
M
8
Molly Fallon
M
12
Julie Hudson
M
13
Mary Grebenc
D
16
Colleen Kordan
M
20
Mandi Kulchar
1
1
M
7
Jill Ferree
M
9
Courtney Constantino
F
10
Kelly McConnell
D
14
Aly Abernathy
D/F
18
Vicky Galaska
M
21
Jessica Marshall
M
17
Ashley Ellsworth
1
1
F
19
Jackie Barath
Totals
4
4
12
0
5

Linescore

1

2

PK

FINAL

Dublin Coffman

0

1

1

Strongsville

0

0

0

Scoring Summary

Team

Min

Goal

Assist

DC

57

Slinger

Brown