| | | |
| --- | --- | --- |
| | VS | |
Jacket Bowl IV
Friday, Oct. 25th 7:30 PM
Greer's Dooley Field
Courtesy :www.yellowjacketsports.net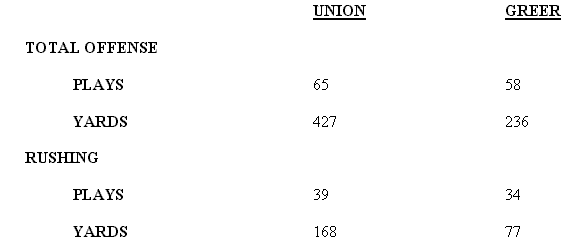 WOW- This game should be a great one. There is a lot at stake in this one. Bragging rights, Pride, Ole MO, and most of all home field in the play-offs. Both teams have play-makers and great defenses. Could come down to a Field Goal. I think this may be the year for MY JACKETS.
GREER-27
UNION-24
From the booth,
Satch
From www.unionyellowjackets.com
By BRIAN WHITMORE

Union and Greer football teams share more than just a nickname. Both these Yellow Jackets run the spread offense, are loaded with athletes, have been the class of Upstate football the past three years and continue to represent the best the sport has to offer this year, yet were defeated by Newberry.
Because of the loss this Friday's battle at Greer has less on the line than the previous three Upper State title games, won by Union. It will have playoff seeding implications.
"It's become a great rivalry between two very good teams," said Union coach Mike Anthony. "We are very similar teams, athletically. It will come down to execution, turnovers and penalties as it usually does when equal teams meet."
It's no secret that Greer (6-2, 2-1) wants revenge against Union (7-1, 2-1). In a preseason article by another newspaper, Greer declared its source of motivation for 2002 as Union.
The Greer Yellow Jackets, again this year, have many weapons. Anthony said he's most concerned with stopping junior quarterback Sinclair Cannon, 6-3, 180 pounds, who has 83 rushes for 730 yards and nine touchdowns.
"Believe me, he is one of the fastest kids we've seen all year," said Anthony. "He gets the ball 18 to 25 times per game."
The offensive line is big and zone block, allowing Cannon to find a hole. "Once he finds an opening, he lowers his shoulders and runs hard," said Anthony.
Greer stays on the ground about 75 percent of the time, Anthony estimated. Josh Williams is the other Greer quarterback. He is more of a passer, with 383 yards and three touchdowns on the season, but both Greer quarterbacks can pass when they have to.
Sergio Gilliam is the leading receiver for Greer with 19 receptions for 207 yards and three touchdowns.
"He's an outstanding player," said Anthony. "He's about 6-2, 180. He's tall and lanky, catches well and covers well."
Anthony said the defense will show more man-to-man coverage in the secondary than Union has seen all year. The defensive line also is big, averaging around 280 pounds each.
"It takes a lot of preparation in practice to get ready for a team this talented," he said.
Union is just as talented, as showcased in last week's romp over Riverside.
Justin Knox passed for 250 yards and two touchdowns. Seven different receivers caught passes, with David Smith converting his two catches into touchdowns.
De'Rail Sims showed how capable a backup he is for running back Eirish Stevens, with 101 yards rushing and three touchdowns. The offensive line created a lot of holes and protected Knox all night. Eric Young, a division one prospect, had a big night on the line.
Jay Baylor made a statement on defense with eight tackles, two sacks and two pressures. Rashaad Jackson returned from a preseason injury and made six tackles, while causing a fumble.
One problem in the Riverside game, and it was a good one to have, is that Josh Gilmore only got one chance to punt. Ricky Benvenuti is out with a broken left foot and Gilmore and kicker Nick Maness are practicing at the position.
With so many star athletes in one game, it should be an exciting contest and the stands will be packed with rabid Yellow Jacket fans. "It's going to be fun," said Anthony.
Game 9:
Greer
Mascot: Yellow Jackets
Colors: Black & Gold
Home: Greer
Coach: Travis Perry, 2nd year
Division: Region III-AAA
Last week: Greer defeated Broome 43-21.
2001 record: 10-3, lost to Union 6-0 in Upper State title game
2002 record: 6-2, 2-1
Preview: Greer has been beaten three straight years by Union in the Upper State title game and they want revenge.
Players to watch: #13 Josh Williams (QB); #19 Sinclair Cannon (QB); #3 Tommy Cohen (WR); #4 Jermaine Johnson (WR); #9 Sergio Gilliam (WR/DB); #8 Shun Foster (WR/DB); Walter Booker (LB); Brandon Harris (DL).