Spencer Trygg, Right-Handed Pitcher

HT : 6'2
WT : 215 lb
DOB : June 2, 1990, Mountain View, California
Throws : Right
Bats : Right
School : California Lutheran University (Thousand Oaks, California)
Acquired : Free Agent 2013
Stock : Rising
Cool Notes : Twitter bio says, "prefers baseball to the radio - trusting in the process since 2012" / wears Akadema baseball glove (very cool!) / Fan of free-skiing
Spencer Trygg has had a long journey to the Angels farm system, and has quite the road ahead, but that challenge has been well accepted. Coming from Independent Ball in 2012, the Angels found a guy who the odds have always been against, who has began to shows strong signs in the upper levels of the farm system.
SCOUTING REPORT:
Trygg is a natural athlete, playing water polo in high school, and taking in golf and skiing during his freetime (someone is going to have to teach him how to get out of the backseat on the slopes, sorry Spencer). With the athleticism, Trygg has been able to put on extra muscle and remain strong through the off-seasons.
Trygg comes with a three pitch arsenal, consisting of a slider, changeup, and two-seam fastball/sinker from a three-quarter arm slot. Trygg's two-seam/sinker sits in the low 90's with a late break. The big concern about this pitch is that it has tendancy to rise as opposed to sink when left high in the zone. Some scouts have said Trygg has tapped the mid 90's and has touched 95 on rare occasions.
Trygg has a standard slider and developing changeup. This will keep Trygg in the bullpen, but he has the stamina to last multiple innings and take over a middle relief role.
Trygg hides the ball well, and uses his front side and legs effectively. However, with a jerky motion to the plate that allows him to fire it in at what seems like a higher rate of speed, it has caused his command to be a problem putting up a big question mark. With quality pitches, his walk and hit numbers have been high throughout his career, and is something he'll need to adjust to take that next big step in his career.
Prior to being signed, Trygg enrolled himself in a pitching camp hosted by Tom House, a.k.a, "The Pitching Guru," at the University of Southern California campus. Trygg would wake up early and travel to the facility three days a week during the 2012 off-season, where he learned a new arm slot, pitching mechanics, and worked on weight and mental training.
Trygg's strongest quality in his scouting repitoir is his ability to shut down outside influences and focus on pitching with a high competitive mental level. This only shows in what scouts and coaches say, but each one we've talked to begins with that and gives high praises on his ability to compete, even despite poor situations.
STATISTICAL BREAKDOWN:
Trygg hasn't had impressive numbers since high school (1.31 ERA), and his sophomore year at California Baptist University.
At an MLB Workout in Detroit on the weekend of June 16-17, 2011, Trygg was passed up by MLB teams and resorted to Independent Ball in McAllen, Texas with the McAllen Thunder of the United League. Trygg posted a 9.68 ERA and 2.321 WHIP, which later lead to his release from the team that folded at the end of that season.
Trygg went to Tom House's camp during the 2011-12 off-season, and was signed by the Los Angeles Angels early in the season. In 2013, Trygg spent his time with the Orem Owlz and became one of the elite relievers for the team. In an offense friendly league, Trygg posted a 5.67 ERA, strongly effected by his 11.3 H/9 and 5.0 BB/9. In appearances where Trygg only pitched in one inning or less, he allowed three earned runs in 13.2 innings pitched. In appearances where he went over one inning, he allowed 13 earned runs and 24 hits in 13.1 innings pitched.
Taking away his first appearance in High-A, Trygg would have posted a 3.28 ERA, and went on a tear beyond that first appearance, allowing four runs in his next 21 innings pitched. However, you can't take that away and he finished with a 5.92 ERA and above two WHIP.
Trygg has a career 5.90 ERA and 2.006 WHIP in the Angels farm system.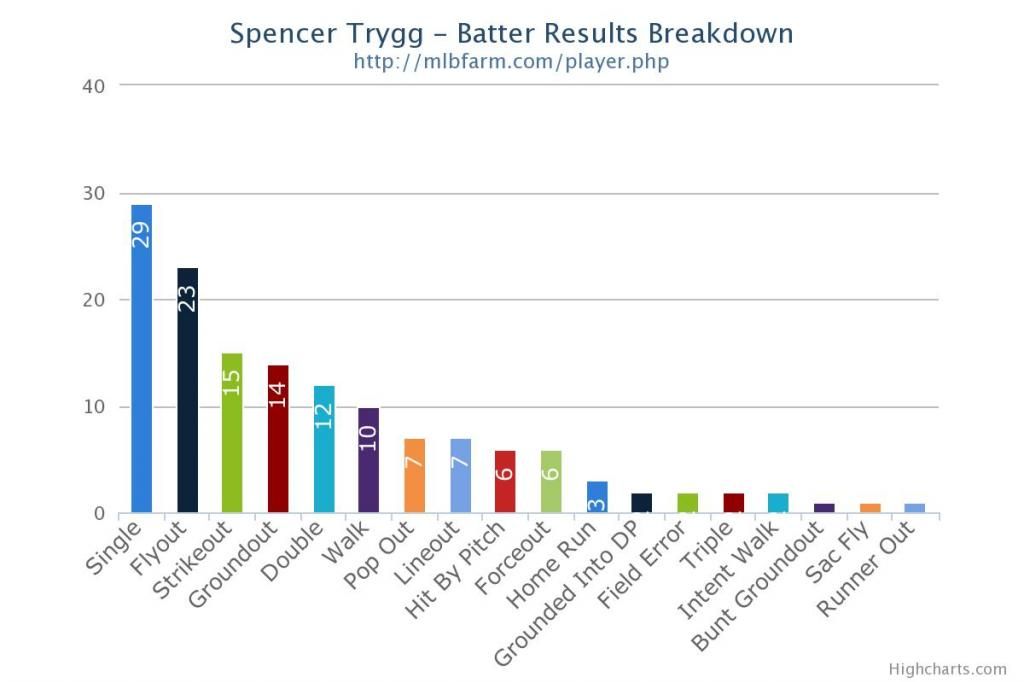 EXPECTED FUTURE:
Trygg still has to show he can compete at the High-A level, which makes us believe he'll begin 2015 with the Inland Empire 66ers. Trygg has the abilities to progress through the Angels system, but it is unknown if he'll be a Major Leaguer at this point in his career. With some adjustments and stronger, more consistent outings, we'd imagine Trygg could work his way to Double-A in the middle of 2015.
For more updates on the Los Angeles Angels, their prospects, and our Top 100 Prospects Countdown, follow us on Twitter, @AngelsOnScout.
Taylor Blake Ward is a Senior Publisher for InsideTheHalos.com, and can be found on Twitter, @TaylorBlakeWard.