Michael Snyder, First Baseman

HT : 6'4
WT : 230 lb
DOB : June 17, 1990, Tacoma, Washington
Throws : Right
Bats : Right
School : Florida Southern College (Lakeland, Florida)
Acquired : Drafted 23rd round (717th overall) in 2012 June Draft
Stock : Falling
Cool Notes : Father, Brian, pitched in 17 MLB games from 1985-89 / Brother, Brandon, has played in 83 MLB games from 2010-13 / Brother, Matthew, plays in the Yankees farm system
Baseball is a family affair! Or so it seems in the case of Michael Snyder. His father, Brian, and brother, Brandon have played in the Majors, and his other brother, Matthew, was drafted the same year he was and is working his way through the minor leagues too.
Remember Mark Trumbo? Of course you do! Well, despite Snyder's stock falling this past year due to injuries, he's still one of the most comparable guys to Trumbo in the system due to his unnatural pop, the kind that stands out in the Angels farm system.
SCOUTING REPORT:
BANG! That's the sound that tends to come off Michael Snyder's bat. Snyder's natural power may be the best in the entire system and comes from extraordinary strength. His power could be what carries him into the Majors.
However, his power isn't his only strong quality, as he can drive the ball well. Snyder has a long swing. Some days, Snyder finds ways to muscle through his swing, and he'll need to make small adjustments to his lower body and use his legs in a better way.
Snyder's discipline was also a question mark, but progress has been made over the past few seasons to take more pitches and find one to his liking. One thing that comes natural for Snyder is decifering off-speed pitches and fastballs as he can hit both. Another thing that's been consistent in Snyder's game for years though is how good he is while aggressive in counts, so being more disciplined might not be the adjustment he needs to take.
Snyder is a smart player, particularly in the field. He doesn't have a flashy glove and doesn't have an outstanding range, but makes up for it in wit. Coming from third base, where he spent his entire time in college, he has grown well at first base with a strong arm, good picks, and good receiving skills.
Snyder's base running is above average for a big guy, but he still needs to work on using his legs to his advantage instead of his strong upper body.
STATISTICAL BREAKDOWN:
Snyder put up numbers at Florida Southern that will drop your jaw. In two seasons, Snyder put up a slash of .352/.428/.637, with 22 home runs and 91 runs batted in over 91 games.
Snyder didn't miss a single game as FSC, and had 34 of his 91 games go for multi-hit games. Snyder also had 25 multi-RBI games, two where he plated five runs. Snyder also had six three-hit games and hit safely in his first nine games in 2011.
Snyder jumped right into Rookie Ball out of the draft, and put up a near identical slash he had in college, posting a trio of numbers consisting of .332/.393/.531. In 25 games from 6/22/12 - 7/19/12, Snyder hit in 24, beginning with a 19 game-hit streak, six of which he had a double in each game, and finished the streak with four straight two-run games. Over that span, Snyder had a .425/.468/.772 slash with 29 runs batted in, 21 runs scored, and 20 extra base hits.
Snyder continued his excellence in 2013 in High-A, posting a .280/.339/.619 slash, finishing second in the system with 25 home runs and 92 runs batted in. Snyder hit a snag in the road, but fixed it drastically with a 20 game stretch from 7/2/13 - 7/22/13, where he began with four straight two-hit games (seven multi-hit games over stretch), and hits in 19 of the 20 games.
From 2011, in college, to 2013, Snyder missed a combined 10 games. That's right, TEN GAMES! Health was never a problem for Snyder, that was, until this past season. An unlisted injury took two months from his season, and it impacted his season drastically. Snyder had his worst professional season, posting a .211/.265/.319 slash, with career lows in game-to-game averages.
Despite a poor 2014, Snyder did show strong signs, putting up a .345/.487/.552 slash while ahead in counts.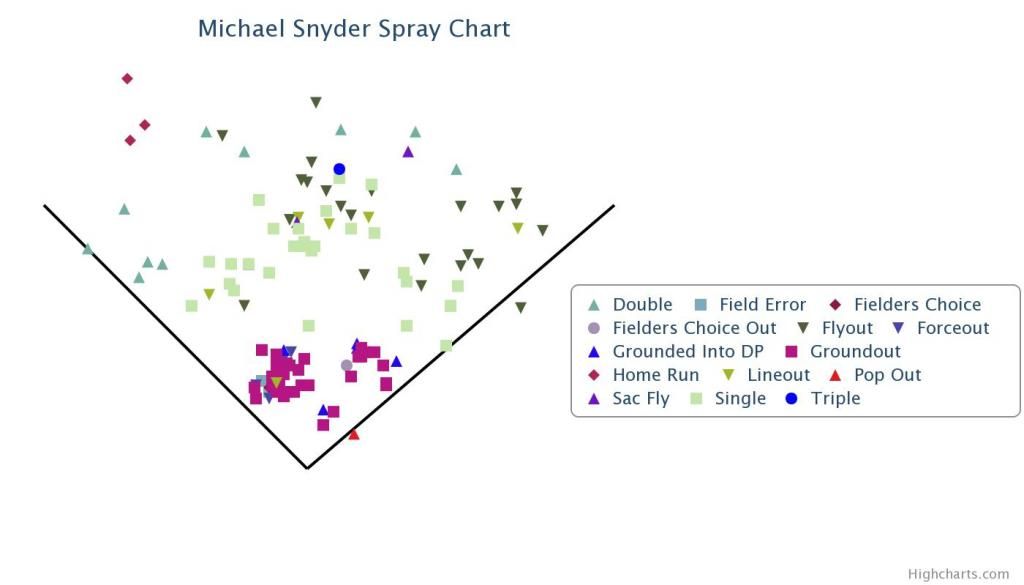 EXPECTED FUTURE:
Despite quality defense, Snyder's future is more than likely as a designated hitter. His power and aggressive approach are what will take him to the Majors, which we strongly believe he'll make in the near future. ETA for Snyder was previously late 2015, but with the injury and weak season, 2016 is what would make a little more sense.
In 2015 though, Snyder should return to Double-A and become the star prospect he was again. He had strong signs at the beginning of the season prior to the injury and with a second season of seeing near MLB pitching, he could truly shine. If Snyder heads to Triple-A in 2015, his numbers would go off the charts due to the elevation and his raw strength. Although he used to compare to Mark Trumbo, he could be compared to someone like Brennan Boesch on the opposite side of the plate.
For more updates on the Los Angeles Angels, their prospects, and our Top 100 Prospects Countdown, follow us on Twitter, @AngelsOnScout.
Taylor Blake Ward is a Senior Publisher for InsideTheHalos.com, and can be found on Twitter, @TaylorBlakeWard.