Dan Tobik, Right-Handed Pitcher

HT : 6'4
WT : 195 lb
DOB : January 8, 1991, Ballwin, Missouri
Throws : Right
Bats : Right
School : University of Tennesee at Martin (Martin, Tennessee)
Acquired : Drafted 39th round (1,177th overall) of 2013 June Draft
Stock : Rising
Cool Notes : Father, David, pitched in 146 MLB games / Girlfriend, Paige, created social media hashtag for him (#TeamTobik)/ Four-sport athlete in high school
In 1991, when Dan Tobik was just five months old, the Los Angeles Angels drafted Jacob Cruz with the 1,177th overall pick. 22 years later, the Angels did the same thing with Dan. Cruz played in 409 Major League games. Tobik is looking to be the second guy to do that for the Angels.
SCOUTING REPORT:
A natural born athlete, playing baseball, football, basketball, and swimming in high school, Tobik uses that to his advantage on the mound every time he goes out to pitch. Tobik comes with a strong delivery that he learned at a young age, and his athleticism lets him use his whole body in the proper way from head, to shoulder, to frame, to legs.
Tobik uses a five-pitch arsenal to his advantage, consisting of a two-seam/sink fastball, cut-fastball, slider, changeup, and curve. The most effective use of this is not just the high amount of pitches in his arsenal, but that they all come from an identical arm slot, making him hard to read at the plate.
Tobik's sinker and cutter allow him to pitch away and inside to both right-handed and left-handed batters. His sinker is his most effective pitch, getting him a strong amount of groundballs.
When it comes to off-speed, Tobik uses his changeup as a setup pitch, and slider/curve combo as a put away pitch. He has good command on all five of his pitches, but his off-speed could use a small dose of extra work.
Tobik doesn't throw hard, as he sits in the high 80's most nights. However, he has put on some extra strength and is finishing growing into his body, which could mean Tobik could be throwing in the low 90's in the very near future.
What Tobik has, that is well ahead of the grade, is his confidence on the mound. He trusts his pitches and their break to be consistent and keep him competitive in every scenario. Tobik's changeup development will be the deciding factor on if he stays a starter, or lands in the bullpen.
STATISTICAL BREAKDOWN:
Tobik holds the all-time record for saves at UTM, and had quite a college career. In his freshman year, Tobik lead the Ohio Valley Conference in innings pitched and games started (15 GS, 91.0 IP). Tobik continued this success his junior year with a OVC leading .212 against average, and 10.80 strikeouts per nine (12th in the nation). Tobik did not allow a home run in his college career.
Tobik jumped into Rookie Ball right out of the draft, posting a season 2.89 ERA and 1.136 WHIP in the Arizona League. Tobik was strong in every scenario, holding batters to a .136/.191/.159 slash while leading off, and .186/.286/.209 slash with runners in scoring position. Right-handed batters had trouble with Tobik, hitting just .180/.255/.270 in 100 at bats against Tobik.
Tobik stayed strong in 2014, putting up what may look like a high ERA at 4.69, but where he struggled in the California League was mostly the high elevation, hitter-friendly ballparks. Tobik shined as a reliever, putting up a 1.98 ERA, 0.870 WHIP, and .191 against average in relief situations.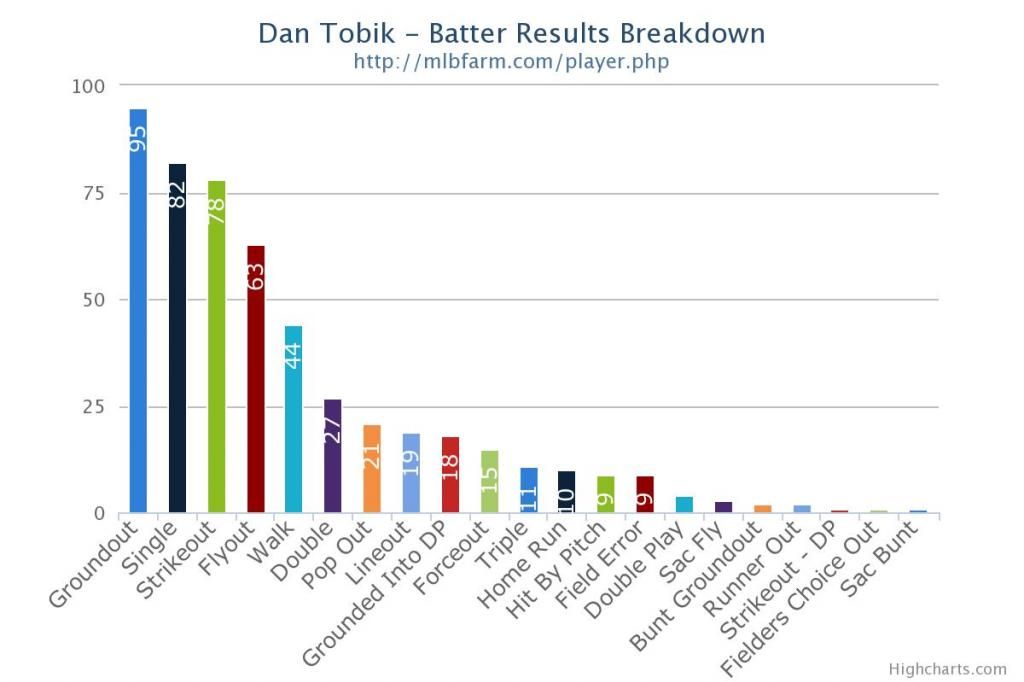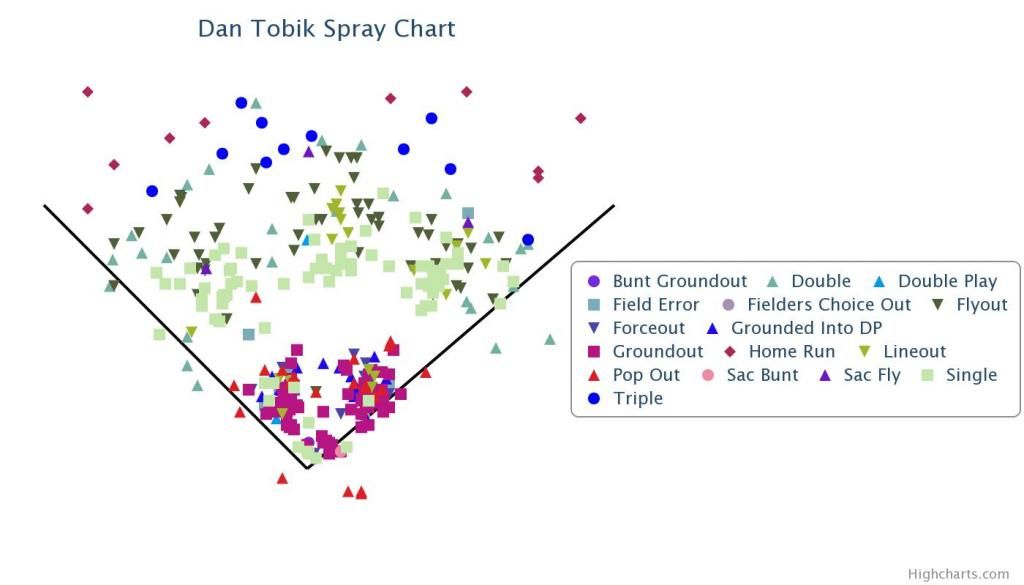 EXPECTED FUTURE:
Tobik is still young, and coaches and organizational members seem to be uncertain on whether he'll be a reliever or starter in the future. With that said, 2015 may be spent in High-A at the beginning again to make this decision.
Tobik has been working hard this off-season, and has a lot of work to do still. Come Spring Training, scouts and coaches will see the hard work, and with a solid season, Tobik could become one of the higher members on the prospect list for the organization. Tobik does not have an ETA to the Majors yet, but could soon.
We at InsideTheHalos have seen Tobik pitch multiple times, and with his mix of arsenal and impact, we expect Tobik to reach the Majors as a reliever in 2017.
For more updates on the Los Angeles Angels, their prospects, and our Top 100 Prospects Countdown, follow us on Twitter, @AngelsOnScout.
Taylor Blake Ward is a Senior Publisher for InsideTheHalos.com, and can be found on Twitter, @TaylorBlakeWard.