Zach Varela, Right-Handed Pitcher

HT : 6'2
WT : 220 lb
DOB : August 19, 1992, Wildomar, California
Throws : Right
Bats : Right
School : University of California, Riverside (Riverside, California)
Acquired : Drafted 23rd round (689th overall) of 2014 June Draft
Stock : Neutral
Cool Notes : Openly listens to Three Doors Down / Derek Jeter fan / Graduated top 10% in his class at Elsinore High School, same school former Angels reliever, Dane De La Rosa, went to
Zach Varela grew up and went to college just two small trips down the 91-East from Angel Stadium. So what a dream for him? How about what a dream for the Angels, picking up a strong right-handed reliever with an even stronger ability to induce ground balls.
SCOUTING REPORT:
Varela is a smart pitcher, who naturally understands how to pitch and attack batters. This makes him an ideal reliever, as he can read a batter and mix his attack based on who's at the plate.
Varela comes with a natural arsenal, but no pitch as strong as his two-seam/sink fastball. This pitch sits in the low 90's and touches 92 on occasions with a strong running movement to it. Based on his size, Varela could pick up some velocity on this pitch behind his big frame with proper coaching.
Varela has quality command of his pitches, keeping them low in the zone and weakening contact, helping him maintain a low walk rate and incredibly high ground ball rate. This could be the biggest key to Varela's game moving forward.
STATISTICAL BREAKDOWN:
Varela put together a 10-6 record over three seasons and 39 games at UC-Riverside, while keeping a 3.02 ERA, 1.324 WHIP, and .276 against average.
Varela jumped right into Rookie Ball out of the draft, and shined in a hitter friendly league, posting a 3.29 ERA and 1.024 WHIP. Where Varela shined was his ground out to air out rate of 3.13. Varela began 2014 with a seven game opening to his professional career where he held a 0.68 ERA, 0.90 WHIP, and .215 against average. Varela walked just one batter in 111 total faced.
Varela had a pair of scoreless outings in the Pioneer League playoffs, allowing four hits in 2.1 innings pitched, helping lead the Orem Owlz to a Pioneer League Finals.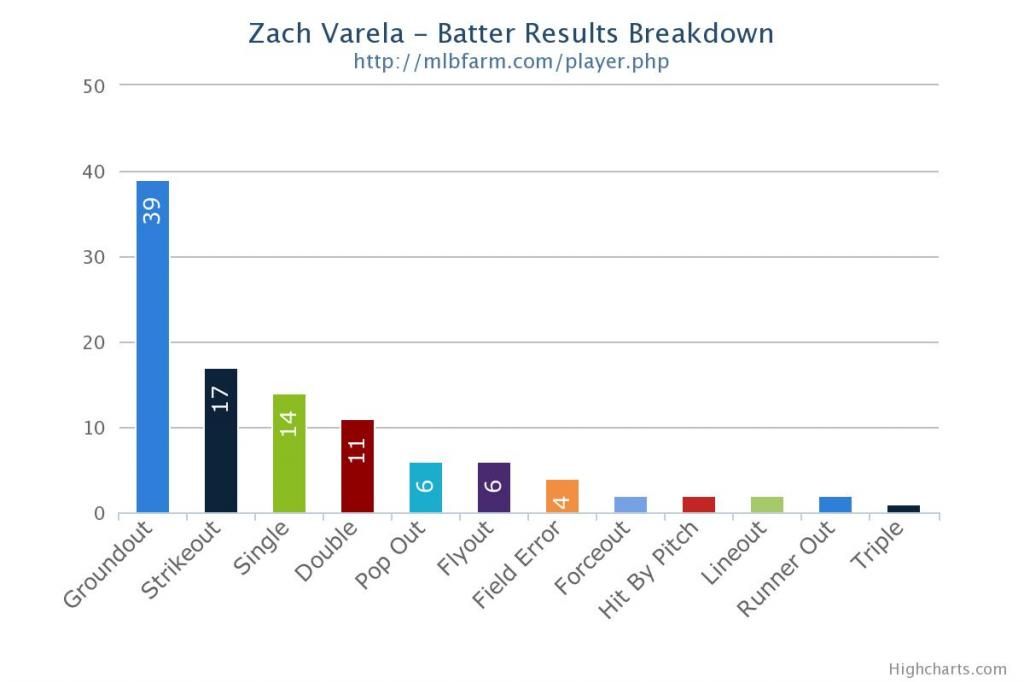 EXPECTED FUTURE:
Varela has the advanced pitching knowledge and experience to shoot straight into a higher level in 2015, which makes us believe he'll land in the Cal League with Inland Empire. This of course, is pending a strong Spring.
Varela's abilities to force ground balls is immaculate, and could be his ticket to the show. However, he'll have to prove himself against tougher hitters at higher levels, and that will be the real test on whether he can match up well with MLB bats in the future.
For more updates on the Los Angeles Angels, their prospects, and our Top 100 Prospects Countdown, follow us on Twitter, @AngelsOnScout.
Taylor Blake Ward is a Senior Publisher for InsideTheHalos.com, and can be found on Twitter, @TaylorBlakeWard.