Angel Genao, Catcher

HT : 6'2
WT : 175 lb.
DOB : March 22, 1993, San Juan de la Maguana, San Juan, Dominican Republic
Throws : Right
Bats : Right
School : N/A
Acquired : International Free Agent 2013
Stock : Neutral
Cool Notes : Mizuno gloves / Wore #4 in honor of his hero, Yadier Molina
Staying in the international market, Angel Genao gives the Angels much provided catching depth. Don't be surprised to hear his name called in the states very soon, where he'll be able to show scouts what he's really all about.
SCOUTING REPORT:
Genao was signed for his defensive skills, but has shown promise with his bat as well. Genao has a line drive swing with small hitches that can be fixed. Genao's offensive game is primarily strengthened with his plate discipline and ability to see pitches out of the hand. Genao's ability to read and hit off-speed pitches will be his calling card.
Genao has good speed for a catcher, and is an above average baserunner already. He uses his long legs as a strength while rounding the bases.
Defensively, Genao is a standout. He has strong receiving and framing skills. His arm is another strong point in his game, tossing out near 40% of runners. This comes from his ability to get the ball out of his glove with ease.
Genao will need to add some muscle to stay behind the plate, as he sets up as a small catcher at the moment. This will both help with his presence behind the plate and strengthen his arm as he continues his career.
STATISTICAL BREAKDOWN:
Genao struggled in his first professional season, putting up a .171/.289/.220 slash in 2013. He had strides forward, but went hitless 17 of his first 27 games. From July 29 - August 15, 2013, Genao reached base in 14 of his 34 plate appearances.
Genao picked up his game in 2014, putting up a season slash of .296/.365/.380, leading the Dominican affiliate in most categories. In his final 16 games, Genao bat .327 with a .380 on base percentage, while stealing six bases. On the last two days of June and first day of July, Genao went 8-for-11, with five extra base hits (four doubles, one home run), scoring five runs, and collecting six RBI.
Genao never lead off a game in 2014, but when leading of innings, he held a .324/.375/.378 slash and thrived against right-handed pitchers with a .319/.380/.422 slash in 116 at bats.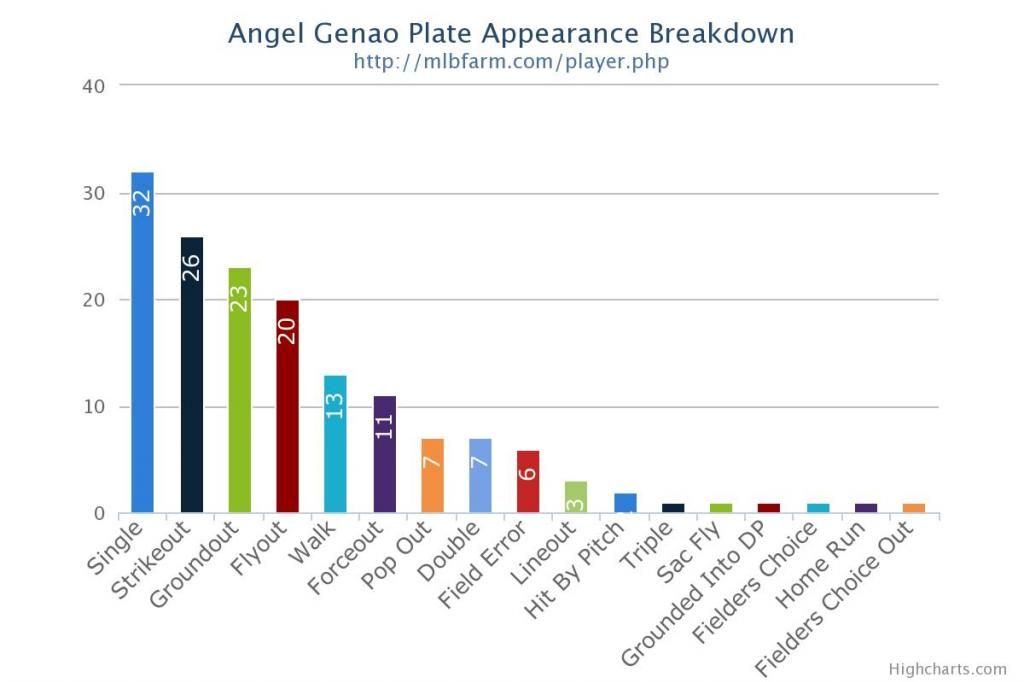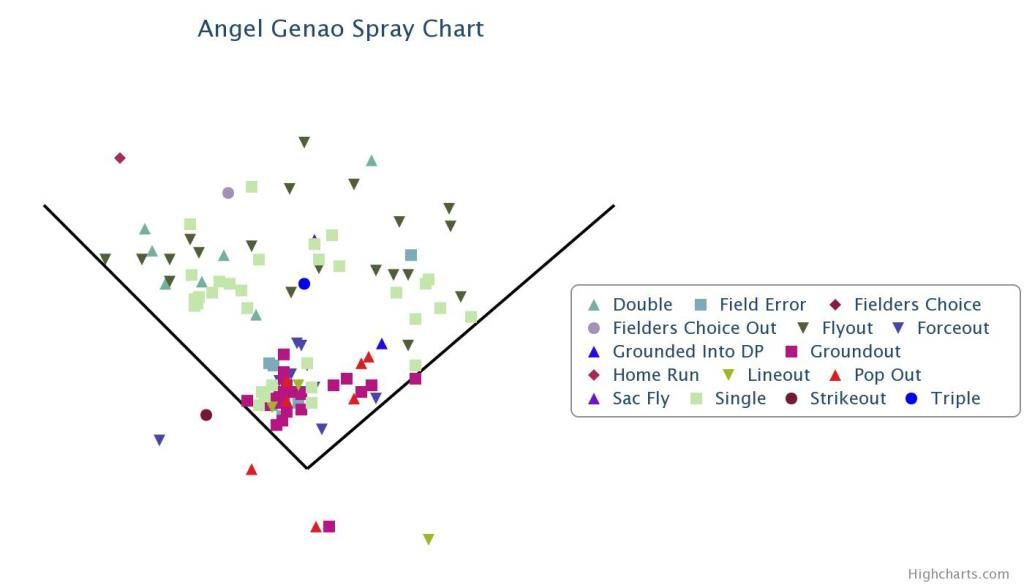 EXPECTED FUTURE:
Genao will need to add some muscle to stay behind the plate, but his defensive skills won't pull him away from the position any time soon. Genao should be in the states come 2015, and be steady at the Rookie Ball level through the year.
Genao needs to make a large amount of adjustments to become a Major League talent, and when it comes to international prospects, there is not ETA on MLB time.
For more updates on the Los Angeles Angels, their prospects, and our Top 100 Prospects Countdown, follow us on Twitter, @AngelsOnScout.
Taylor Blake Ward is a Senior Publisher for InsideTheHalos.com, and can be found on Twitter, @TaylorBlakeWard.