Ricky Martinez, Outfielder

HT : 6'2
WT : 180 lb.
DOB : November 30, 1995, La Romana, Dominican Republic
Throws : Right
Bats : Right
School : N/A
Acquired : International Free Agent October 2012 (Signed for $185,000)
Stock : Rising
Cool Notes :
The Los Angeles Angels made a large committment, signing Ricky Martinez for six digits at 16-years-old. They haven't gone wrong, as Martinez was thrown right into the competition of the Arizona Rookie League, and showed promise, and has progressed to an even higher level with time.
SCOUTING REPORT:
Martinez's biggest upside is his physical projection, backing his strength at the plate and in the field.
Martinez's is a raw hitter with many holes, but that comes with being young and powerful. He has trouble making solid contact with a long swing and heavy hacks at the ball creating line drive power but a lot of swing and misses. This will be improved with coaching and progressive signs have been shown already.
Martinez's strength and bat speed create added power, which projects that he could someday be hitting double digit home runs.
Martinez is a poor defender at the moment, taking poor routes, but he makes up for it with plus speed and plus arm strength. His speed has not been capitalized on the base paths, but with some base running and route taking adjustments, he could become a very strong defender and base runner.
STATISTICAL BREAKDOWN:
Martinez signed and was immediately sent to Rookie Ball in stateside. There, he put up a .220/.264/.307 slash as a 17-year-old. The numbers were nothing to awe at, but they also said a lot about a young talented outfielder. Martinez mustered up eight extra base hits over 2013, and hit safely in 25 of 40 games.
Martinez's 2013 included a 17 game stretch where he struck out 27 times, and at least once in each of the 17 games. Martinez did thrive though, while leading off innings in 2013, with a .406/.472/.594 slash.
Martinez had nearly the same amount of plate appearances in 2014 as he did in 2013, and the progress showed in the numbers. Martinez finished the season with a .257/.347/.342 slash, with 22 runs batted in and 28 runs scored.
Martinez doubled his walk rate and cut his strikeout rate 25%. Martinez boosted all of his numbers, but none as noticable as what he did against left-handed pitchers, putting up a .289 batting average and .767 OPS, while collecting four of his ten extra base hits in 33% of the at bats.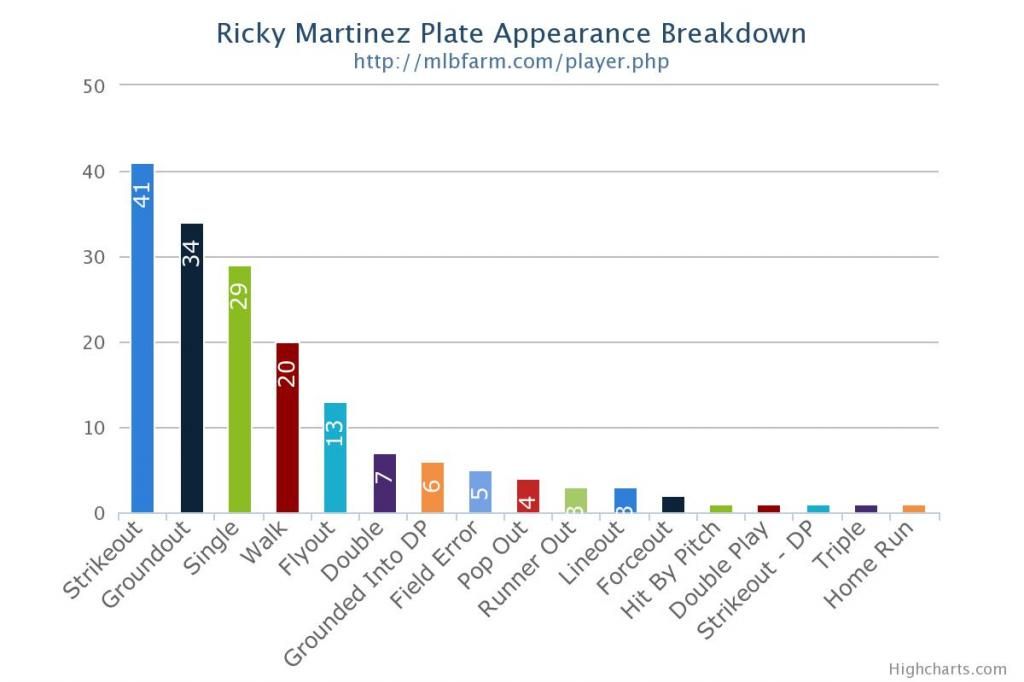 EXPECTED FUTURE:
Martinez still has some work to do to be able to compete with Class-A pitching, but he's close. The off-season can work magic, but for this young prospect, time is on his side and the Angels will plan to utlitize that. One more year in Rookie Ball won't hurt Martinez one bit, and will most likely give the Angels a firm idea of what they'll be able to do with Martinez.
Martinez doesn't have the quick burst and range to stay in center field beyond the minors, so a corner outfield position will be ideal for him. He's still young, but projects well, and when we asked about an ETA for Martinez, scouts said that 2019/2020 when he's around 23 to 24-years-old.
For more updates on the Los Angeles Angels, their prospects, and our Top 100 Prospects Countdown, follow us on Twitter, @AngelsOnScout.
Taylor Blake Ward is a Senior Publisher for InsideTheHalos.com, and can be found on Twitter, @TaylorBlakeWard.