Ayendy Perez, Outfielder

HT : 5'9
WT : 160 lb.
DOB : September 10, 1993, Azua, Azua, Dominican Republic
Throws : Right
Bats : Left
School : N/A
Acquired : International Free Agent 2011 (Signing Bonus Unknown)
Stock : Neutral
Cool Notes : Owns a pair of Mike Trout Nike Vapors / Talented soccer player
He may not match Billy Hamilton speed, but Ayendy Perez gives the Los Angeles Angels needed depth in the speed department. With a disciplined approach and strong base running skills, Ayendy Perez is climbing the ladder in the Angels farm system.
SCOUTING REPORT:
Fast! Like Ricky Bobby fast! Okay, you get it. Ayendy Perez is one of the fastest players in the Angels system, and is a very talented base runner.
Perez has very limited power, and it's doubtful he'll be able to hit the long ball at any point in his career. However, he has good bat speed which allows him to hit the gaps well. Perez is very disciplined at the plate as well.
Perez's contact is weak, but he makes up for it with plus bunting skills. Contact will be what will be his make or break point. He does find ways to make up for his weak contact, such as 24 infield singles out of 51 hits in 2014.
Perez has a good break to the ball in the outfield, and makes good routes. His glove is pretty average, which makes most believe he'll be more suited as a corner outfield rather than center.
STATISTICAL BREAKDOWN:
Perez ended 2012 on a poor note after taking the Dominican Summer League by storm in his first professional season. Perez had a .342/.458/.418 slash in his first month of pro ball, but ended the season with a .261/.390/.325 slash. From June 14th to July 10th, 2012, Perez put up a .386/.494/.453 slash, with 13 RBI, 17 runs scored, 15 walks, 13 strikeouts, and eight stolen bases (22 games).
There was no better international prospect for the Angels in 2013 than Perez, who posted a .317/.430/.389 slash. Perez hit safely in 44 of the 58 games he appeared in, and reached base in 54 of the 58. He did all this, while stealing 41 bases, while being caught just 10 times over the season (.7 steals per game). In a 19 game stretch from June 26th to July 26th, 2013, Perez put up a slash of .385/.469/.400, with 22 runs scored and 14 stolen bases.
Perez came stateside in 2014, and didn't drop off statistically. Perez finished last season with a .279/.327/.361 slash with 16 stolen bases and 35 tuns scored in 48 games. Perez reached base in 40 of his 48 games, picking up a hit in 35. Once again, from June to July, Perez shined putting up a .347/.360/.417 slash in his first 18 games, while stealing eight bags.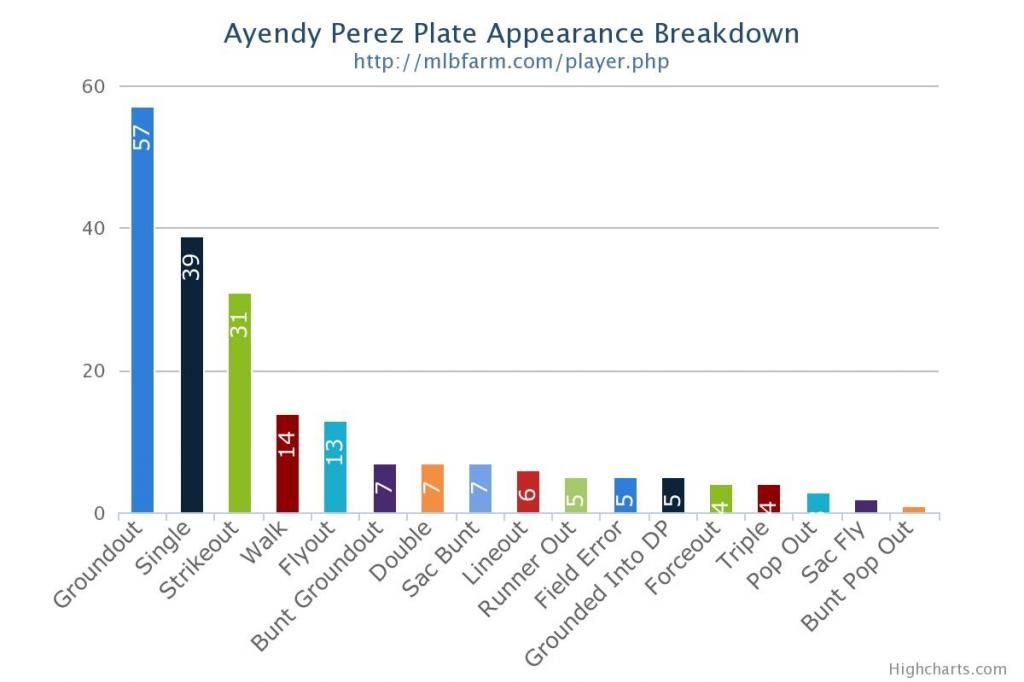 EXPECTED FUTURE:
Some have brought up names like Endy Chavez while describing Ayendy Perez. Those are big shoes to fill, but we believe with strong coaching and maybe a little more added muscle, Perez could match that standard with a potential Major League career.
Perez is young, but has proven himself over time in Rookie Ball, which could lead to him being in Class-A come 2015.
For more updates on the Los Angeles Angels, their prospects, and our Top 100 Prospects Countdown, follow us on Twitter, @AngelsOnScout.
Taylor Blake Ward is a Senior Publisher for InsideTheHalos.com, and can be found on Twitter, @TaylorBlakeWard.