Alex Abbott, Outfielder

HT : 5'11
WT : 187 lb.
DOB : November 2, 1994, Tifton, Georgia
Throws : Right
Bats : Left
School : Tift County High School (Tifton, Georgia)
Acquired : Drafted 6th Round (179th overall) of 2014 June Draft
Stock : Falling
Cool Notes : Avoids Social Media
In 1990, the Los Angeles Angels, then Anaheim, had the 179th overall pick and took a catcher... Troy Percival. Heard of him? In 2014, the Angels took Alex Abbott, an outfielder with good defensive and offensive qualities. Abbott opted out of his committment to the University of Florida to play pro ball, and the Angels couldn't be happier that he did.
SCOUTING REPORT:
Abbott stays back in his swing, allowing him to put better contact on the ball and helping create added power from the left-side of the plate.
Abbott has plus speed, which helps him on the base paths and in the outfield. He was known as a promising right fielder, with good range and break to the ball. As a base runner, he needs to adjust his timing and break while trying to nab bases.
Abbott has good arm strength and has great athleticism, which will help him move forward in the minors.
Abbott is a very discpilined batter, which also helps in his approach at the plate. He can not only draw walks with this but find pitches to his liking and put them in play.
STATISTICAL BREAKDOWN:
Abbott got a taste of professional baseball in 2014, and met competition he had yet to see, which showed in his final season slash of .202/.326/.275. Abbott began the season hot, reaching base in nine of his first 10 professional games and putting up a slash of .303/.425/.454 in games two to ten, with three doubles, a triple, and six runs scored.
Abbott shined while batting cleanup, which he did in 13 at bats, posting a .308/.438/.385 slash with five runs scored.
Abbott's 2014 season was cut short by an unlisted injury.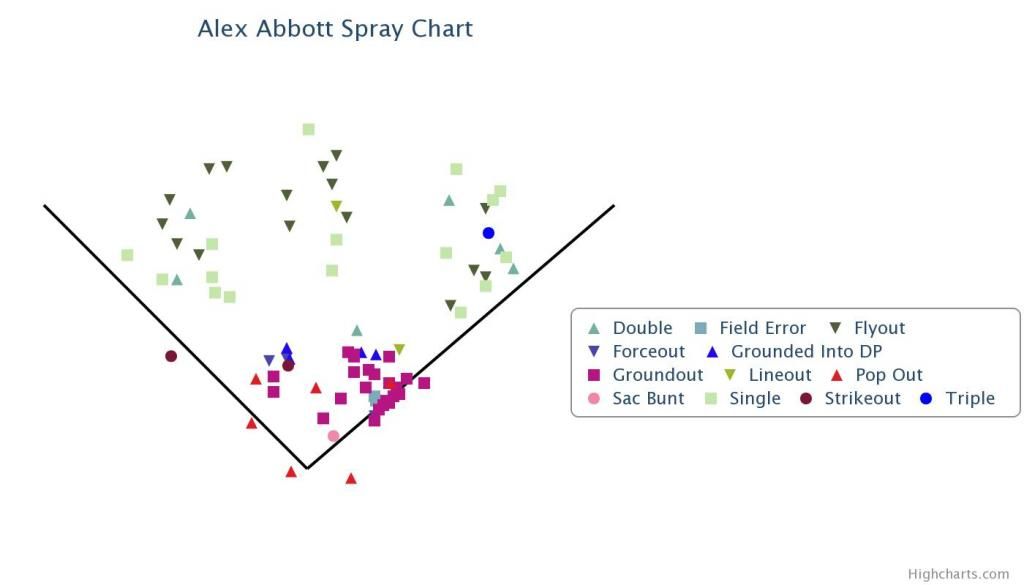 EXPECTED FUTURE:
Abbott struggled in his first glimpse of pro ball, making us believe he'll return to Rookie Ball in 2015, and more than likely in the Arizona League.
Abbott was drafted with the image of becoming a future Major Leaguer. This is still the plan for the Angels, who believe Abbott could be in the bigs by the 2019 or 2020.
For more updates on the Los Angeles Angels, their prospects, and our Top 100 Prospects Countdown, follow us on Twitter, @AngelsOnScout.
Taylor Blake Ward is a Senior Publisher for InsideTheHalos.com, and can be found on Twitter, @TaylorBlakeWard.