Quinten Davis, Outfielder

HT : 6'1
WT : 185 lb.
DOB : August 1, 1992, Missouri City, Texas
Throws : Right
Bats : Right
School : McLennan Community College (Waco, Texas)
Acquired : Drafted 20th Round (627th overall) in 2012 June Draft
Stock : Rising
Cool Notes : Owns a shirt that says "#SPEEDSWAG" / Houston Rockets fan / Rocks the high socks
The second prospect to come from McLennan C.C. in our countdown, this one boast loads of promise and adds some serious depth to the outfield position. Quinten Davis is one of our sleeper prospects, and is ready to burst into the scene of becoming one of the Angels stud prospects.
SCOUTING REPORT:
Davis has a swift swing with good torque creating positive power and gap to gap power. He can extend his hands and has quick wrist allowing him to put the ball all over the field. Davis has some holes in his swing that can be fixed with coaching.
Davis has electric and underrated speed, which not only allows him to nab bases and can make up space in the field. Davis has a solid glove, and is one of the better defensive outfielders in the Angels system.
Davis has an aggressive approach at the plate and in the field. He has good pitch recognition, but could use some more discipline to draw more pitches in his at bats.
Davis' is incredibly athletic, and it shows in every aspect of his game.
STATISTICAL BREAKDOWN:
At McLennan Community College, Davis was a standout, putting up a slash of .339/.429/.446 with eight doubles, three home runs, 36 runs scored, 29 runs batted in and 19 stolen bases.
Davis struggled coming out of the draft and jumping into Rookie Ball, putting up a .242/.320/.303 slash in the Arizona League and .120/.214/.200 slash in the Pioneer League in a combined 51 games. However, Davis put together a seven game hit streak in late July of 2012, going 10-for-22 over the stretch and reaching in 14 of 26 plate appearances.
Davis spent 2013 back in Tempe, and shined with a .288/.365/.423 slash with 28 runs scored, 23 runs batted in, and 14 extra base hits in 48 games. Davis had 11 multi-hit games, which consisted of three, three-hit games, and one four-hit game. In 75 at bats with runners on, Davis hit .347 with a .934 OPS.
Davis spent a third year in Rookie Ball, spending 2014 with the Orem Owlz, and putting up a .274/.313/.484 slash. In an 12-game stretch in July, Davis reached base in each game, collecting hits in 11. In the first nine, Davis went 14-for-37 (.378), with a pair of doubles, pair of triples, and quadrine of home runs, putting his slugging percentage over the stretch at .864. Davis boasted a 1.108 OPS while leading off innings, and had a slash of .428/.441/.690 from the third to fifth innings of games, with a 9.5 K%.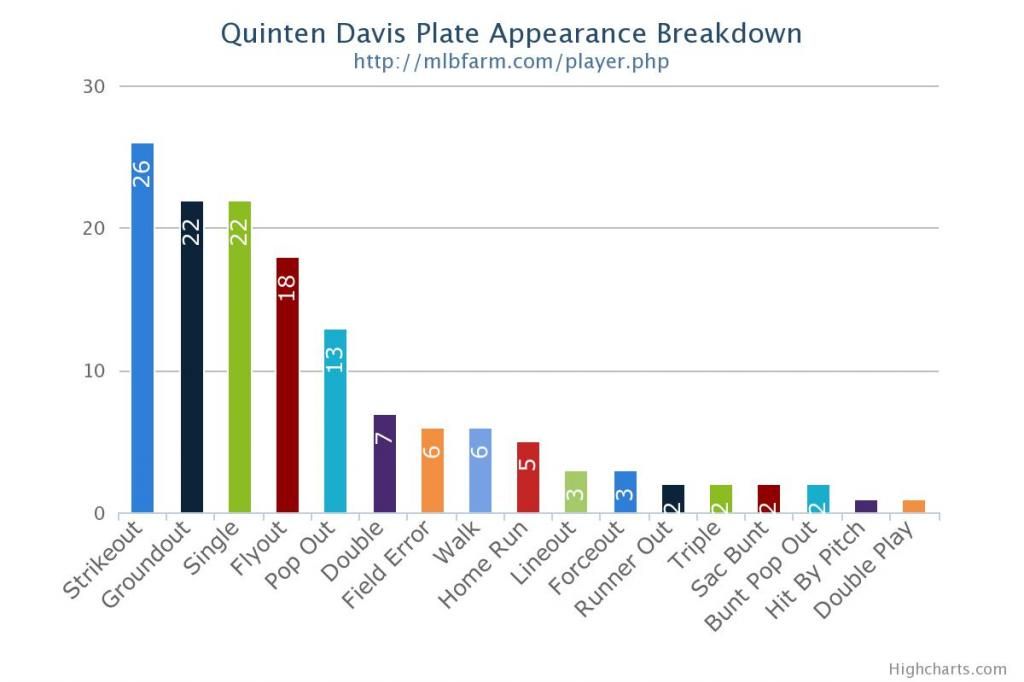 EXPECTED FUTURE:
Davis has shown he's ready to compete in the higher levels, and should begin 2015 with one of the Class-A affiliates. He spent the final parts of 2014 with Inland Empire, and could return but it is more likely he'll begin the year in Burlington.
Davis screams fourth outfielder. His value is high in the Angels farm system, and he should be able to be not just a valuable system player, but soon be a fine bench player for the Angels in the near future.
For more updates on the Los Angeles Angels, their prospects, and our Top 100 Prospects Countdown, follow us on Twitter, @AngelsOnScout.
Taylor Blake Ward is a Senior Publisher for InsideTheHalos.com, and can be found on Twitter, @TaylorBlakeWard.