Angel Molina, Catcher

HT : 6'0
WT : 175 lb.
DOB : August 20, 1997, Puerto Cabello, Venezuela
Throws : Right
Bats : Right
School : N/A
Acquired : International Free Agent 2014
Stock : Rising
Cool Notes : He's barely 17-years-old
The Los Angeles Angels have had catchers with the last name "Molina" before, and they found a hidden gem in the international market with this one, Angel Molina. Though he has no relation to the Molina brothers, Bengie, Jose, or Yadier, he has promise to become a well known Molina the way the others have.
SCOUTING REPORT:
He's young, and that's his biggest tool at the moment. He's still growing at six-foot, and 175 pounds, and is adding muscle this off-season as a starter. He was tested with blocking the plate this past season and excelled.
Molina needs to improve his play calling, but has the trust of his young pitchers already, who posted a combined 3.81 ERA with Molina behind the plate.
Molina has a strong arm for a young catcher, with good accuracy, and this will improve with growth and development, while getting older.
Molina has a swift swing, with no hitches. This allows him to place the ball well, keeping his contact high and swings and misses low. He has very limited power, which is also due to his small stature.
Molina has good speed for a catcher, and is a plus base runner. This comes with a good baseball IQ, which helps him in every aspect of his game, and puts him ahead of the curve at his age.
STATISTICAL BREAKDOWN:
Molina spent his first year as a 16-year-old professional in the Dominican Republic, and was a stud young man, putting up a .241/.281/.278 slash. Molina had five of his 18 games go for multiple hits, and he reached base three times in a game twice.
With runners on with two outs, Molina went 4-for-9 with a double and four RBI. Seven of those at bats came with runners in scoring position, where he collected three hits.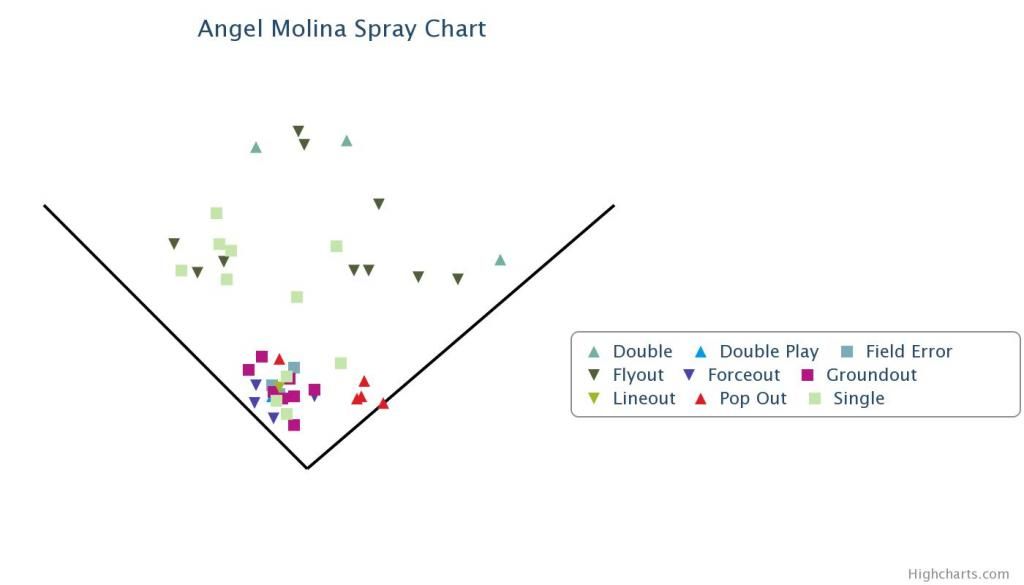 EXPECTED FUTURE:
Molina will stay in the Dominican Republic for a few years, adjusting to older competition and competing well to gain a trip stateside, hopefully by 2016.
Molina is too young, and has too little known about him to know if he'll be a Major Leaguer. However, everything sets itself up to see him as at least a Major League backup at one point or another in his career.
For more updates on the Los Angeles Angels, their prospects, and our Top 100 Prospects Countdown, follow us on Twitter, @AngelsOnScout.
Taylor Blake Ward is a Senior Publisher for InsideTheHalos.com, and can be found on Twitter, @TaylorBlakeWard