Alexander Valdez, Right-Handed Pitcher


HT : 6'0
WT : 175 lb.
DOB : January 28, 1994, Barahona, Dominican Republic
Throws : Right
Bats : Right
School : N/A
Acquired : International Free Agent 2011
Stock : Neutral
Cool Notes : N/A
One of those diamond in the rough kind of guys we like here at InsideTheHalos.com, Alexander Valdez has worked his way into our hidden gem kind of guys. Somehow, he's hidden in the depths of the system for some time, but now is his time to emerge to the top as one of the Angels elite international prospects.
SCOUTING REPORT:
Valdez comes with a three pitch arsenal of a four-seam fastball, slider, and curveball mixture. His slider being his best pitch with late break.
Valdez throws all his pitches from a high arm slot, allowing a tough read on all three. His fastball has good natural run to it, and sits anywhere from 89-92 MPH.
Valdez's curveball falls well in the low 70's, but still needs development to put him into an elite category of holding a strong three pitch arsenal.
Valdez commands his pitches well, maintaining solid movement and control throughout his entire game plan, and also allowing him to be aggressive on the mound.
STATISTICAL BREAKDOWN:
Valdez struggled in his first taste of professional ball, holding a 6.12 ERA, 1.440 WHIP and .254 against average. Valdez had a pair of outings where he allowed four or more runs in one innings performances. Where Valdez held his own but keeping runners off the bases while leading off, limiting them to a .150 against average. Valdez also struck out 10.1 per nine.
Valdez improved double fold upon his 2012 season with a strong 2013, breaking out in a 3.41 ERA. However, batters had ease against Valdez with a .316 against average, and allowing 11.5 hits per nine.
Valdez shined this last year in the Dominican, posting a 2.38 ERA, 1.128 WHIP, while striking out 8.9 per nine. Valdez did not allow a run in his first six appearances (17.2 innings pitched). In outings where Valdez went over two innings in a performance, he held a 0.92 ERA, struck out 9.2 per nine, 0.784 base runners per innings. He also held batters to a .174 against average and .223 on base percentage.
Valdez finished with a 7-2 record with five saves in nine opportunities. Right-handed bats were held to a .219/.299/.250 slash against Valdez in 2014.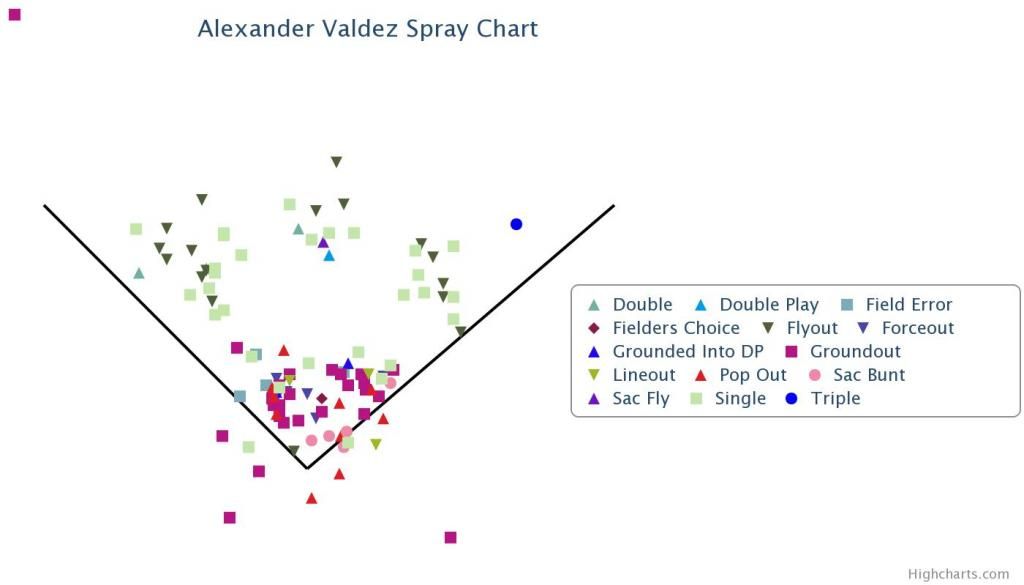 EXPECTED FUTURE:
Valdez has done his time in the Dominican, and should be headed stateside in 2015, to pitch at the Rookie Ball level, and face better competition.
Valdez needs to improve upon a few things before he'd be registered a future Major Leaguer. It would take some time before he gets near that level as well, but he could be used as a mid relief asset in time.
For more updates on the Los Angeles Angels, their prospects, and our Top 100 Prospects Countdown, follow us on Twitter, @AngelsOnScout.
Taylor Blake Ward is a Senior Publisher for InsideTheHalos.com, and can be found on Twitter, @TaylorBlakeWard.