Manuel Rondon, Left-Handed Pitcher

HT : 6'1
WT : 165 lb.
DOB : March 7, 1995, Puerto Cabello, Carabobo, Venezuela
Throws : Left
Bats : Left
School : N/A
Acquired : International Free Agent 2012
Stock : Rising
Cool Notes : Owns a 66ers old logo ballcap / 80-Grade Instagrammer
By nature, Manuel Rondon is an elite prospect due to him being a lefty, and being a pitcher, and being able to adjust to different situations. However, you still have to be good at what you do, and Manuel Rondon is very good at what he does on the mound, putting his stock higher and higher by season, and helping many take notice of his talents.
SCOUTING REPORT:
Rondon has one of the best changeups in the system. It comes with natural run in the high 70's, and has a sudden late drop to it. This allows Rondon to keep batters off-balance in any count, and he uses it to put batters away as well.
Rondon's fastball isn't something to awe at, sitting anywhere from 87-91 MPH, but it does have solid movement, breaking back into left-handed batters and away from right-handed batters with it's natural sink.
Rondon also uses his slider to stay tough against left handed bats, but has a tendency to overthrow it, and lose command, making it ineffective. This is something he'll need to improve on to face tougher competition at higher levels.
Rondon has average command of his pitches for a young player, and has shown strong strides forward in progress. However, he will need to learn to command his fastball to stay efficient stateside, and develop his slider more with better command as well.
STATISTICAL BREAKDOWN:
Rondon began his professional career as a long reliever, and shined, posting a 2.83 ERA, 1.258 WHIP, and limited batters to a .203 average. Over his final 12 appearances in 2013 (29.0 IP), he allowed just five runs (1.55 ERA), and a .192 against average.
When pitching in the final three frames of 2013, Rondon held a 1.96 ERA, and 0.872 WHIP. Rondon also held right-handed batters to a .199/.295/.301 slash over the season.
Rondon became a full time starter in 2014, and in 14 starts, held a 2.30 ERA, 1.260 WHIP, and struck out 8.9 per nine. Six of his 14 starts went with just one run earned over five or more innings of work.
Rondon put together a streak of five starts in July where he held a 1.80 ERA, .190 against average and 1.120 WHIP. Rondon excelled in the middle innings, posting a 1.91 ERA, 1.200 WHIP, and .227 against average from the second to sixth innings. In the first innings, and seventh or later, Rondon put up a 3.60 ERA and 1.466 WHIP.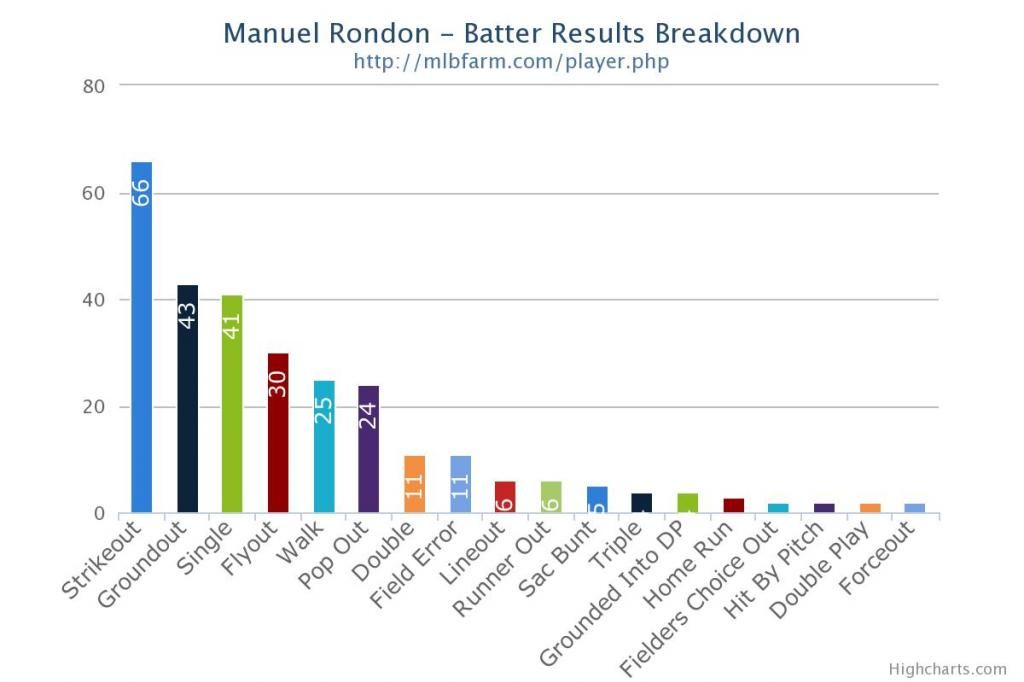 EXPECTED FUTURE:
Rondon has pitched well in the Dominican league, and it seems he's earned a trip stateside in 2015. However, development of his off-speed pitches this Spring will set whether he lands in Rookie Ball, or back to the Dominican for another year of work.
Rondon has the luck of depth on his side, being a left-handed starter who can be converted to a reliever. With this, Rondon has a more likely Major League future just by nature. Rondon could be a Major Leaguer by the 2018 or 2019 season.
For more updates on the Los Angeles Angels, their prospects, and our Top 100 Prospects Countdown, follow us on Twitter, @AngelsOnScout.
Taylor Blake Ward is a Senior Publisher for InsideTheHalos.com, and can be found on Twitter, @TaylorBlakeWard.