Daniel Hurtado, Right-Handed Pitcher

HT : 6'3
WT : 180 lb.
DOB : July 25, 1992, Los Teques, Miranda, Venezuela
Throws : Right
Bats : Right
School : N/A
Acquired : International Free Agent 2009
Stock : Rising
Cool Notes : High socks / Likes the movie, "Taken"
Another international signing that has not let the Los Angeles Angels down, Daniel Hurtado has spent the last five years of his life pitching in the Angels system, and improving every step of the way. He's eligible for the Rule-5 Draft this year, but it is likely he'll stay with the Angels and progress towards a key role in the big club's bullpen.
SCOUTING REPORT:
Hurtado's best asset is his frame, coming in at six-foot-three, and has been adding muscle in the right way every year. He is adding weight this off-season which means he could add some velocity and strengthen himself to add stamina.
Speaking of velocity, Hurtado isn't known to fire it in the way some prospects do, topping out at around 91-92 MPH. However, it has good sink coming from an awkward 4/5 arm slot, making it come in at a deceptive speed and allowing a high amount of swing and misses.
Hurtado comes with a pair of off-speed offers, with a curveball with late break, with good drop. He also has a changeup that needs development, but he has used it in small doses, allowing batters to struggle with balance.
Hurtado throws in a very deceptive motion, dropping his head, then raising it as the ball comes around from a strong hip turn. He hides the ball well, keeping it behind him through his motion, and hurling it in at a 4/5 slot with a small herky-jerky movement. Hurtado uses his legs well in his delivery.
One hidden part of Hurtado's game is his pick-off move. He's quick on the turn and accurate on his toss, making him deceptive and hard to run against. He has a quicker movement from the stretch, which allows him to keep runners at bay, and holds them well.
STATISTICAL BREAKDOWN:
Hurtado jumped onto the scene in 2009 after being signed at 17-years-old, and posted a 4.50 ERA ERA, and 1.542 WHIP in his first professional season. Hurtado had 11 of his 14 outings go without allowing a run, but the three in which he did, he allowed at least three runs at minimum.
Hurtado was limited in 2010, only pitching in nine games due to spaced injuries and joining the rotation, making roughly half his starts. However, he shined with a 2.23 ERA, .207 against average, and 0.925 WHIP. Hurtado allowed just 6.3 hits per nine, and walked just two per nine. Hurtado's best performance came on June 11th, 2010, when he went seven scoreless innings, walking three, and striking out nine.
Hurtado was far and away the best pitcher at the Dominican affiliate for the Angels in 2011. He posted a 1.45 ERA in 14 starts, with a 0.982 WHIP. Hurtado had two complete game shutouts, and had eight starts where he went scoreless in five innings or more. Hurtado's best game came on July 14th, where he threw a no-hitter, allowing two base runners on a pair of walks.
Hurtado came stateside in 2012, and got a taste of stronger competition. By the end, Hurtado finished the season with a 4.71 ERA and 1.679 WHIP, allowing more than ten hits per nine. In his final four appearances, all starts, he had 14 earned runs, and a .318 against average, lifting his ERA from 2.14 to 4.71.
Hurtado split time between Rookie Ball and Class-A in 2013, posting a combined 3.45 ERA, and 1.331 WHIP, while walking his highest amount, 4.1 per nine. Hurtado ended the season on a strong note, going scoreless for his final six outings, a combined 14.1 innings pitched. Over that span, he allowed nine hits, holding runners to a .230 against average.
Hurtado put together a 2.95 ERA last season, striking out one batter per inning. He was thrown back into the rotation, and full time in late July. Hurtado did not allow a run in relief, and held a 3.36 ERA as a starter. Hurtado did allow a large amount of hits though (8.6 per nine), and it lifted his WHIP to 1.256 for the season.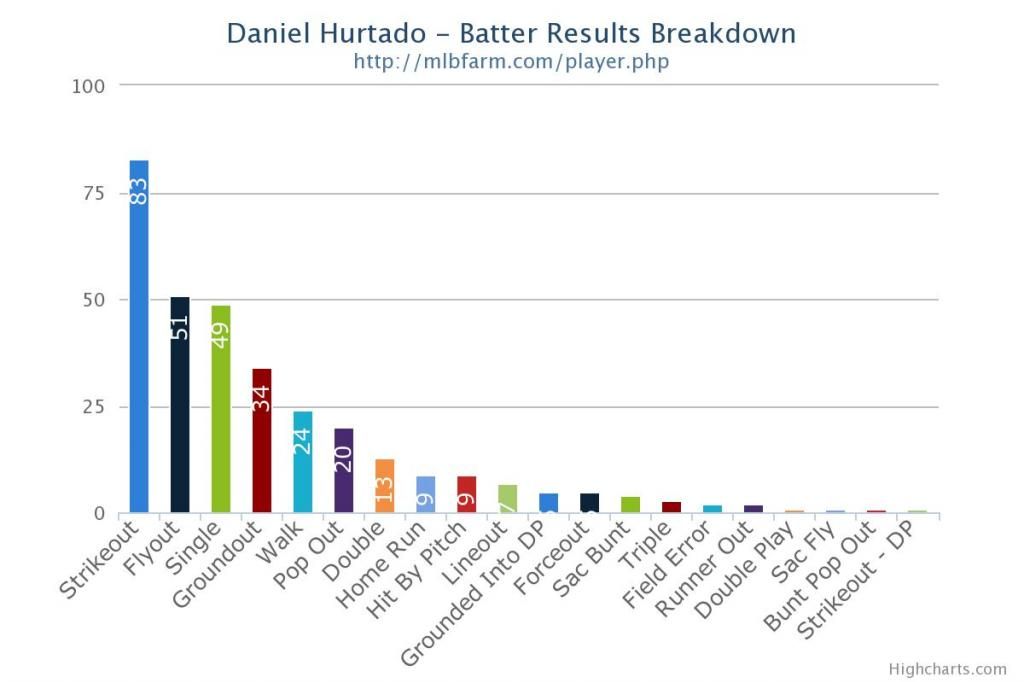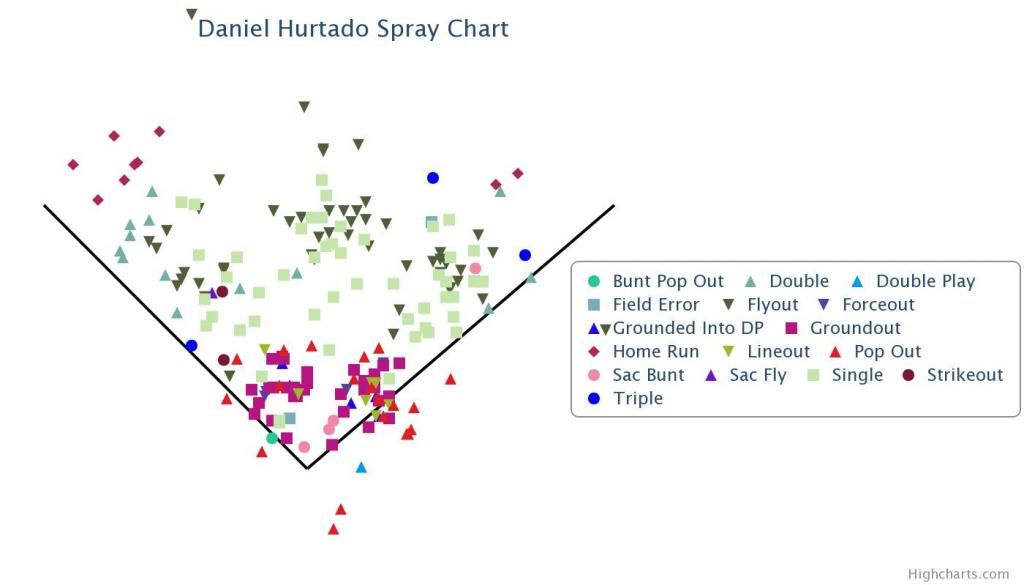 EXPECTED FUTURE:
Hurtado has pitched well at every level he's competed at. He saw time in Class-A through the majority of the 2014 season, and should excel to the next level with ease, pitching in High-A in 2015.
Hurtado could help the big club soon, but he's still young and still developing. Hurtado is better suited for the bullpen, and could see Major League time as soon as 2016, but it is most likely he'll be with the big club in the bullpen in 2017.
For more updates on the Los Angeles Angels, their prospects, and our Top 100 Prospects Countdown, follow us on Twitter, @AngelsOnScout.
Taylor Blake Ward is a Senior Publisher for InsideTheHalos.com, and can be found on Twitter, @TaylorBlakeWard.