Angel Almao, Utility

HT : 5'10
WT : 145 lb.
DOB : November 5, 1994, Maturin, Monagas, Venezuela
Throws : Right
Bats : Right
School : N/A
Acquired : International Free Agent 2012
Stock : Neutral
Cool Notes : High Socks / Smiling 24/7 / Champion of selfies
Good things come in small packages. The Los Angeles Angels found a good thing in a small frame, with Angel Almao. This utility prospect has worked his way through all the roles the organization has put him up to, and excelled in each.
SCOUTING REPORT:
Almao has three strong points to his game. His diversity, glove, and speed. Almao has the making to be the perfect utility tool for the Angels, but has some tweaks to be made.
As for his speed, he runs very stalkishly, with small strides, but quick feet. This allows him to jump out of the batter's box and on the base paths, meaning a large amount of stolen bases and infield hits.
Almao has a strong glove that he can use in any part of the outer infield, and in the outfield as well. He has a quick jump to the ball, but has a strong arm behind him, allowing him to be quick in the field all around.
Almao makes good contact for his size, and creates a small amount of power with good bat speed. There aren't many holes or hitches in Almao's swing, but his small size does damage his gap to gap ability.
Patience is another strong point of Almao's game, as he has a good eye and can read the ball well out of the pitcher's hand. This, as well as his speed, allows him adequate chances to reach base, and nab bases while on.
STATISTICAL BREAKDOWN:
Almao jumped on the scene in his first year of professional baseball, putting up a .242/.353/.253 slash at 17-year-old. Almao picked up hits in his first three games, and in his final five games of 2012, and had five multi-hit games, three of which were three hit games. In the eighth inning of later, Almao had a .454 batting average and .992 OPS.
Almao's second season did not go as well as the first, as he hit just .202, but still found ways to reach base with a .311 on base percentage. Almao did find positives while facing left-handed pitchers, putting up a .261/.346/.261 slash.
Last season, Almao put together his best season, putting up a .254/.381/.300 slash, reaching base safely in 51 of his 63 games. Almao reached base in 18 straight games from early July to early August, batting .355 over the stretch, with a .518 on base percentage, all while striking out in just 11% of his plate appearances.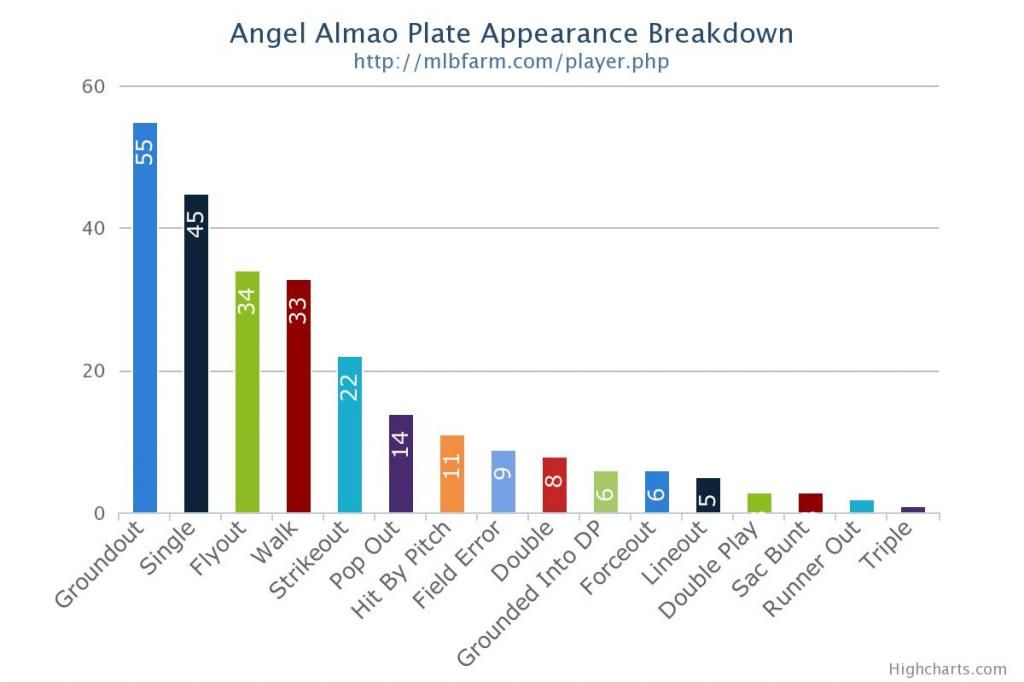 EXPECTED FUTURE:
Almao will be on his way stateside in 2015, showing his worth in Rookie Ball. With a strong Spring Training, Almao could be thrown into the mix of higher Rookie Ball, and the Orem Owlz. Almao is far from the Majors currently, but has some tools that will help him get to that level. His ETA is currently 2019.
For more updates on the Los Angeles Angels, their prospects, and our Top 100 Prospects Countdown, follow us on Twitter, @AngelsOnScout.
Taylor Blake Ward is a Senior Publisher for InsideTheHalos.com, and can be found on Twitter, @TaylorBlakeWard.