Exicardo Cayones, Outfielder

HT : 6'0
WT : 185 lb.
DOB : October 9, 1991, Valencia, Carabobo, Venezuela
Throws : Left
Bats : Left
School : N/A
Acquired : Traded from New York Yankees in exchange for Vernon Wells (2013)
Stock : Rising
Cool Notes :
When you're traded for A.J. Burnett, you have to have some value. However, when Exicardo Cayones came over from the Yankees for Vernon Wells, many Los Angeles Angels lovers had no idea who he was. Now, his name is being tossed around again, but not as just a name in a trade, but as a noticeable prospect inthe Angels farm system.
SCOUTING REPORT:
Exicardo Cayones plays a very "free game." There isn't much naturalness to his game, and he tends to adjust in whatever manner he finds can help him, which honestly, is really cool.
Cayones has a free swing, allowing him to just take a hack at the ball and place it eratically, which is something coaches have been working on with him for some time. What's positive about it though, is that he's putting the ball in play.
Cayones has limited power, but can put the ball to the gaps, and create headwind with his speed. Cayones has explosiveness out of the box and on the paths, allowing him to steal bases, and be aggressive with ease.
Cayones has good pitch recognition, being able to lay off the bad ones and find the good ones. This has been the calling card for Cayones thus far in his career.
A strong point to Cayones' game is his defense. With the electric speed, he manages to make up space towards the ball in the outfield, and rarely makes mistakes once there. His arm is slightly above average, and he has shown flashes of that extra "oomph" when needed to get the overly aggressive runner.
STATISTICAL BREAKDOWN:
Cayones broke out on the international scene, after being signed as 16-year-old in 2009 by the Pittsburgh Pirates. In the Venezuelan Summer League, Cayones put up a slash of .302/.396/.424, and had 16 of his 65 games go as multi-hit games.
Cayones' second year of professional baseball was his first stateside, putting up a .263/.369/.362 slash. In his eighth to 13th games of the season, Cayones went 15-for-22, reaching base in 18 of 25 plate appearances.
Cayones reached base in 20 of 27 games in the Gulf Coast League in 2011, and posted a .293/.389/.427 slash before being bumped up to the Short Season A. Cayones struggled against the tougher competition in his final teen year, and finished the season with a combined .228/.333/.325 slash.
After being traded for A.J. Burnett, Cayones kept up his struggles in his only year with the New York Yankees. In 47 games, Cayones finished with a .228/.374/.291 slash. Cayones did manage seven multi-hit games his only season in pinstripes though.
In Cayones' first year with the Halos, he put up a .233/.344/.322 slash, having career highs in power numbers at the Class-A affiliate, Burlington Bees. Where Cayones excelled was in the first inning, going 11-for-30 (.367) in the first frame of games with a .906 OPS.
This past season, Cayones split time between both Class-A affiliates, posting a .269/.375/.370 slash in a career high 95 games. While with the Bees, Cayones held a .297/.433/.432 slash against right-handed pitchers, and held a .322 batting average in the first five frames of games, with a .921 OPS.
Cayones picked up a hit in 25 of his final 37 games in High-A, and collected a .284/.361/.365 slash while with the Inland Empire 66ers. Cayones put up clutch numbers, batting .312 with a .825 OPS in the eighth inning of later in games.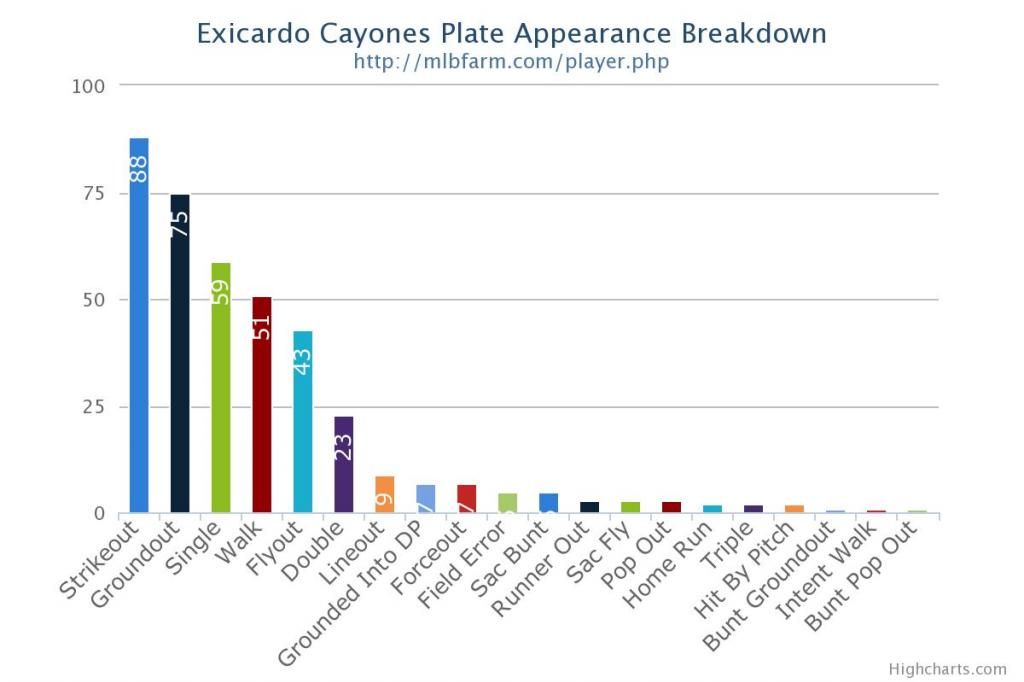 EXPECTED FUTURE:
Cayones has spent the last two seasons jumping between both Class-A affiliates. It seems that 2015 will be spent full-time in the High-A affiliate, Inland Empire 66ers.
Cayones has been tossed around and somewhat forgotten multiple times in his minor league career. However, there is no reason not to believe that Cayones has the capability to reach the Majors as a fourth outfielder, with his plus defense and explosive play.
For more updates on the Los Angeles Angels, their prospects, and our Top 100 Prospects Countdown, follow us on Twitter, @AngelsOnScout.
Taylor Blake Ward is a Senior Publisher for InsideTheHalos.com, and can be found on Twitter, @TaylorBlakeWard.