Ben Carlson, Right-Handed Pitcher

HT : 6'3
WT : 215 lb.
DOB : November 30, 1990, Greenville, South Carolina
Throws : Right
Bats : Right
School : Furman University (Greenville, South Carolina)
Acquired : Drafted 40th Round (1,207th overall) in 2013 June Draft
Stock : Neutral
Cool Notes : True Professional on and off the field
The Los Angeles Angels have had a pair of deep drafts the past two seasons, and ended the 2013 draft with a hidden gem, Ben Carlson. Carlson has found his place with the Angels, and is working towards a strong career in the minors, and hoping to take that all the way to the top.
SCOUTING REPORT:
Carlson comes with four pitches, but none as strong as his changeup. Carlson describes this pitch as a pitch he "loves" to use in every count, as he uses it strongly as a punch out pitch.
Carlson's has a pair of fastballs, a natural four-seam, and a sinker. Both of these pitches sit in the high 80's and low 90's, sitting anywhere from 88-92, and touching 93 on occasions. Carlson relies on this sinker to attain weak contact and ground outs.
Carlson has a slider that he's improving steadily. It has gotten progressively better each year and particularly in his final few games of this past season.
Carlson has simple mechanics, throwing from a three-quarter arm slot, and adds a "funky little leg kick" in his motion. Carlson said he was slightly robotic until college, and then gained smooth mechanics, and the leg kick came natural.
STATISTICAL BREAKDOWN:
Carlson finished his final season at Furman with a 5-3 record, 4.64 ERA, and .298 against average over 30 appearances, all in relief. Carlson pitched 52.3 innings, allowing 65 hits, 29 earned runs, 11 walks, and struck out 45. Carlson did hold a 0.54 ERA with 17 strikeouts over his first 11 appearances (16.2 IP).
Carlson jumped into Rookie Ball right out of the draft, and shined as one of the stars of the AZ League, being named a post-season All-Star, and leading the league in saves with 10. Carlson had 19 of his 21 starts go scoreless, and had nine go for perfect work. He finished the season with a 1.73 ERA and .242 against average.
Carlson continued his success this past season, throwing 40 scoreless outings in 52 appearances, 11 straight from mid April to mid June. He finished the season with a 2.60 ERA, .266 against average, and 1.309 WHIP. Carlson walked just 2.32 per nine over the season, and struck out 8.49 per nine.
From April 10th to August 17th, Carlson held a 1.38 ERA, limiting bats to a .255 average and .292 on base percentage. He struck out 47 batters over the span, including a pair of back-to-back, five strikeout performances in relief.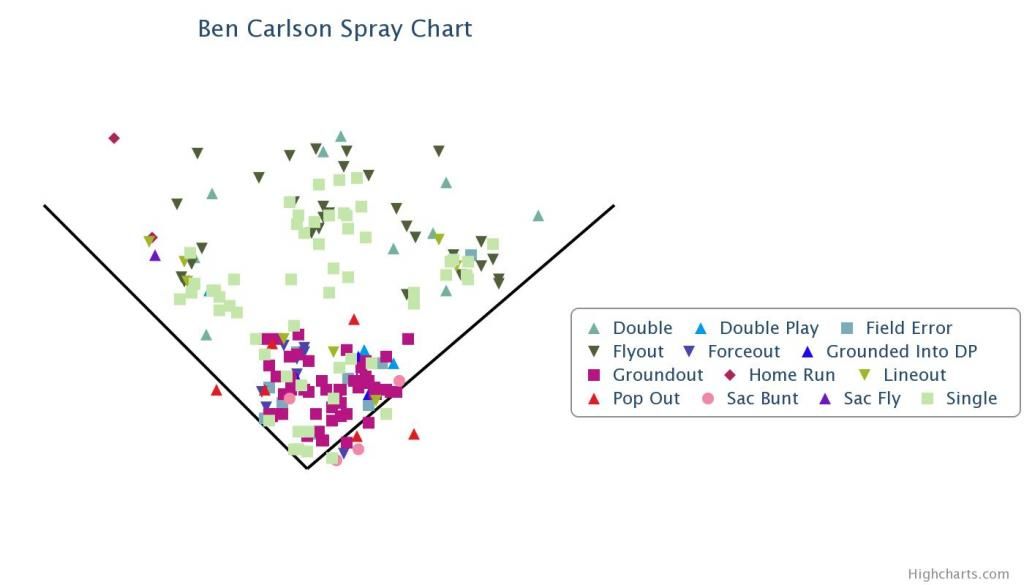 EXPECTED FUTURE:
Carlson put together a grand season in the Class-A bullpen, making us believe he'll make the jump to High-A and face more experienced competition. He should continue to be a late inning threat in the bullpen through his minor league career.
Carlson was taken in the 40th round, which many say is a tough road to reach the Majors, but Carlson has made strides forward at every level, not only staying with the competition, but thriving against it. This will be his make or break point when heading towards the Majors. We believe Carlson is not just a minor league filler, but also a future Major Leaguer talent, who could help the Angels bullpen in upcoming years.
For more updates on the Los Angeles Angels, their prospects, and our Top 100 Prospects Countdown, follow us on Twitter, @AngelsOnScout.
Taylor Blake Ward is a Senior Publisher for InsideTheHalos.com, and can be found on Twitter, @TaylorBlakeWard.